FAIR TAX OR MORE TAX? The Chicago Tribune on Sunday blasted an effort by some lawmakers to change Illinois' income tax system from a flat rate paid by everyone to a sliding scale in which your tax rate goes up with your income. The Trib calls this "tax increase Plan B." Supporters call it a "fair tax." This is going to be a huge issue in the 2014 election and Reboot Illinois already has covered it extensively. We've got an update today that includes links to opinions on both sides of this debate, infographics and some explanation of what needs to happen before anything can change in Illinois' tax picture. Here are a few shortcuts:
• "Flat income tax? Progressive tax? No state income tax? A nationwide overview," Reboot Illinois infographic
• "Illinois' flat tax system: Outdated, unfair," Ralph Martire, Center for Tax and Budget Accountability
• "Progressive tax is code for 'tax increase,'" John Tillman, Illinois Policy Institute
• "Supporters of progressive tax have a long road ahead," blog post, Reboot Illinois editor Matt Dietrich
Ultimately, you will have the final say on whether the state changes its income tax system. Be informed. For a whole lot more, click here.
________________________________________
TAX TOON If you have any doubts about the Chicago Tribune editorial board's position on the progressive tax issue after reading its editorial, cartoonist Scott Stantis makes it clear.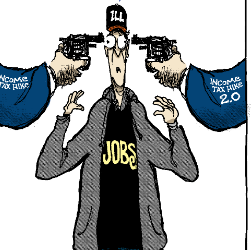 ________________________________________
2014: BIG NAMES FOR DALEY Last week Democratic gubernatorial candidate Bill Daley got a strong endorsement from New York Mayor Michael Bloomberg and said his campaign had raised $800,000 in three weeks. In filings on Saturday and today, the Daley campaign (still listed officially as "exploratory") lists donations from former Vice-President Al Gore (now listed as a self-employed "author and speaker"), Bloomberg, lots of members of Chicago's Pritzker family and some former Clinton White House colleagues. Find out who's backing Daley here.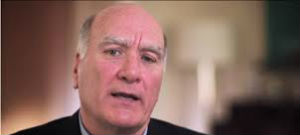 ________________________________________
5 THINGS TO KNOW TODAY You can always find links to the day's news from around Illinois in the Daily Tip-Off section of our website. Here are today's top picks:
• 5. More than 1.1 million students, teachers and parents filled out Illinois' first statewide education survey, offering an unprecedented peek into thousands of classrooms. (Chicago Tribune)
4. The Chicago Public Schools leadership has been slow to admit it, but many schools are facing significant budget cuts. The main cause is the state's pension mess. (Chicago Sun-Times)
3. Continuing delays in state payments have forced local governments to do what they can to deal with the short-term shortfalls. (Peoria Journal-Star)
2. Members of a bi-partisan panel charged with coming up with a solution to Illinois' nearly $100 billion pension crisis have formally invited Gov. Pat Quinn to testify before the committee Monday in Springfield. (NBC 5 Chicago)
1. Illinois' general fund revenue grew by 6.7 percent in fiscal 2013 over fiscal 2012, slightly better than expected, mainly propelled by stronger income tax receipts, a state legislative commission reported on Friday. (Reuters)
________________________________________
ROAD TO RUIN How did Illinois turn its public worker pension system into a threat to the entire state budget? How can you be part of the solution? We've combined a petition with an infographic that shows the timeline of the Illinois pension debacle so you can do both in one click. It's all right here.

________________________________________
Visit our website and make a difference.