MOTOR (WINDY) CITY Chicago Tribune cartoonist Scott Stantis' view of crime-plagued, financially failing Detroit looks awfully familiar. He says a lot more in the full cartoon.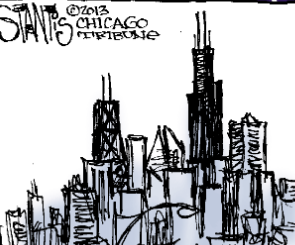 FLAT IS WHERE IT'S AT Illinois Chamber of Commerce President Doug Whitley puts up a strong defense of Illinois' flat-rate income tax system: "Illinois' current flat rate income tax is inherently fairer than a graduated income tax since everyone pays the same rate and tax increases uniformly impact everyone. A flat rate tax does not promote divisive class warfare rhetoric or purposefully attempt to re-distribute income according to a subjective fairness standard. A flat rate tax requires all taxpayers to vigilantly stand guard against excessive government spending." He's adamantly opposed to switching to a progressive tax system, as supported by many members of the General Assembly. This is a stealth tax increase that will give the very people who have mismanaged Illinois into financial disaster even more money to blow, he writes. Agree or disagree, Whitley's op-ed is a worthy read on what likely will be Topic No. 1 in the 2014 gubernatorial race.
TAX TALK Want to learn more about the flat tax vs. progressive tax debate? Join us at our tax forum on Aug. 15 in Springfield. Ralph Martire of the Center for Tax and Budget Accountability and Ted Dabrowski of the Illinois Policy Institute will discuss the pros and cons, respectively, of a progressive tax system. This promises to be a spirited debate on a topic you'll be hearing a lot about between now and November 2014. Find out more here.
BAD NUMBERS FOR CHICAGO SCHOOLS 50 schools closed, 3,000 employees laid off, 52.5 percent of elementary students meet state achievement standards, $1 billion deficit. Horrible numbers for Chicago Public Schools. And bad news for all of Illinois if it keeps up. When a school system fails, the middle class flees. When the middle class flees, the city crumbles. (See Scott Stantis cartoon above.) Madeleine Doubek explains.
FAMILY AFFAIR Chicago Mayor Rahm Emanuel has named State Rep. Deb Mell to replace her father, Ald. Richard Mell, on the Chicago City Council. In Illinois, passing along political positions as family heirlooms has become standard procedure. We don't live in a monarchy and our government shouldn't operate like one. More explanation here.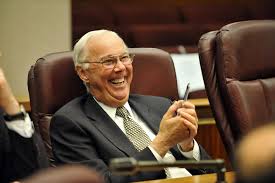 SOUND OFF Tired of politics as usual in Illinois? Tired of elected officials treating government as their family business? Click here and help us send a message.
THE BRAC APPROACH When the federal government closes a military base, it doesn't simply allow the old facilities to become sources of blight. The BRAC Commission has gone to great lengths to make former military facilities assets to their communities. Chicago Public Schools should take the same approach with the 49 vacant school buildings it has created, writes Reboot contributor Peter A. Creticos of the Institute for Work and the Economy. The neighborhoods in which the closed schools are located need all the help they can get. Creticos makes a good case for innovation.
TOP 5 We've got links to the state's 5 best news and views offered up today. You'll find links to and summaries of many more in the Daily Tip-Off section of our website.
5. One lawyer claims that Pat Quinn's suspension of legislators' pay in constitutional. (Chicago Sun-Times)
4. Says one teacher, "the children are being cheated." (Chicago Sun-Times)
3. A coalition wants to raise gas taxes in order to help fund road repairs in Illinois. (Daily Herald)
2. Gov. Pat Quinn hinted that a pension special session could happen again next month and could coincide during the State Fair in Springfield. (Chicago Tribune)
1. Quinn signed a bill yanking long-term benefits for board members of Metra and other transit organizations. (Chicago Sun-Times)