2014 Democratic gubernatorial candidate Bill Daley tweeted Sunday night that he has raised $800,000 since announcing his candidacy three weeks ago. He had reported $163,700 as of last Wednesday. And this morning he's holding a press conference in Chicago announcing his call for a ban on campaign contributions for lawmakers during legislative sessions. No question now that Daley is serious about this. Find out more here.
RUTHERFORD IN FRONT A June 20 Capitol Fax/We Ask America poll of Republican voters has Treasurer Dan Rutherford in the lead, followed by Bill Brady, Bruce Rauner and Kirk Dillard. But Capitol Fax publisher Rich Miller cautions against reading too much into the numbers at this point. And, he explains, Illinois' crazy system for reporting campaign contributions makes it next to impossible to accurately gauge candidates' strength by their donations. Highly recommended.
GOLDEN PARACHUTES, LEAD BALLOONS The head of the Lyons Township Treasurer's office cashed in $500,000 in unused sick time and vacation days. Arne Duncan got $50,000 in unused sick pay when he left Chicago for D.C. Last-minute raises and convenient loopholes let suburban police officials boost their annual pensions by tens of thousands of dollars. And on and on. Andy Shaw wonders when the taxpayers who pay for these lucrative deals will get their own golden parachutes.
TWEET OF THE DAY Here's how Bill Daley let his supporters (or at least his Twitter followers) know about his fundraising success Sunday night.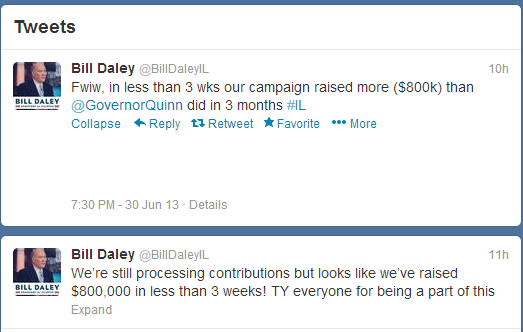 LUCKY 7 You can always find links to the day's news from around Illinois in the Daily Tip-Off section of our website. Here are today's top picks:
7. If Lisa Madigan runs for governor and Mike Madigan insists on sticking around, voters should weigh that heavily against her (Chicago Sun-Times)
6. Illinois' pension committee won't negotiate a compromise bill in public (State Journal-Register)
5. Moody's Investor Services says Illinois' pension problem is much worse than originally stated (American Thinker)
4. Cook County's property tax system remains fundamentally flawed and always more expensive (Chicago Tribune)
3. Republican gubernatorial candidate Bill Brady won't change his position on issues like gay marriage, which he opposes, in his 2014 campaign (Quincy Journal)
2. Jesse Jackson Jr. is hardly the first politician to ruin the family name (NBC 5 Chicago/Ward Room)
1. Illinois' pension debt is growing by only $5 million a day, not the $17 million at which it had been growing (Chicago Tribune)