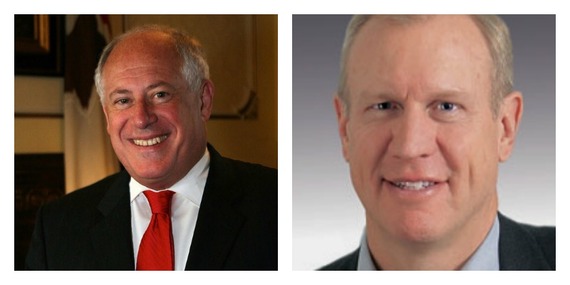 We're in the midst of what has become the most fascinating Illinois governor's race in decades. Though the campaign still is in its early stages, the contest between Democratic incumbent Gov. Pat Quinn and Republican challenger Bruce Rauner already has become noteworthy for money raised and spent, pointed rhetoric ("Quinnocchio" vs. the "billionaire") and the sharply divergent styles and philosophies of the candidates.
With just under five months before the Nov. 4 election, Reboot Illinois today begins taking the pulse of the electorate in our first poll. Conducted June 10 and 11 by pollster We Ask America, the survey below contains responses from 1,075 registered voters on the broadest question of the election: "If the election for Illinois governor were held today, for whom would you vote?"
It's still early in the race but this poll provides a glimpse into which candidate is looking good so far and which candidate has some work to do to catch up.
The poll breaks down responses by party affiliation, gender and location in the state.
To see which candidate is currently leading in our poll, along with the break downs referenced above, check out the results here.