GOOD NEWS For months, Gov. Pat Quinn's office has said Illinois' pension debt is growing by $17 million a day. But as we rang in Fiscal New Year 2014 on Monday, the administration reduced that figure to a mere $5 million a day. That's because the state made its required payments to the pension systems in the last few years. Of course, it did that by cutting in lots of other areas, like education. And Illinois started the new budget year Monday $6.1 billion behind in paying its bills -- a figure expected to grow to $7.5 billion in August. Even with the better debt-per-day figure on pensions, Illinois finances are still a wreck. We heard from some experts last week about the effect all this will have on the state's economy, and it's not good. Stopping the pension bleeding remains Step No. 1. We explain here.
DON'T DICTATE; NEGOTIATE Illinois Education Association President Cinda Klickna was not pleased at Gov. Pat Quinn's message last week that said he'd veto any pension reform bill that doesn't save sufficient money and get the pension systems to 100 percent funding. That's an implicit threat to pass House Speaker Michael Madigan's union-opposed bill or else. "We need real leadership from Quinn. Political expedience is no justification for rushing through bad legislation that financially injures hundreds of thousands of Illinois citizens," Klickna writes in response.
MEDICAID With a mountain of back bills, Illinois takes months to reimburse doctors who treat Medicaid patients. And Illinois reimburses doctors at a low rate because of its budget troubles. That's how the state's atrocious financial condition directly affects its poorest residents. Our infographic illustrates the problem.
SHOW US THE MONEY Illinois campaign law doesn't make it easy to know how much money candidates for state office have on hand. But we do our best today as the eight declared or possible candidates for governor in 2014 filed financial reports for the second quarter of 2014. How can Bill Daley claim on Sunday to have raised $800,000 in three weeks yet report less than half that amount on Monday? Why are the amounts candidates report different from the money they actually have? Find out in our summary today. We also give you handy links directly to the reports themselves. Click here!
SCORECARD Keep track of all the possible 2014 candidates for governor with our handy 2014 gubernatorial infographic. Everything you need to know at a glance.
SOCIAL BUZZ Last week we showed how the various candidates for Illinois governor stack up on their use of social media so far. Today we look at how Gov. Pat Quinn measures up against governors in other states similar to Illinois on social media. Quinn's doing better than the governors of New Jersey and Florida on Twitter, but he's left in the dust in the Facebook metrics. Check it out on our weekly Buzz-Meter!
FACEBOOK POST OF THE DAY Residents of Illinois' capital city hate it when "Springfield" is used as shorthand for "all the bad things in Illinois government." From your editor's personal Facebook feed comes this entry from Springfieldian Ric Major. Way to stick up for the hometown, Ric!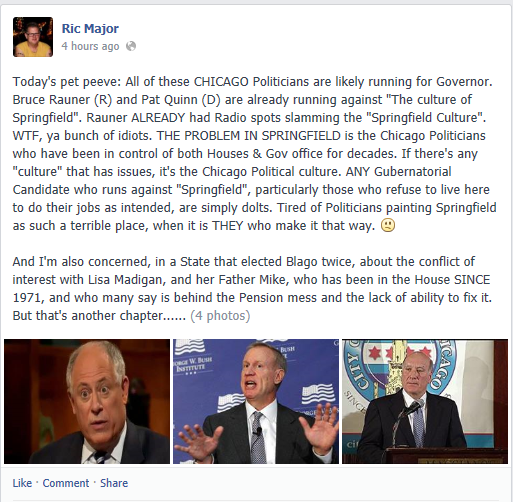 TOP 5 You can always find links to the day's news from around Illinois in the Daily Tip-Off section of our website. Here are today's top picks:
5. Daley, Rauner raise big money in first quarter (Chicago Tribune)
4. Sentencings of former U.S. Rep. Jesse Jackson and his wife Sandi have been postponed (Chicago Tribune)
3. New York Mayor Michael Bloomberg endorses Bill Daley for Illinois governor (Chicago Sun-Times)
2. Gov. Pat Quinn warns lawmakers of "consequences" if they fail to meet his July 9 deadline for delivering a pension bill (Quad-City Times)
1. Poll shows Lisa Madigan, Bill Daley both could suffer from family names in election (Chicago Sun-Times)