METRA CONTINUED The Metra board chairman portrayed by former CEO Alex Clifford as a pawn of House Speaker Michael Madigan resigned on Thursday. Clifford claimed in a now infamous memo that Metra Board Chairman Brad O'Halloran was forcing him out because Clifford had denied Madigan's request for, among other things, a raise for a Metra employee who was a Madigan political supporter. In his resignation letter, O'Halloran says none of that is true. Read the whole letter here.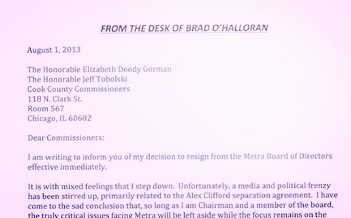 ________________________________________
NO WINNERS IN QUINN'S BATTLE VS. LAWMAKERS In his showdown with the General Assembly -- which culminated in his veto of lawmakers' pay and their lawsuit in response -- Gov. Pat Quinn is emulating his old boss, former Gov. Dan Walker. He's created a culture of retribution and distrust that does nothing but damage to Illinois government, writes Mike Lawrence, former press secretary to Gov. Jim Edgar and former executive director of the Paul Simon Public Policy Institute. "(Quinn's) legally dubious veto of salary funds generated flattering news coverage.... However, petty revenge rarely begets positive results, as Walker and constant cycles of vengeance dramatically illustrated four decades ago," writes Lawrence. What is it they say about those who don't learn from history? Don't miss this insightful piece.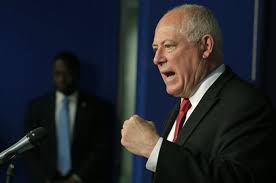 ________________________________________
TALE OF TWO NEIGHBORS United Van Lines tracks its customer movement trends and publishes the results annually. Illinois and Indiana are two states headed in opposite directions. Click here to see it in our infographic.

________________________________________
TAX MYSTERY Something is going to change with Illinois' income tax on Jan. 1, 2015. Will the tax rate fall to 3.75 percent as scheduled? Will the 5 percent temporary tax become permanent? Will a new system set higher rates for higher incomes? We don't want Illinois' income tax future to be determined by a bill rushed through the General Assembly in its waning minutes. Sign our petition and demand some answers on these questions now.

________________________________________
TAX TALK We'll be exploring the possibilities for Illinois' income tax post-2015 at our tax forum in Springfield on Aug. 15. Join us and the Citizens Club of Springfield as progressive tax advocate Ralph Martire of the Center for Tax and Budget Accountability and opponent Ted Dabrowski of the Illinois Policy Institute discuss the pros and cons of instituting a progressive, sliding-scale income tax system in Illinois. Find out more here.

________________________________________
FRIDAY 7 Here are links to 7 important Illinois news and opinion items you should be aware of today. You'll find links to and summaries of many more in the Daily Tip-Off section of our website.
• 7. A recent law signed by Gov. Pat Quinn has evoked two different reactions from two separate collar counties. (Daily Herald)
6. Chicago will keep sinking in its financial hole until there is pension reform in Springfield. (Chicago Sun-Times)
5. More of the same: Parents and education advocates express anger over the Chicago Public Schools budget. (Chicago Tribune)
4. As lawmakers miss their August paycheck, a credit union promises them emergency loans. (Progress Illinois)
3. The Metra scandal highlights the need for stronger ethics laws in Illinois. (Daily Herald)
2. Opinion: Metra Chairman Brad O'Halloran finally got it right by resigning from his post. (Chicago Sun-Times)
1. Opinion: O'Halloran may have resigned, but he still doesn't understand why what he did was wrong. (Chicago Tribune)