OVERPAID? Back in June, GateHouse News Service reported on the growing "$100,000 club" of state employees who earn $100,000 or more a year. Around that time, Republican candidate for governor Bruce Rauner told a talk radio station in Springfield (home to the greatest concentration of state employees in the state) that Illinois state employees are overpaid. This got us wondering: Is this true? Turns out that Illinois state employees are among the highest paid, though Illinois does not top the list even among Midwestern states. But Illinois also has the fewest state employees per capita of all states. We break it all down in today's infographic. You be the judge of what constitutes "overpaid."
________________________________________
THE DOORS Would you believe you paid $700,000 for three doors? Well, you did. They were part of a $50 million rehab of the Illinois Capitol in Springfield. And you never would have known about it if not for some idle chitchat overheard by State Journal-Register columnist Dave Bakke at a coffee shop in the tiny town of Carlinville, 40 miles south of Springfield. Is this the greatest outrage in Illinois right now? No. But still. You have to read this.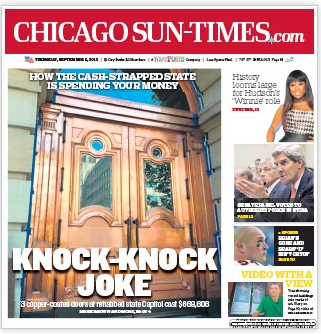 ________________________________________
TOP 25 Term limits are all over the news these days thanks to a political action committee formed by Bruce Rauner, who wants to limit Illinois lawmakers to eight years in office. A few weeks back, we looked at the Top 10 longest serving lawmakers. We've expanded the list to 25 today. Those with less than 16 years in office need not apply to the General Assembly's Top 25 Club. Check it out here.
________________________________________
JOBLESS ACROSS ILLINOIS It's no secret that Illinois' 9.2 percent unemployment rate is the second worst in the nation and well above the national average of 7.4 percent. But many towns in Illinois have jobless rates more than double the national figure. The problem spots are not confined to any single region of the state. We've got the 10 worst cities for unemployment mapped out. Take a look.
________________________________________
WANTED: JOBS Tired of seeing Illinois on the wrong end of the nation's jobless rate? Tired of the state making it hard for business to thrive and expand here? Help us do something about it. Sign on here.
________________________________________
TAX FORUM Is it time to scrap the flat-rate income tax system required by the Illinois Constitution and replace it with a graduated rate system in which your tax rate goes up with your income? Some lawmakers believe so and want to give voters a chance to decide on the November 2014 ballot. Progressive tax supporter Ralph Martire of the Center for Tax and Budget Accountability and opponent Ted Dabrowski of the Illinois Policy Institute will debate the issue Sept. 9 in a forum co-sponsored by Reboot Illinois and the Naperville Chamber of Commerce. Please join us if you can. Information and advance registration is here.
________________________________________
TOP 5 Here's a summary of important news from around Illinois today:
• 5. Mayor Rahm Emanuel defends his reappointment of the city watchdog. (Chicago Sun-Times)
4. Six Illinois companies may shed almost 600 jobs. (Crain's Business Chicago)
3. A report finds the suburbs now have as much poverty as the city of Chicago. (Daily Herald)
2. Opinion: Voters already have term limit powers - their votes. (Journal-Courier)
1. Opinion: If voters won't get rid of bad lawmakers, term limits will. (Northwest Herald)