Chicago Public Schools has its fair share of problems, and after the resignation of former CEO Barbara Byrd-Bennett following questionable contracts and a federal investigation, Andy Shaw of the Better Government Association wants to see CPS take steps to right its ship:
"Triple B" is gone, but the questions linger on.

I'm referring to Chicago's now-departed public schools CEO, Barbara Byrd-Bennett, who took the job in 2012 and soon after steered three no-bid contracts for principal training, including one for $20.5 million-- the largest non-competitive CPS contract in years--to SUPES Academy, where she used to work.

The first red flag is Byrd-Bennett's orchestration of a deal with a former employer without public discussion.

That occurred because the CPS review process is done in secret, so we don't know who's making decisions, or why.

CPS says the secrecy is "to protect the evaluation process" from vendors "seeking an advantage," but backroom deals invite more serious transgressions so let's open the door.

Board president David Vitale initially said that CPS considered other consultants to provide professional development for all 400-plus principals, and concluded the only one with enough capacity was SUPES, a small for-profit firm based in Wilmette.

That's odd because several local universities have been providing principal training for years, and they're more prominent than SUPES.
(Check out the rest of Shaw's thoughts on CPS at Reboot Illinois.)
Also looming over the district's head is a $634-million pension payment that's due at the end of the month, and the Chicago Teachers Union contracts, which also expire around the same time. Cartoonist Scott Stantis shared his rendition of the whole fiasco: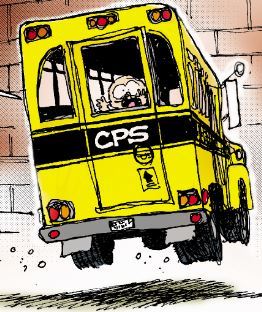 (Check out the whole cartoon at Reboot Illinois.)
NEXT ARTICLE: Best of the best: The top 10 hospitals in Illinois