REBOOTER IN ACTION A friend of a friend recently forwarded us something circulating around the Internet that showed someone educating others about his views on the sad condition of Illinois government and using Reboot Illinois as a resource. That's just what we hope many more people will do with the news and views we publish. So, we reached out to Dick D'Amico, a suburban resident, and asked if he'd like to share his views with all of you. He shares them here. We hope you'll follow his example. Don't just get angry -- get involved.
BIG BROTHER Most of us took yesterday off to celebrate Independence Day. But we don't want anyone to miss Chicago Tribune cartoonist Scott Stantis' time warp take on July 4. Still appropriate for a long Independence Day weekend, we think. Have a look!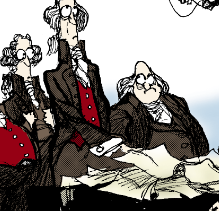 PRESIDENT'S PLEA TO BUSINESS: GET INVOLVED Illinois Chamber of Commerce President Doug Whitley wants his members to know how much damage the state's pension crisis is doing to the state economy, and he wants them to be more aggressive in pressuring lawmakers into action. In the second of a two-part message, Whitley urges his membership to read the legal framework of the reform bill favored by House Speaker Michael Madigan. It's a potent message that deserves airing beyond the Chamber's member list so we've re-posted it here.
THE GOOD OLD DAYS In early 2006, the state's pension debt was "only" $35 billion and addressing the problem wasn't even on the radar of the Blagojevich administration. But it was very much on the mind of citizen Roy Klein, who wrote his senator a letter that, more than seven years and another $60-billion-plus in pension debt later, looks prophetic. Roy is an avid Reboot Illinois reader now and we reprint that letter today with a little explanation.
ROAD TO RUIN How did Illinois turn its public worker pension system into a threat to the entire state budget? How can you be part of the solution? We've combined a petition with an infographic that shows the timeline of the Illinois pension debacle so you can do both in one click. It's all right here.
IN CASE YOU MISSED IT Here are the Top 5 most viewed items on rebootillinois.com in the past week:
5. 2014: Poll: Will gun attitudes play major role in 2014 gov election?
4. Only In Illinois: Weekly video news wrap-up with Madeleine Doubek and Matt Dietrich of Reboot Illinois.
3. Reboot Illinois petition/infographic: Join us to end the Illinois pension crisis
2. Editorial cartoon: A Cub fan at the Blackhawks parade
1. Editorial cartoon: Pat Quinn's concealed weapon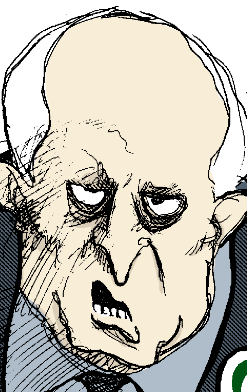 NO COMPROMISE? NO WAY As word arrives that the General Assembly's special conference committee is not going to make Gov. Pat Quinn's July 9 deadline for drafting a pension reform compromise, former Buffalo Grove Mayor and Reboot Illinois reader Elliott Hartstein has heard about enough. Competing legal theories shouldn't be an immovable obstacle to solving the most pressing issue now before state government, Hartstein writes. He shares his view is here.
WE SCAN THE NEWS SO YOU DON'T HAVE TO You can always find links to the day's news from around Illinois in the Daily Tip-Off section of our website. Here are today's top picks:
7. You can't accuse Bill Daley of pandering to downstate for votes (State Journal-Register)
6. Protesters angry about Chicago school cuts held a "block party" in front of Mayor Rahm Emanuel's house on July 4 (NBC 5 Chicago)
5. The primary isn't until March 2014, but Independence Day 2013 was a prime campaigning day for Illinois' gubernatorial candidates (CBS 2 Chicago)
4. Sen. Dick Durbin makes the list of Illinois' five greatest senators of all time (NBC 5/Ward Room)
3. Illinois high school juniors will be tested on writing skills for the first time in two years on next spring's standardized tests, but the state still needs to come up with money to pay for it (Associated Press)
2. Columnist: "I've met all of the Daleys and I would say Rich Daley was never my first choice for Chicago Mayor. Bill Daley was." (Southwest News-Herald)
1. Now there's only one former Illinois governor in federal custody (National Journal)