House Speaker Michael Madigan praised it for the "time and effort in preparing the positions" it took. Senate President John Cullerton criticized it as "divisive" and an opportunity squandered on "campaign rhetoric that denigrates the reputation of the state." The head of the Illinois Federation of Teachers called it "divisive rhetoric that pits people against one another."
Gov. Bruce Rauner's first State of the State Address stirred strong reactions among various groups and individuals. Unlike Madigan, who kept emotion out of his remarks, the reactions generally went to that far end of either loving or loathing what Rauner said.
Business groups that have complained for years about high workers' compensation and liability insurance costs cheered. The traditional Democratic labor base jeered, as did trial attorneys, who also were singled out by Rauner in his speech.
On this week's "Only in Illinois," I boil down the speech to its essentials. Whether any of the ideas he put forward become anything other than words in a speech we'll find out between now and May 31. Check out the video at Reboot Illinois: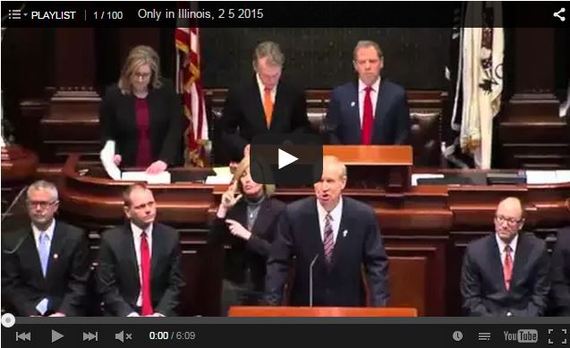 State government has another issue it might need to take on this year: deciding whether or not to allow local governments to declare bankruptcy, something that only 24 states currently allow. State Rep. Ron Sandack, a Republican from Downer's Grove, has introduced a bill to the Illinois legislature that would outline provisions for allowing Illinois local governments to declare bankruptcy. Find out the specifics of the bill at Reboot Illinois.
NEXT ARTICLE: The full text of Gov. Bruce Rauner's State of the State Address