VETO PEN Three weeks ago Gov. Pat Quinn used his amendatory veto power to eliminate funding for lawmaker salaries after they failed to meet his July 9 deadline on a pension reform bill. That move was a hit with the public and the source of a lawsuit against Quinn this week. Without question, though, it was legally dubious. If Quinn's willing to leap into the fray with a bold move like that, we wonder why he suddenly became timid with his veto pen last weekend, when he signed into law an online voter registration bill that contained lots of other not-so-good things. Don't get us wrong: We think online voter registration is a great idea. But this 194-page bill came larded with, among other things, a new chapter of the Illinois Incumbent Protection Act and a new, expensive election bureaucracy that will be foisted on the taxpayers of Lake County. We explain in today's editorial. This was a classic example of when a few strokes of a pen could have greatly improved a bill.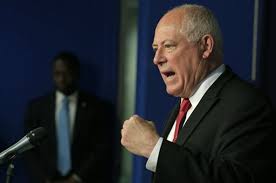 ________________________________________
EVEN BETTER We support online voter registration because it will make it easier for Illinoisans to become voters. A large and active electorate is the foundation of good government. But increasing voter registration and turnout means little if the choices on the ballot are rigged by political leaders to ensure favored candidates get reelected with ease. That's the way it is in Illinois, where party bosses carve up the state into crazily-shaped legislative districts drawn to create safe electoral havens for preferred office holders. We want to stop the gerrymandering that has set the tone of Illinois politics and driven the state into the financial abyss, but this promises to be a Herculean effort. We need your help. Find out more about the Yes for Independent Maps effort and how you can get involved. It's the biggest reform of all in Illinois government and we can't expect any help from lawmakers making it happen. Join us!

________________________________________
QUINN IN THE CAPITAL Does it matter how much time the governor of Illinois spends in the state's capital city? To Scott Reeder of the Illinois Policy Institute it does: "From July 1, 2012, through June 30, 2013, Quinn spent 50 days doing at least some work in Springfield according to his personal schedule, which I obtained through the Illinois Freedom of Information Act," Reeder writes in a column today. "By way of comparison, he spent 48 days traveling outside the Land of Lincoln. Among his stops during the year: Mexico, Brazil and Germany." Reeder isn't impressed with the governor's travel and work schedules. Read the column and see if you agree.

________________________________________
MORE METRA At the very meeting in which details of House Speaker Michael Madigan's involvement with personnel matters at Metra were to be discussed, the Metra board was to have considered a contract with a public relations firm partly owned by a former Madigan staffer and various other highly politically connected individuals. Better Government Association investigator Bob Herguth explains the latest example of Metra becoming a window into the tangled web of political connections in Illinois government.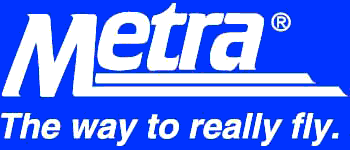 ________________________________________
TAX TALK Is it time for Illinois to scrap its flat-rate income tax for a progressive system in which wealthy taxpayers pay a higher percentage of their income? Is the progressive tax movement a tax increase movement in disguise? How did Illinois go from a $1.1 billion budget surplus in 1998 to billions in debt in a few short years? Those are just a few of the questions that will be discussed by two prominent experts on Illinois' financial state at our Aug. 15 tax forum in Springfield. Reboot Illinois and the Citizens Club of Springfield will host progressive tax advocate Ralph Martire of the Center for Tax and Budget Accountability and opponent Ted Dabrowski of the Illinois Policy Institute for a discussion of Illinois' income tax future. We hope you'll join us. Find out more here.

________________________________________
ACROSS THE TWITTERVERSE This week's lawsuit by House Speaker Michael Madigan and Senate President John Cullerton provided some interesting tweets both serious and humorous. One funny one from a fake Pat Quinn account is below. Click here for more, including some from the real Quinn, who sees the lawsuit and the pension crisis at its center as no matters for laughter.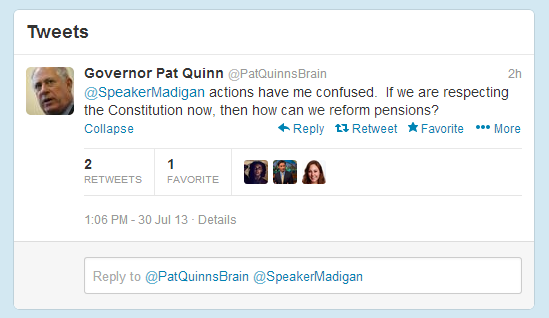 ________________________________________
PENSION DRAIN Nearly one-fourth of our tax dollars go into keeping our failing state pension systems afloat. And it only will get worse. Help us keep the pressure on our lawmakers to reform the pension system and protect Illinois' economy, its state budget and the retirement security of hundreds of thousands of public workers and retirees. Click here to make a difference and to see a timeline of how this disaster unfolded.

________________________________________
TODAY'S TOP 5 Here are links to 5 important Illinois news and opinion items you should be aware of today. You'll find links to and summaries of many more in the Daily Tip-Off section of our website.
• 5. Pat Quinn signed off on a controversial Lake County Election Commission creation because he didn't want to pull the plug on online voter registration. (Daily Herald)
4. The funding cuts to classrooms are $68 million more than Chicago Public Schools said they would be. (Chicago Tribune)
3. A judge denied a lawsuit filed by the Chicago Teachers Union to stop the closing of 10 schools. (Progress Illinois)
2. Opinion: One more Metra board member stepped down. Nine more should do the same. (Chicago Tribune)
1. It's not payday today for Illinois legislators. (Chicago Tribune)