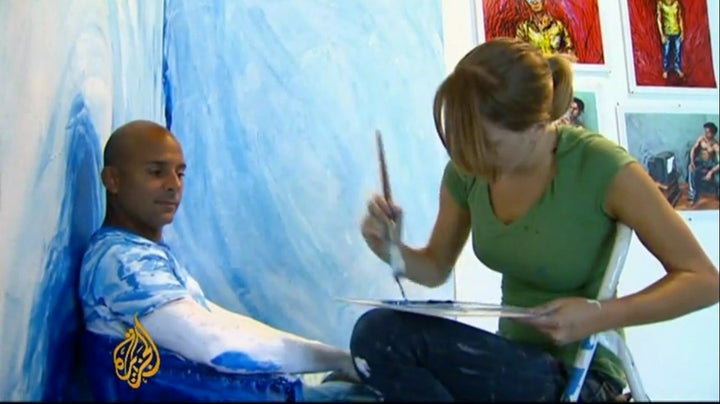 From a distance, the works included in Kurt Schwitters: Color and Collage at the Berkeley Art Museum and Pacific Film Archive (BAM/PFA) possess the austere look of any work of "high art." The faded browns and beiges of his collages project the aura of aged, nearly century-old avant-garde works of art -- which they are. The bloodred and pitch-black blocks of color are reminiscent of the works of modernist icons Theo van Doesburg, Kazimir Malevich, and Piet Mondrian. This is seen most clearly in Mz 601, a 1923 paper and paint collage on cardboard, which is archetypical of the work of Schwitters. The title of the exhibition, and much of the curatorial framing, focuses on the formal use of color and light in works like this one.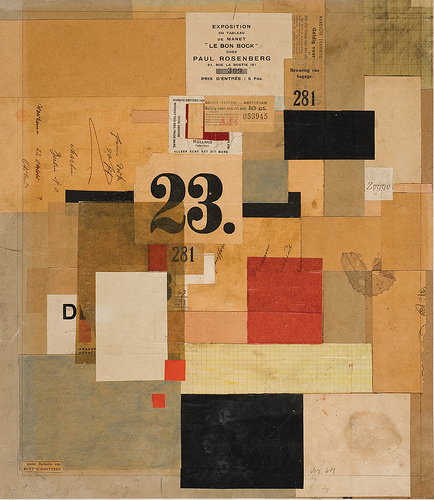 Kurt Schwitters: Mz 601, 1923; paint and paper on cardboard; 17 × 15 in.; Sprengel Museum, Hannover, loan from Kurt and Ernst Schwitters Stiftung. © 2011 Artists Rights Society (ARS), New York / VG Bild-Kunst, Bonn.

But when I stepped closer to these works I saw something more important to me than technical skill and inventive color theory. I saw life. I saw affirmations of life as art. The subjects and material Schwitters chose for his collages and assemblages made these affirmations apparent. One particularly striking piece is Die heilige Nacht, von Antonio Allegri, gen. Correggio, worked through by Kurt Schwitters (1947). The medium-sized, 20 by 15 inch collage is a very Schwitters-esque cousin of L.H.O.O.Q. (1919), Marcel Duchamp's infamous mustachioed appropriation of a Renaissance classic, Leonardo da Vinci's Mona Lisa. Correggio's sixteenth-century The Holy Night serves as the collage's base. Most of the painting is obfuscated, however, with only an infant Jesus being cradled by his prepubescent-looking mother left visible. Envelopes, photographs, a ribbon, a ration card, and other ephemera from Schwitters' life supplant the shepherds and angels from the original painting. Though by 1947 Schwitters had already become a figure in the international art community, this gesture conflates the work of a Renaissance master -- and even the life of such a historical figure as Jesus of Biblical fame -- with the mundane details of this artist-in-exile. Part of a photograph of two soldiers (nationality and rank unknown and unimportant to me) occupy a space just inches above the head of the savior of all of humanity. Are these subjects modern-day compeers? Is the nameless and forgotten photographer just a more high-tech Correggio? No answer is provided, but the "yes" is resounding for me.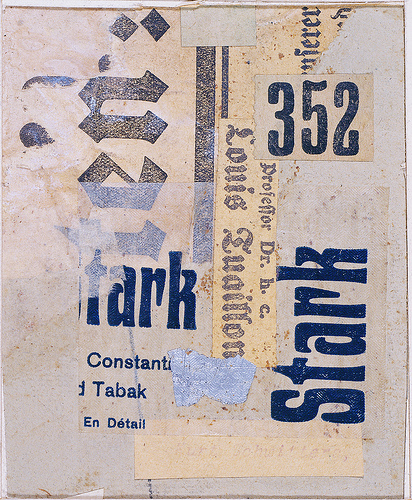 Kurt Schwitters: Mz 11 Starkbild. (Mz 11 STRONG PICTURE), 1919; collage of cut and torn printed, metallic and tissue papers on paperboard; image: 4 1/2 x 3 5/8 in.; sheet: 11 x 7 1/2 inches; the Menil Collection, Houston. Photo: Janet Woodard, Houston.

With his populist use of material, it is no shock that Schwitters is considered a precursor to pop art. Robert Rauschenberg, for example, explicitly remarked that he was influenced by some of the work of Schwitters, including dead cisers (1947), produced in the hyperactive year leading up to Schwitters' death in January 1948. The pasteboard collage contains scraps from an English-language newspaper, including a few pieces that appear to be from comic strips. Beneath these and other unidentifiable scraps of ink- and paint-dirtied paper is a red and white striped piece of fabric. The paper and fabric hide what is possibly the cause of their decimation: two barely visible pairs of metal scissors. It is not just Rauschenberg, but also pop artists Richard Hamilton, Jasper Johns, and Roy Lichtenstein that may have been influenced by this work and others like it. These artists would herald an even stronger consolidation of "high" and "low" art subjects that Schwitters, the Dadaists, and others catalyzed.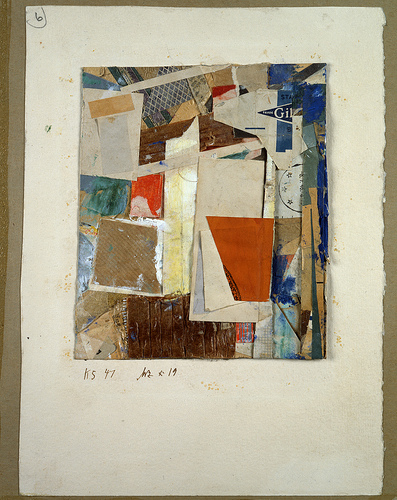 Kurt Schwitters: Mz x 19, 1947; collage, oil, paper, and cardboard on cardboard; 6 1/8 x 5 1/4 in.; Collection of Ellsworth Kelly.

Schwitters coined the term "Merz" to refer to his work and his practice. He defined the word as meaning the "combining of all conceivable materials for artistic purposes."1 Generally, this is taken to mean materials such as the rubbish and ephemera that are included in his collages and assemblages. But looking at his work at BAM/PFA, we can see a deeper meaning. When one buys a bus ticket, or opens an envelope, the potential for Merz exists. There is a problem, however, with the total collapse of art and life. When the distance between the two is erased, the power of art to shape life is erased. But if this distance is too vast, then art is just a luxury unrelated to the visceral reality of reality. The potential for Merz to rear its head at any moment means that the divide between art and life is real, but precarious.
Your job -- you know, the one that has not effectively blocked access to the Huffington Post yet -- is most definitively not art, even if you are an artist. It is life. You use it to pay your bills; it involves tax forms; it forces you to wake up earlier than you would like. But the lesson of the Merz is that when you see through the banalities of life and transform them into something else, they can be infused with a higher meaning. It is at this moment that your W-9 form -- and I say this without an ounce of sarcasm or hyperbole -- can become as important a piece of art as the Mona Lisa or any fresco in Italy.
1. Quoted in Kurt Schwitters: Color and Collage, ed. Isabel Schulz (Houston: Menil Collection, 2010), 52.