("Lessons Learned from Strangers" is a series of everyday interactions with strangers that have taught me something about life. Hopefully these interactions will help guide you on your own personal path. The following interaction happened in 2010 in Boston, Ma)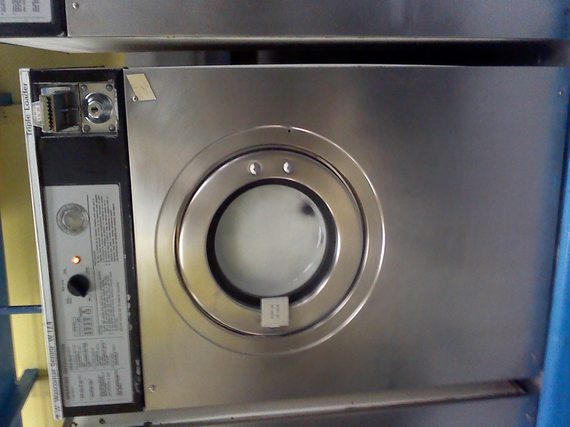 I visited this laundry mat before and the clerk was extremely rude to me and other costumers for no particular reason. It was the nearest laundry mat so it was an unavoidable interaction. I decided that this visit to the laundry mat wouldn't be a dreaded experience. I made it my mission to be exceptionally nice to the clerk. Maybe that was all he needed.
I said hello to him as I entered with the biggest smile possible. He gave me a blank stare and rolled his eyes. This didn't shake me at all. I was on a mission. I almost made it a game in my head. I stayed on him. Every time he passed me, I made sure to smile and acknowledge his presence. He never responded to me. After 20 minutes of back and forth, I gave up on my mission and figured it would be better suited to give all my energy to my laundry.
A few moments later a man entered. He carried an empty laundry bag in his left hand and a black liquor store bag in his other. I could see the tops of the bottles of alcohol peaking through the top of the bag. He headed over to the drier in which his clothes were finishing up and began to take his clothes out. At the same time, my clothes were finished in the wash. To ensure I did not have to interact with the man, I purposely picked a drier at the other end on the laundry room. As he removed his clothes, he kept looking over his shoulder at me. It felt as if he watching my every move. I was beginning to feel uncomfortable. I tried to pretend he wasn't in the room and stared at my drier.
Then it happened. He started to make his way over to me. I begin to get anxiety. With every step he took I began to get a little more nervous. I stared at my drier with same intensity that I would watch a Beyonce music video. I didn't want to make any acknowledgment of his presence. It might encourage a conversation.
Then it happened. He reached out his hand and tapped me on the shoulder. I acted as if I didn't see him approaching. He smiled and said, "Oh sorry... One of my driers has 15 minutes left if you would like to use it."
I smiled and said, "Thank you very much. You are so kind."
I left completely embarrassed for judging that man. There have been many times where I have been improperly judged by someone else. I should have known better. I was so focused on teaching the laundry clerk a lesson on how to treat people, that I didn't realize that I needed work in that same area myself. The lesson this stranger gave me resonates with me constantly. We are all works in progress.