After four straight years of exciting finishes, the addition of a new title sponsor, and a deeper and more diverse field of drivers than has been seen in years, the luster appears to be returning to the Indianapolis 500 after a few rebuilding years.
This year's race marked another incredible race which resulted in the second closest finish ever, and a thrilling end of race battle between:
Three-time winner Helio Castroneves (yes, that guy from Dancing With the Stars, and Celebrity Wife Swap), who lost the race by six-hundredths of a second (that's .06 of one second, or faster than an eye blink) after 500 miles, in a bid to only be the fourth person to win the race four times
Marco Andretti, the third generation of the iconic Andretti family, who have started a total of 69 races, with only one win, and
Ryan Hunter-Reay, the first American to win the race since 2006, winning on Memorial Day, the day of remembrance and celebration of American military past and present.
Sure, one great race does not a habit make, but from one race fan to another who wants to grow the love of the sport, I offer you seven more reasons why the Indianapolis 500 is still the greatest race in the world: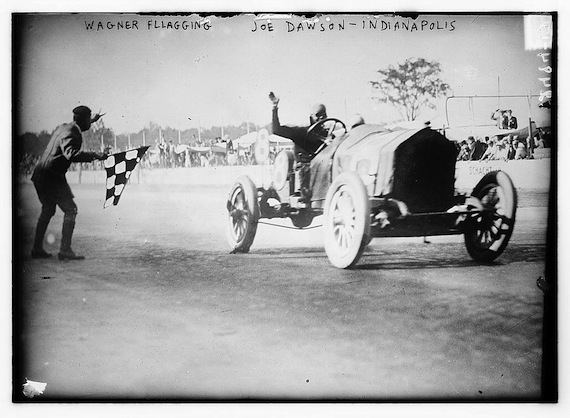 Joe Dawson wins the 1912 Indianapolis 500. Photo: Library of Congress
1. Simple longevity.  It's been around a long time! They have run the Indianapolis 500 since 1911, with gaps only for the two World Wars. Daytona 500? There had been 41 Indy 500's before the first Daytona 500 in 1959.  Sixteen 500 mile races happened before the first Monaco Grand Prix in 1929.  Twenty-four Hours of Le Mans? Nope.  Started in 1923.  A wide community of people between Carl Fisher who built the track, to Eddie Rickenbacker who bought the track in 1927, to the Hulman-George family (who have owned the track since 1945) have came together to preserve and keep the race alive because -- it matters.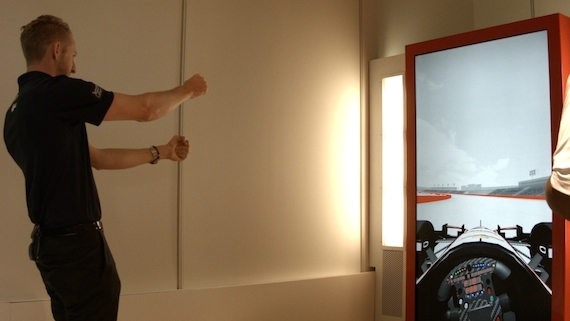 Chip Ganassi Racing Driver Charlie Kimball tries his hand at virtual driving at Verizon's Technology Lab. Photo: Stephen Knell / Platinum Multimedia
2. Ongoing Innovation. The Speedway was created as an automotive test ground, and since then innovation has been a big part of the race.  Ideas first used or highly developed at the Speedway since 1911: The rear view mirror. Turbocharged engines. Turbine engines.  In car race cameras.  Tires.  Aerodynamics.  Better tires.  Real-time automated timing and scoring.  "Soft walls". 
With the addition of Verizon as a title sponsor for the IndyCar Series in 2014, of which the 500 is a crown jewel of, enhancements in Internet livestreaming, virtual reality, mobile payments for fans and more will continue to bring the series beyond the borders of the Indianapolis Motor Speedway itself.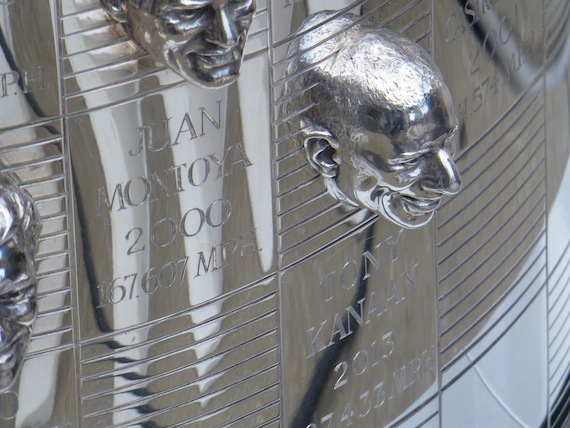 2013 Indy 500 Winner Tony Kanaan immortalized on the Borg-Warner Trophy. Photo: Matthew Knell
3. The risk and the reward. Rarely are sports a life-or-death endeavor, but in auto racing, and particularly in Indianapolis, the risk of death or injury is very real. More than 60 people have died at the Speedway since 1909,  the first year of its opening. Fortunately, many safety improvements have greatly improved the odds against death or serious injury.  Even still, the chance of victory or death is comparable; the 500 has been a battle between man, technology and mortality since the beginning. Why? The purse awarded to the winner has always been amongst the biggest in sports.  This year's Ryan Hunter-Reay took home nearly $2.5 million and added his face to the iconic Borg-Warner trophy, featuring the faces of every race winner since 1911.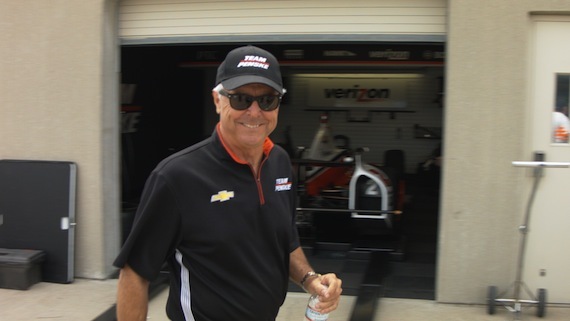 Four-time winner Rick Mears cracks a smile in the garage area. Photo: Stephen Knell / Platinum Multimedia
4. The stories and the legends.  Amongst those who have taken this risk, the history of the Indianapolis 500 is laced with iconic personalities who became legends and amazing stories to go along with them.  Ask Indy race fans about "AJ", "Parnelli", "Mears", "The Andretti Curse" and you're likely to be met with stories about 1992, 1973, 1964 or even 2011. Race weekend is packed with remembrances of these people; its like emptying the Baseball Hall of Fame one weekend a year.  The track even has his own historian, Donald Davidson who has been with the Speedway since 1964. 
A new legend was made last year when fan favorite Kanaan, who finally won in his 12th try, after getting back a good luck charm who he had given to a critically ill patient who stood little chance of survival before surgery.  Both she, and he are doing much better now.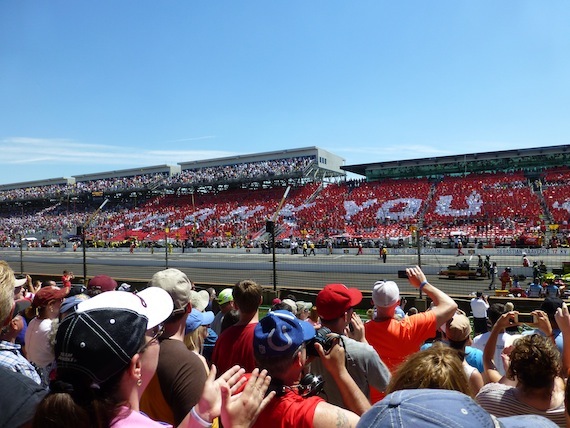 Fans pay tribute to Jim Nabors after his final singing of "(Back Home Again In) Indiana". Photo: Matthew Knell
5. Traditions.   Drinking milk in victory lane.  The Purdue All-American Marching Band. "Ladies and Gentlemen, start your engines."  The public drivers meeting. "*(Back Home Again in) Indiana."  Indeed, coming to the Speedway itself in person has been a family tradition to a large number of people who have made the pilgrimage to Indy 40 or 50 years in their life.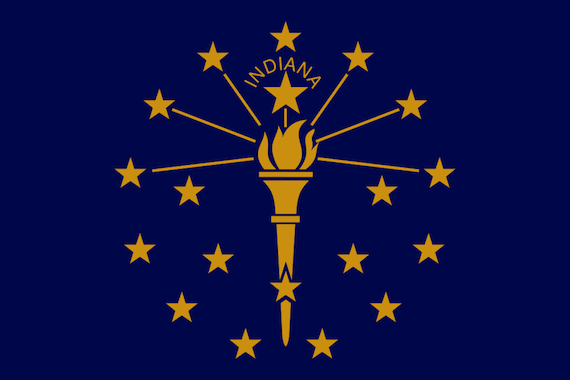 6. The People of Indiana.  It pains me to say it, but as a native New Yorker, I don't think the Indianapolis 500 could thrive in a city like New York. The culture of warmth and politeness that exists in Indiana allows a race featuring more than 250,000 converging on a single day to happen.  At least in my experience, people at the Speedway look out for each other (well, usually), and those around them.   The respect for the race is palpable.  It is a uniquely Indiana thing, and the legacy is guarded closely.  This will ensure it exists for many years to come.
Compare this with the Super Bowl that New York and New Jersey hosted in February.  Many residents hated the idea, there were major transportation issues, and the overall logistics were daunting.  And that was for a crowd of about 82,000 people, or roughly one-third of what typically visits the Indianapolis Motor Speedway on 500 race day.
7. The racing itself.  Of course, the biggest draw is the racing itself.  Humans going wheel to wheel in cars that complete a two-and-a-half mile track in at around 220-230 mph. Pit crews struggling to service cars in under 15 seconds.  Mechanical components stretched to their limits.  All of this with the risk of crash or mechanical failure being imminent is high drama.  It's all about the "what if" and "what could be," not just drivers driving around in circles. 
These are just a few of the many reasons Indy is special. 
Want to learn more? Good! Continue to pique your curiosity with this highlight reel from this year's race and check out indy500.com to learn how to be a part of it yourself next year!