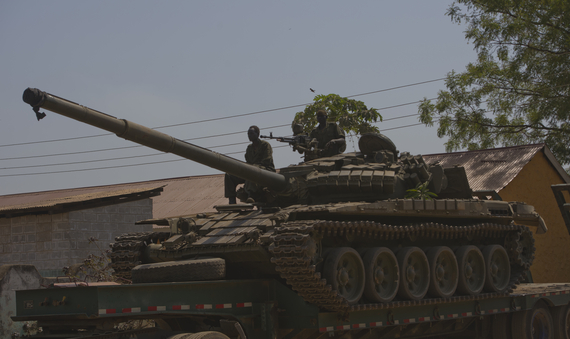 Photo: Ally Ngethi
In the past week, what started as a political confrontation in South Sudan has descended into serious violence with the potential for mass atrocities. But continued fighting and civil war is not inevitable. This crisis, which began as a contentious politics struggle within the country's ruling elites, can end through a political solution.
1. Why are people fighting in South Sudan?
South Sudan, the world's youngest country is now seeing some of the worst fighting in a decade. The situation is complex and rumors are rampant. What is currently happening in South Sudan is and was not a tribal conflict at the outset. It stems from a power struggle within the ruling Sudan Peoples Liberation Movement. Nevertheless, as former vice president Riek Machar challenges sitting president Salva Kiir, ethnic differences are being exploited and used as propaganda to rally and in some cases force support.
2. Is it serious?
This situation is the worst and most dangerous seen in the region since the peace deal that ended civil war in Sudan in 2005. UN bases have been stormed by armed youth, resulting in the deaths of scores of civilians and peacekeepers who dies while trying to protect them. Others are surrounded by hostile militias. U.S. helicopters trying to evacuate American citizens were shot at, resulting in casualties.
Human Rights Watch has collected evidence confirming the government troops involvement in abuses in Juba. At least 42,000 civilians are seeking refuge in the UN mission's compounds across the country and 62,000 have been displaced already. Unfortunately, those figures for displacement are going to increase as the conflict spreads. Thousands have fled from their homes to the bush, where they face harsh conditions with little food and water. Their fate is uncertain and precarious as major towns and civilian centers remain the primary battleground.
3. Where is the worst fighting?
According to the UN, violent clashes have broken out in five of the country's ten states, but unconfirmed reports say that fighting has spread to at least two more, The regions of Jonglei, Unity and Upper Nile are currently the scenes of the worst fighting. This is largely due to the defection of two military leaders: Peter Gadet and Maj. Gen James Koang Chuol. Bentiu the capital of Unity State continues to face insecurity and violence due to its proximity to the oilfields, the main income for the country and government. Oil workers from the region have been evacuated and there are worrying reports of attacks on civilians in a bid to control the oil wells. Riek Machar, the country's former Vice President told the BBC on Saturday that his troops were now in control of "much of the country." While some major areas have been rendered insecure and conflict ridden the government of South Sudan remains largely able to assert itself throughout the country but are no doubt facing major threats and pressure.
The government has declared that the situation in Juba has returned to normal, but many continue to fear a counterattack by rebel forces. South Sudan's second and third largest cities Malakal and Wau remain relatively calm. Upper Nile State is also currently calm. Western and Eastern Equatoria states are largely calm as well. Worrying politics from Aweil, the capital of Northern Bahr El Ghazal suggests some groups looking to remove their current governor are trying to take advantage of the current pressure on the government in Juba to extract concessions. There is a risk of many other actors with little direct interest in or support of the groups currently fighting the government will try to use this as an opportunity to impose their interests on the central government.
4. Who is doing the fighting and can the UN peacekeepers contain them?
Despite some initial fears that the South Sudan army, the SPLA, would fracture, at the moment, the majority of its officers and the rank and file have held together. Nonetheless, significant defections have strengthened the forces in opposition. Now, government forces have surrendered Bor in Jonglei state to Peter Gadet and Bentiu in Unity State to James Koang Chuol. Ugandan troops were dispatched to the capital at President Kiir's invitation and are supporting the SPLA in their effort to regain control of Bor and Jonglei state.
UN peacekeepers are struggling to protect civilians and contain the armed factions. However, Toby Lanzer of the UN worries, "as in Akobo," where a base was stormed by thousands of armed youth, "if there are few peacekeepers inside and two thousand outside there's little we can do." Clearly more peacekeepers are required, even if from regional actors interested in maintaining stability, particularly Ethiopia, Kenya and Uganda. The Ugandan have already intervened and more can be expected from them.
5. Should we focus on the ethnic dimensions of the conflict?
Old animosities and grievances are being reflected in the narratives communicated by many political leaders in South Sudan, and this is dangerous. Many of those involved in directing the violence are clearly interested in driving political contestation into the space of ethnically defined war. This is a dangerous strategy indeed and is similar to what transpired in the run-up to the Rwandan genocide.
The international media, humanitarians, rights groups and other actors are also contributing to the ethnically framed rhetoric. Some of the reports focused singularly on targeting of some groups have spread like wildfire through the local media and are being tweeted and posted widely. This has combined with the widespread commentary of well-known South Sudanese figures and many in the diaspora. This has tangible consequences on the ground with individuals using such reporting as justification for retaliation and anger, which is much more complicated. At the very least those engaged in commentary and interested in seeing this crisis end must take the utmost care and avoid contributing to this very dangerous dynamic.
6. Is a political solution still possible?
As long as the core of the army can hold together there remains the possibility for a political solution to the crisis. President Kiir has indicated his willingness to talk with any of those in open rebellion and such mediation is essential. A secure space along with a trusted mediator is critical for this.
The president has agreed to dialogue as suggested by international actors, however many of the key dissident leaders accept talks under the condition that the detained politicians are first released. This may be too large a demand for the government since they believe these individuals were plotting a coup. Some kind of accommodation in between this demand and the position of the government is possible and needs to be explored. At the same time, the commanders in the field need to be reigned-in to stop further violence and escalation also to give confidence that the rebel leaders are in-fact in control of those they claim are their supporters. Its essential to understand who is in control of which groups so that all relevant actors can be included in the mediation.
7. What needs to be done?
The UN has capacity and mandate to act the need to be assisting those in need more widely. It must act more aggressively to provide protection.
We are at a critical moment when our actions can change the course of the history of this nation and prevent a return to war. We are peering over the precipice into civil war and worse. Massive investment has been made in South Sudan for peace; this all cannot be for naught.