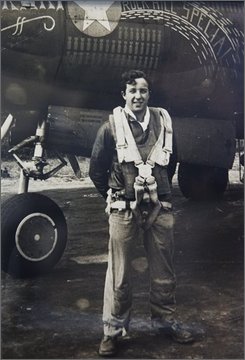 Just a simple eye test.
That was all that stood between Nathan Kline, 18, and his dream of becoming a fighter pilot.
"24," he says, a tinge of sadness still in his voice. "Just about shattered my heart."
Spring, 1942. The headlines announced Hitler's latest march; the Japanese had bombed Pearl Harbor; London went dark at night, and silent but for the relentless sirens; the whole world was embroiled in a bloody struggle for survival, and the outcome was uncertain.
"I don't know how to explain it except I wanted to do my part," says Kline, now 86. "I was too young to enlist, but I had an Uncle sign me in to the Air Force. I don't remember being scared, though maybe I was. I just remember being excited. But then there was that darn eye test."
That darn eye test. Kline spent two years as what he disdainfully calls a "blanket counter" as "pilots were being shot down faster than they could replace them."
Finally, still determined, Kline signed up for another eye test. This time, though, he sneaked in the night before the test and memorized the chart, a sequence he can still repeat verbatim today, over a half-century later.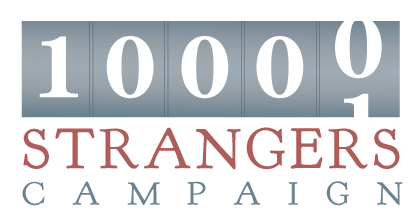 What's your story?
This Fall, while the presidential candidates are flying overhead in private jets, landing occasionally to offer their sterilized hands around America's small towns, smiling for the cameras and selling their own billion dollar narratives... another campaign will be quietly underway.
It's called The 10,000 Strangers Campaign, and I'm proud to announce it here. From July 30-Nov. 6 (election day) I will be slowly driving across America. My goal is to shake 10,000 hands in 100 days. I will do this by introducing myself to 10,000 strangers in parks, libraries and other public spaces. For anyone who will take 30 seconds to talk to me (no guarantee these days), I'll offer a self-addressed, pre-stamped postcard with instructions to share a single memory -- "a story you don't want to be forgotten" (along with a photograph or illustration) and mail it back to me.
I'll also be making campaign stops at VFWs, schools, public libraries, community, art and senior centers all across America.
Major Nathan Kline went on to fly over 60 missions, including on D-Day and the Battle of the Bulge. At 86, he's still giving back. Last year he founded a 60-bed "sanctuary" for veterans in need of help for post-traumatic stress disorder.
This is both a sociological experiment (I'll be meeting 100 strangers per day -- how will they respond? Will they take out their ear buds and talk to me?) and a community art project.
And for me, it's personal.
The campaign is an initiative of The Spaces Between Your Fingers Project, which I started in 2009, in memory of my grandfather. Toward the end of his life, as he struggled with Alzheimer's Disease, it became important for him to pass on his memories--how he met my grandmother on a double date, for instance (she was with the other guy), or how it felt to fly a B-26 in the South Pacific as a Navy Pilot in WWII ("like the sky ripping apart around you"). After his death, I created the SBYF Project as a "conversation between generations."
So this is an open call for stories, and for curators to collect those stories. I am looking for partners in a cities and small towns all across America. Ideal candidates will be:
Teachers or librarians looking for a fun, meaningful summer project
College students or recent graduates with an interest in art and storytelling
Professionals who work with older Americans
Anyone affected by Alzheimer's Disease who wants to make a difference in a unique way.
The project will be 100% crowdfunded; all monies raised will be used for gas, food, shelter, postcards, and stamps... and anything left over will be rolled into a fund to support families struggling with Alzheimer's Disease.
And here's the best part: instead of signing their names, all the strangers trace their handprints onto the postcards, a unique "hand print signature." In addition to being physically archived, every postcard will be scanned and catalogued into a digital "wisdom library" that will be searchable by age, location, subject... or even by matching hand print, by using our free iPad app.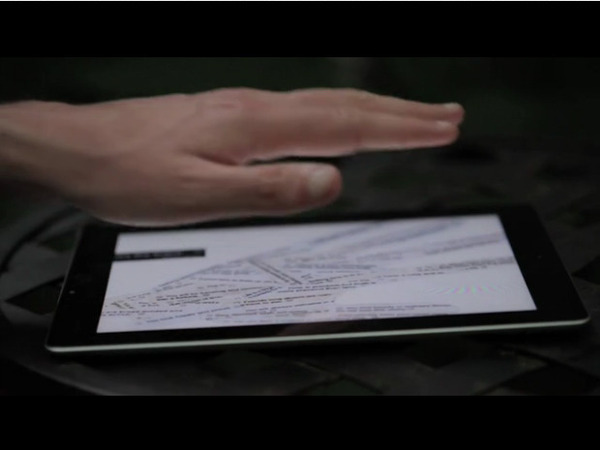 The SBYF "Wisdom Library" app will be a new kind of Storytelling Machine, connecting people all over the world by matching hand print.
In this time when we supposedly have never been so divided, an opportunity for connection.