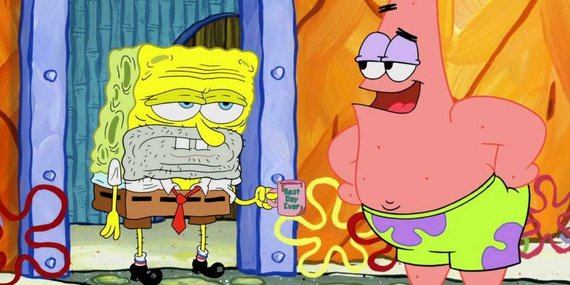 Not even SpongeBob SquarePants is safe from the bad economy and the tough job market!
In an upcoming episode of the popular children's cartoon titled "SpongeBob, You're Fired!" which airs on Nov. 11, SpongeBob SquarePants will be fired from his job of 14 years at Krusty Krab Burger Shack. His boss, Mr. Krabs discovers that he can save a nickel by cutting SpongeBob from the payroll. SpongeBob will then embark on a quest to find a new job. Nickelodeon President of Content, Russell Hicks, offered a hint to SpongeBob's tough situation: "As always, despite this momentary setback, SpongeBob's eternal optimism prevails, which is always a great message for everyone."
While eternal optimism might work for SpongeBob and his friends in Bikini Bottom, many of us land lovers still feel like we are drowning here in the real world. Despite the creation of nearly 150,000 jobs, the September jobs report still finds the unemployment rate at 7.2 percent. With the holiday season quickly approaching, here are some helpful tips for SpongeBob and the rest of the job seekers out there.
1. Update Your Resume
Now is the time to dust off your old resume to make sure that it is current and as detailed as possible. Create one master resume that lists everything about yourself, as well as customized ones for the particular field to which you are applying.
2. Real vs. Virtual
While applying for jobs online is a good place to start your search, it is always recommended to go visit stores directly. Now is the time when many businesses start to hire extra staff for the busy holiday season. Go visit stores and apply face to face.
3. Using Social Media & Modern Technology
Social media is becoming a huge part of our lives, and your favorite sites can help you search for jobs. Twitter, Facebook and LinkedIn (just to name a few) all have job boards. And, if you have a Smartphone, try downloading a new app called "Apploi," which many companies now use to post job opening. This fascinating new tool will help you with online applications.
4. Upgrade Your Skills
While losing your job is a terrible feeling, try to think of it as a great opportunity to try something new: Reevaluate your career goals, and look into the many educational opportunities out there to upgrade your skills.
5. Employment Resources
There are many government funded programs that can help you in this time of uncertainty as you look for a new job. Consider utilizing the resources offered by one-stop career centers, Ticket-To-Work Employment Networks (if you are receiving SSI/SSDI benefits from the U.S. Social Security Administration), and Homeless Veterans Reintegration Program sites (funded by the U.S. Department of Labor).
Just like SpongeBob, losing your job is only a momentary setback. With the holiday season right around the corner, and many companies ramping up their hiring process, following these five steps will help you swim your way back to a job that even SpongeBob would be jealous of.
Matthew Silverstein is the Director of Public Affairs for America Works of New York, Inc. America Works of New York, Inc. is a private employment company that helps hard-to-serve individuals find jobs.