I Am Morgan - Stolen Freedom is a provocative new film about the marine theme park industry. It gives the audience a glimpse -- be it ever so brief -- at the barren, lifeless, concrete world of captivity, as seen through the eyes of a killer whale.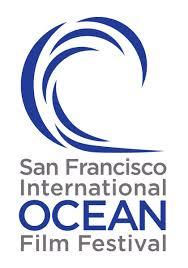 An official selection of the 2016 San Francisco International Ocean Film Festival (SFIOFF), I Am Morgan (New Zealand) will be making its world premiere when it screens alongside 47 other films representing the work of filmmakers from 13 countries.
Each film brings to light different issues and perspectives of our dependence and never ending struggle to balance the ebb and flow of human-ocean interaction in a socially responsible and sustainable manner.
Ana Blanco, Executive Director of the SFIOFF is thrilled with the diversity of this year's films, filmmakers and the global issues they address:
"The SFIOFF provides an opportunity to see many films that are otherwise unavailable to the public, inspiring audiences of all ages to be empowered through the powerful medium of storytelling and independent film. We are excited to be the world premiere for I Am Morgan, as it exemplifies the type of films we screen, focusing on a specific need within the ocean realm with a call to action. I highly encourage everyone to see this film." (Ana Blanco, Executive Director SFIOFF, 7 March 2016.)
The festival also features a student film competition and an education program that includes screenings of many of the festival's feature films, including I Am Morgan, to approximately 1,200 middle and high school students.
The opening night Off the Reef Gala is sure to set the mood for a great festival with Blue Mind and wild water advocate Dr. Wallce "J." Nichols as the Emcee. The San Francisco International Ocean Film Festival runs March 10-13, 2016. The festival schedule and ticket information can be found here - http://oceanfilmfest.org/
For the I Am Morgan team, an international crew of first time filmmakers; Directors Heiko Grimm, Carlos Godó Borrás and Irene Buesa García, Editor Jérémie Collado and Creative Consultant Claire Guillaume, the premier of their film in San Francisco is a dream come true. These passionate advocates for change also enjoyed the good fortune of being guided through the creative process by Consulting Producer Daniel Azarian whose film A Day in the Life of Lolita the Performing Orca screened at SFIOFF in 2014.
Stolen Freedom
It is not enough to look into the eyes of a killer whale in captivity and be amazed by the sentient being that you see. The telling truth; the test of compassion comes when you look at yourself through the eyes of Morgan and feel the emptiness within and the sadness of what her life should have been.
This is Morgan's story but her ordeal is about so much more and her journey into captivity raises serious questions about whether international wildlife regulations, and the individuals and governments responsible for enforcing them, are doing enough to defend the wildlife they are supposed to protect, or if rather they are supporting an exploitive industry.
In 2010 Morgan, a wild-born, Norwegian female killer whale was taken from the Wadden Sea under the authority of the Kingdom of the Netherlands pursuant to a "rescue, rehabilitate and release" permit. She was swimming freely in shallow water, although disoriented and dehydrated and apparently separated from her family. The rescue accomplished, the rehabilitation complete, all that remained was for Morgan to be released back to the sea:
As an ambassador for Morgan, Heiko Grimm, Writer and Director of I Am Morgan, speaks about his work with a burning conviction:
"My hope is that people get inspired by this short film to learn about Morgan and that the young voices of today speak out for her future. We can't accept what has been done to Morgan and let marine theme parks label it as a "rescue". This must not be the way humans treat the ocean and its inhabitants. We need to move forward together to effect change and make amends for the damage that we as humans have done to her." (Heiko Grimm, Director I Am Morgan, 29 February 2016)
I Am Morgan will be shown at all three SFIOFF education screenings and on Saturday (March 12th), it will screen to the general public as part of Program 5 beginning 10 a.m., at Cowell Theater, Fort Mason Center (San Francisco). Heiko Grimm will be available for Q&A following the screenings.
In addition to the SFIOFF, I Am Morgan - Stolen Freedom has been selected for screenings at the International Wildlife Film Festival (Montana, USA 16-23 April, 2016); Coral Coast International Film Festival (Sardinia, Italy 12-18 September 2016); and Wildlife Conservation Film Festival (New York, USA 14-23 October 2016).
White Paper on Whale Laundering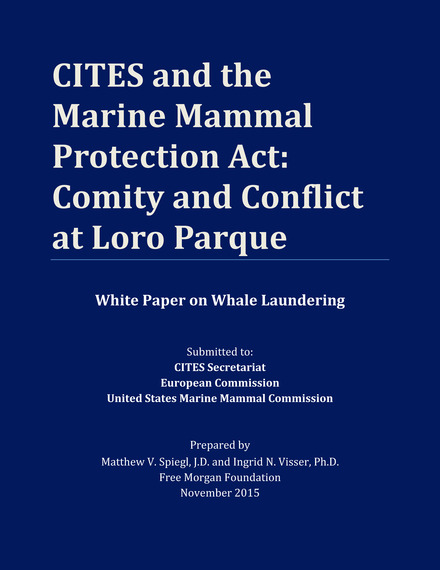 Late last year, I worked with the Free Morgan Foundation (FMF) to publish its White Paper on whale laundering. We presented it, along with a series of policy and action requests, to government authorities in the United States, the European Union, Spain and the Netherlands.
Morgan's ordeal was highlighted in the White Paper through a detailed and thoroughly documented case study that pulls back the curtain on the shady, often illicit world of the capture and trade of killer whales for commercial profit.
With the spotlight now focused on whale laundering and the plight of killer whales in captivity, the FMF hopes that films like I Am Morgan and Blackfish will continue elevate the discussion to the highest levels of politics and society and bring new blood to the government agencies involved along with new ways of thinking about this issue as well.
Three years ago, while writing another article about Morgan, I asked Gabriela Cowperthwaite, Director of Blackfish, for her thoughts about Morgan. Here is what she said:
"Blackfish tracks the story of Tilikum, but I'm aware of Morgan's story too. In order for people to understand what's happening to her in Loro Parque they need to know how she got there and why she's so valuable." (Gabriela Cowperthwaite, Director Blackfish, 19 April, 2013.)
Gabriela's statement continues to ring true today. Morgan's case is particularly important because at the time of her capture she was the first wild-caught female killer whale brought into captivity in over a decade. That makes her invaluable to the marine theme park industry as a new bloodline that is being exploited to give renewed life to captive gene pools facing certain demise from generations of in-breeding.
For SeaWorld and the marine theme park industry as a whole, keeping Morgan in captivity and breeding her means their shows can go on and on and on until meaningful laws and regulations against captive breeding are passed and aggressively enforced internationally.
Serious questions persist about the Spanish Government's ability, and indeed its willingness, to enforce the strict terms of the permit that allowed Morgan's transfer from the Netherlands to Loro Parque. The Dutch Government issued the permit pursuant to a specific exemption in the European Wildlife Trade Regulations. The exemption allows Morgan to be held for scientific research - it does not authorize breeding Morgan with a group of SeaWorld's captive-bred killer whales which are also held at Loro Parque.
Morgan has been held at Loro Parque since 29 November 2011. However, in a shocking revelation on 14 December 2015 (4 years after her arrival), the Spanish Ministry responsible for enforcing the terms of Morgan's permit while she is there, stated:
"We are unaware of the content and scope of the governing letter submitted by the Dutch CITES MA." (Excerpt from certified English translation of letter from Alicia Sánchez Muñoz, Subdirectora General, Ministry of Economy and Competitiveness to FMF dated 14 December 2015.)
A recently observed procedure (filmed at Loro Parque on 23 February 2016), showing Morgan receiving an ultra-sound, lends no comfort as it indicates that the attempts to breed her are ongoing with tacit approval of the permit violation by the Spanish Government itself.
There is a growing sense of public disgust and disapproval that captive breeding of rescued cetaceans (whales, dolphins and porpoises) is occurring in marine theme parks like the SeaWorld facilities in the United States, and Loro Parque at Tenerife, Spain.
In 2014 California Assemblymember Bloom introduced AB 2140 which would prohibit captive breeding of killer whales and in October 2015 the California Coastal Commission imposed conditions on SeaWorld which would prohibit captive breeding of killer whales. In Washington, State Representative Kevin Van de Wege has introduced HB 2888 which would prohibit killer whale breeding and in Congress, Representative Schiff has introduced the ORCA Act (H.R. 4019) which would prohibit captive killer whale breeding as well.
The tide is clearly turning and we are likely to see more legislative and regulatory initiatives and reforms introduced as this important discussion evolves in both the United States and internationally.
Just last week in the Netherlands (2 March 2016), an investigative news program Rambam broadcast a story about the treatment of dolphins in the care of Dolfinarium Harderwijk (Morgan's original captors). The revelations from the Dutch marine theme park have reverberated throughout the Netherlands and have caused so much outrage that the Dutch Parliament has scheduled a floor debate to address the issue on 28 April 2016.
Morgan's Law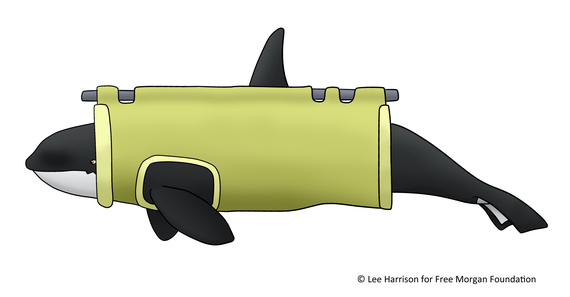 In support of this growing movement to ban the breeding of, and eventual captivity of, killer whales, the FMF has put forth a proposal for the adoption of an international set of regulations to address issues of captive breeding of rescued, wild-born whales, dolphins and porpoises (collectively known as cetaceans) with their captive-bred counterparts and their indefinite holding in captivity for entertainment purposes under the guise of conducting bona fide scientific research.
The proposal is referred to as "Morgan's Law" as a reflection of all that has happened to Morgan and in her honour to prevent it from happening to any other rescued cetacean. It is proposed that Morgan's Law first be implemented in the United States and the European Union and that the framework eventually extend globally through CITES and other intentional conventions. The issues being raised transcend national borders as illustrated in the case of Morgan who was born into a wild Norwegian killer whale population, rescued in Dutch waters, transferred to a Spanish territory and subject to breeding decisions made at the direction of a publicly traded United States corporation.
The FMF has submitted the concept of Morgan's Law for consideration by the United States as an agenda item to submit for the upcoming Convention on International Trade in Endangered Species of Wild Fauna and Flora (CITES) Conference of the Parties (CoP17) to be held in Johannesburg, South Africa 24 September 2016 - 5 October 2016.
Situations like Morgan's occur with greater frequency than the general public realizes or the regulatory agencies acknowledge and it involves all cetaceans, not just killer whales. Dr. Ingrid Visser of the Orca Research Trust and FMF, working with other individuals and organizations around the world, has evidence documenting that at least 13 species of rescued cetaceans, processed through at least 13 facilities around the world (with five facilities located in the United States) have been used for primarily commercial purposes, including but not limited to, breeding.
This type of "industry" behavior cannot continue. Safeguards need to be in place and monitoring of rescued cetaceans maintained to ensure that those legitimately eligible for release after rehabilitation are in fact released. Furthermore, those who can't be released should be house in sea-pens, in the ocean, not in concrete tanks and they certainly should not be bred to perpetuate a commercial enterprise.
What has happened to Morgan is reprehensible, repulsive and wrong and the egregious disregard for the terms of her permit which do not authorize breeding and the failure to enforce the international wildlife regulations intended to protect her, continue to this day.
The short film I am Morgan - Stolen Freedom encapsulates her story in four and a half minutes, but the big picture is a complex history spanning over five and a half years and worthy of a full-length investigative feature. You can learn more about Morgan's story and the efforts underway to enforce the terms of her permit and to make sure nothing like this ever happens again by visiting www.freemorgan.org.
(Author's note - Matthew Spiegl serves on the Board of the Free Morgan Foundation and co-authored CITES and the Marine Mammal Protection Act: Comity and Conflict at Loro Parque (White Paper on Whale Laundering)).