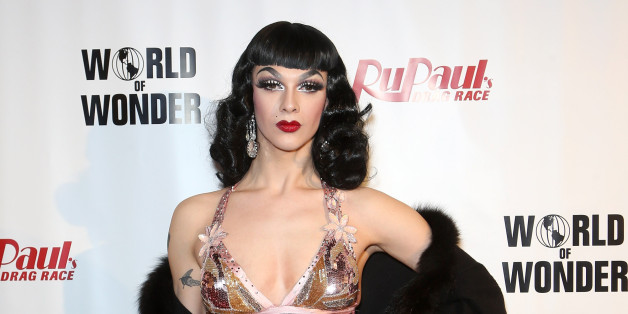 Did you love seeing Violet Chachki slay the competition on the first episode of Rupaul's Drag Race Season 7? Here are five facts about this incredibly talented queen from Atlanta:
1. Violet Chachki has already taken the drag race crown -- allegedly. Sharon Needles' crown went missing during a show in Atlanta, and Violet posted a naked photo soon after with a very, very similar looking crown. Drag Race fans will remember the Ru-Dunnit series of Absolut ads about Sharon Needles' stolen crown.
2. Atlanta saw Violet naked back in 2013. During the Legendary Children art show, photographs by Blake England depicting an untucked Chachki caused quite a stir. VICE even wrote about her balls.
3. Since 2013, Violet has been part of the "Village Queens." This artsy, ragtag group of drag queens come from Mary's, the dirty gay hipster bar in the East Atlanta Village. These girls are known for their highly creative, dumpster diving, bewitching drag numbers.
4. In 2014, Violet won the title of "Miss Edgewood" -- an "upcoming" neighborhood in Atlanta full of hipster bars and public art. She accepted the title from Brigitte Bidet, her sister in drag, who had won in 2013.
5. Godmother of Southern photography, Lucinda Bunnen, featured a series of photos of Violet Chachki in a recent photo exhibit. The 84-year-old photographer needed a model with a very tiny waist to model a clothing collection. Violet wore Lucinda Bunnen's midcentury dresses, kimonos and gowns. The images were featured in the show "A Collection of Collections."