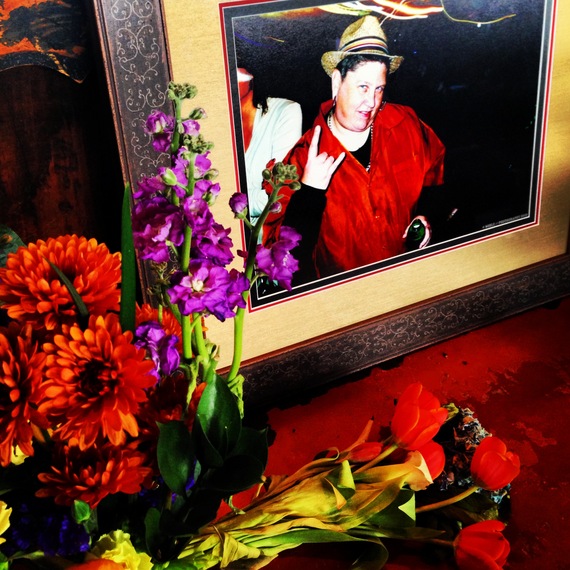 Ria Pell
Ria Pell passed on November 24, 2013 in the fine city of Atlanta, Georgia.
This was a very distinct day in my memory - it was my 28th birthday. That evening I was at a drag queen beauty pageant at the Holiday Inn near Turner Field taking photos. My brother, a fellow Atlantan, called me and told me the news of Ria. Neither of us knew her closely; however, the news was still a sombre shock. It seemed fitting that a blood family member tell me of Ria's death. She stood as mother-supreme to so many of us who have chosen to call Atlanta home. Ria united queer folks, creatives, industry people, punks, biscuit lovers, pancake eaters, and so many more people in this city. Blood or no blood, she made us into an Atlanta family.
My brother and I mumbled a few moments of sorrow over the phone and then awkwardly hung up. I returned to my seat and watched a queen from Little Rock dance her heart out. Around me everyone had their phone out; the news was rolling in on sad waves. I had begun the day by posting on Facebook that "RuPaul says every 7 years presents a major change in your life. Today I turned 28 and I feel like I am on the precipice of a big, good change in my life." I ended the day united in sadness with so many people I didn't know. Whatever this change in my life may bring, it will be marked in my memory by a milestone of loss.
I enjoy a vibrant queer life in this city, and I owe a bit of my freedom to Ria Pell. Atlanta gives me a wholesomely fabulous life filled with drag queens, delicious Southern food, and weird friends I love dearly. There's a sense of hope in Atlanta; you want to be a good person who loves this city and loves your neighbors. Ria Pell opened exceptional restaurants, revitalized neighborhoods, won on Food Network's Chopped, served the best pancakes according to the New York Times, and defined the Atlanta alternative community. She did this all by approaching every new adventure from a place of love. Ria showed me that to be an Atlantan is to strive to be a good person who loves your friends and community -- differences and all.
I knew Ria best as the owner of Sauced, my favorite restaurant in Atlanta until it closed in 2012. This restaurant did Southern unlike any other place I'd been. Every single detail seemed retro, but everything was exquisite. The place was decorated with wood-paneled walls, mounted wildlife, and trippy ceramic lamps that looked like overgrown ashtrays. The food evoked snapshots of vintage cookbooks, but with every detail done impeccably well. Sauced served up Guinness braised short ribs Wellington, the best grilled salad in town, fresh made pork rinds, and the most heavenly biscuits. Ria was always there in her overalls and tattoos. She'd pull up next to you at the bar and order the Meat Up (her decadent charcuterie and cheese platter) and reign over her domain.
Ria comported as a gruff-seeming, strong-as-nails dyke, but she came from a place of kindness despite the buzz cut, piercings, and tattoos. She had perfected every detail of her midcentury mobile home palace at Sauced, and every flavor of every ingredient was brought to its delicious pinnacle in her food. Sauced was a vision in Southern done-up retro, queer, and fabulous. Ria even deejayed on occasion; she'd flip through stacks of vinyl and pick some dreamy country classic as you were enjoying the most divine lemon icebox pie.
I remember that lemon icebox pie more than anything, but mostly because they were always out of it. Lusciously smooth lemon custard sits atop a salty-crumbly graham cracker crust. Ria crowned it with bronze-tipped stars of creamy meringue and served the pie just-chilled (like it came from grandma's icebox). Not a note was out of place -- pure lemon, not too sweet or tart, cleansing the palate after dinner. Sometimes they were classic slices and sometimes they were cutesy tarts. Half of the time I went to Sauced they had just run out, so I reveled with gluttony whenever I could score a serving.
I took my parents there, and I think the experience of Sauced was a little too surreal for them. They had lived through the 1970s, and the Harvey Wallbanger did not have the same appeal to them that it did me. The drinks at Sauced, in general, were advanced for the out-of-town crowd. They came in precious frosty martini glasses with a sidecar chilling in a fishbowl of ice and club soda (the bubbles made everything colder and sparklier). The combination of writhing taxidermied bass on the wall and upscale setting on the table made for a wonky experience. My mother leaned into me over our frou-frou cocktails and canape du jour (biscuit with roquefort and local honey) and whispered "Matt, these people have tattoos." I smiled and nodded--yes, all of these well-dressed, beautiful people had tattoos.
What spoke to me most about Sauced was Ria's entire approach to cooking. With every dish that was put in front of me, I could taste the love and hard work that created such nuanced flavors. Sauced's food always carried the taste of "fond" (French for "foundation") - the brown, caramelized layer at the bottom of the pan that you deglaze and incorporate into the final dish.
Fonds pull together all of the fat, sugar, salt, juices, bits, and pieces into a delicious and deep flavor; however, you have to work to keep the fond even and unburned. Fonds form best slowly with each flavor melding with the next. Ria could mesh sharp onions, fatty meat, tart vinegar, and sweet molasses patiently under heat; they each give some of their flavor to the pot, but each ingredient's personality always came through. Caring over a fond gives dishes a more robust, unified flavor in the end. Once you deglaze a fond, it disappears into the final dish--supporting and enhancing all the other elements in the recipe. A good fond forms the foundation of sauces and dishes galore, and in Ria's cuisine it sang a heartfelt role.
The thoughtful love Ria put into Sauced helped me taste my Southern heritage anew. It was more than the food -- I enjoyed the diversity she brought to her restaurant. Sauced was vegan-queer friendly with a dash of punk, country, and glam rockers. You could sit and be surrounded by all these "out there" people but be united by the love of delicious Southern cooking.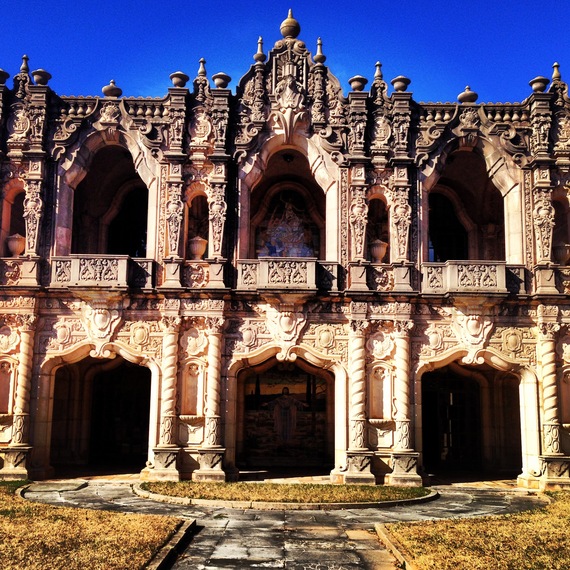 The Abby at Westview Cemetery
At her funeral, Ria's wide-reaching influence stood out in the crowd. Hundreds of mourners flocked to the mammoth (582 acres) Westview Cemetery in Atlanta. They were pin-up girls, bike messengers, steampunks, country folks in camouflage overalls, drag queens, rockabillies, and more. The Willie A. Watkins funeral home brought Ria in on a 1950s Cadillac hearse replete with red velvet drapes and shined-up chrome. As the pall bearers carried her coffin inside Westview Abby, a solemn energy spread over the crowd; everyone bowed their head and many tried not to cry.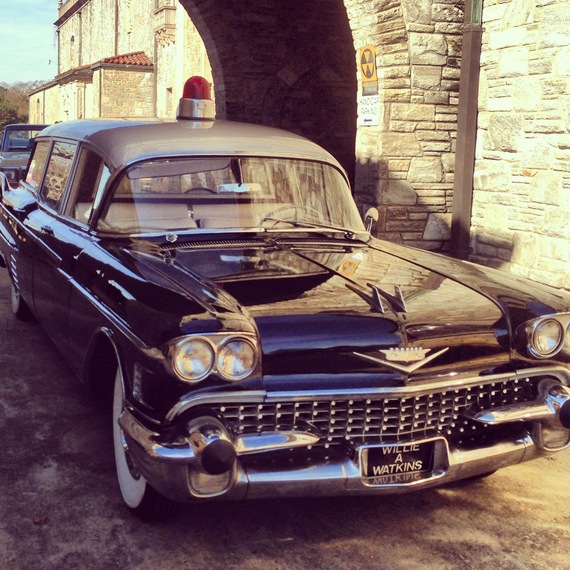 Ria's Fabulous Hearse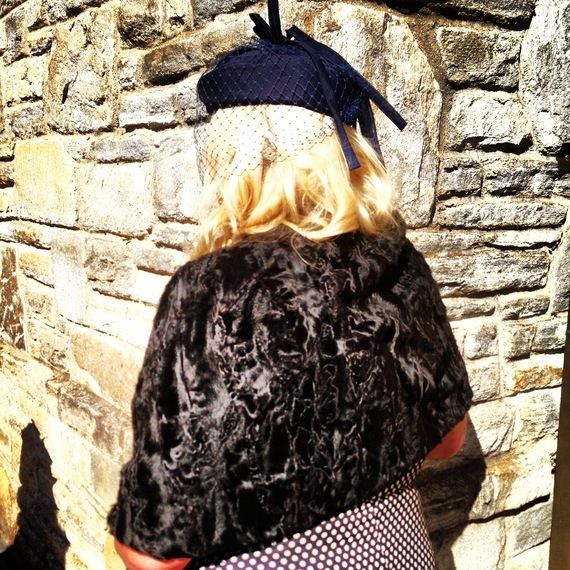 Pin-up Mourner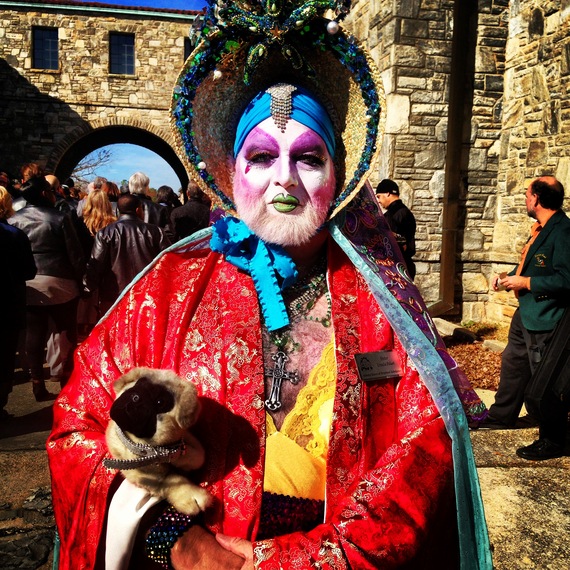 Sister Ursula Polari
The chapel at Westview Abby could only hold a hundred or so mourners, and the rest of us were standing in the marble mausoleum-lined hallways. The voices of her memorial echoed down the Abby--people spoke of Ria's ability to unite people, to foster their newfound Atlanta heritage, and to define contemporary culture in the city. Big Mike Geier (aka: Puddles Pity Party) led everyone in a singing of glitz-country classic "I've Got a Tiger By the Tail". One by one, stoic mourners broke and began to sob.
As I listened to the memorial, I wandered the gleaming mausoleums in search of a restroom. Alas, a recent cold snap sent the aged pipes at Westview under repair. I unlocked a door to step outside into the Abby's courtyard. Two goth photographers stood smoking outside. They immediately informed me "There it is, that's what you're looking for." They referred to a 12-foot tall holly bush--the impromptu port-a-potty for this shindig. I disappeared into the holly and returned relieved and smiling. Ria would have been greatly amused by folks peeing in the well-manicured bushes at Westview.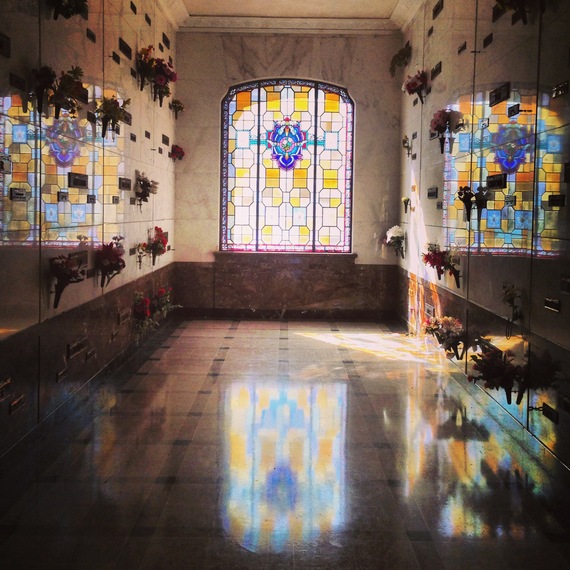 The Mausoleums at the Abby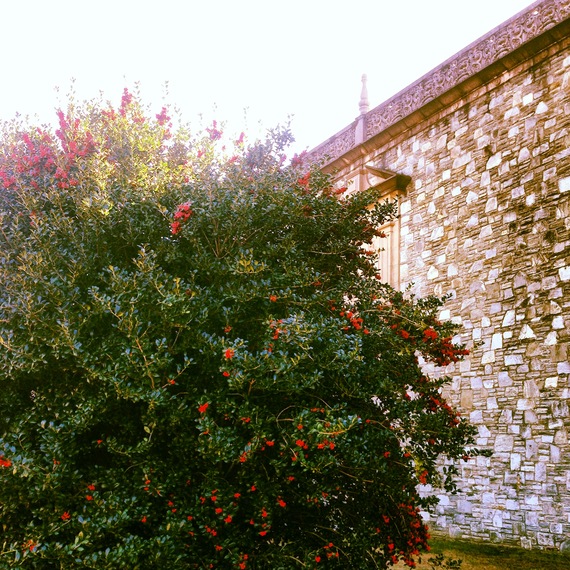 Port-a-Holly
When I returned from my bathroom break, the memorial was ending. People spilled outside the Abby to form a second line to the graveside. Ria, in her vintage Cadillac, was followed by her loved ones in a classic pickup truck, and behind them a brass band with conductor led folks in hymns and spirituals. Hundreds of mourners snaked through the hills of Westview Cemetery, marching their way to Ria's grave.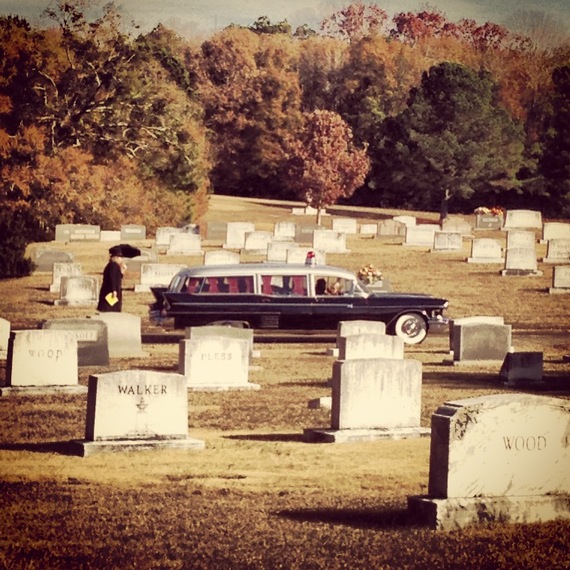 Ria's Ride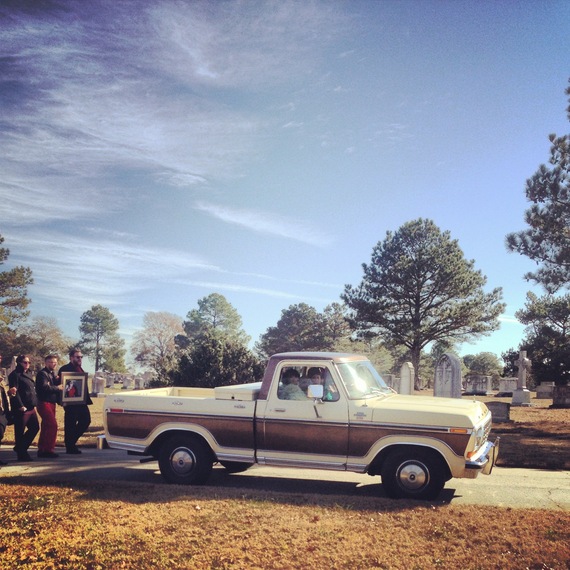 Truckin' It

Brass Band Farewell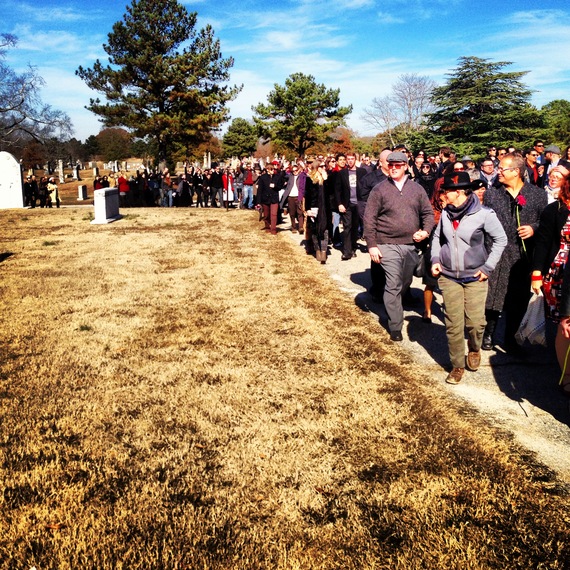 Multitudes of Mourners
As the second line ended at Ria's graveside, the flasks started coming out. One young man brought a handle of Wild Turkey, and he alternated sips from the bottle and splashes onto the ground in memory of Ria. The graveside service ended with a reading of "Green Eggs and Ham", and every face was stained with whiskey tears as the funeral service came to a close.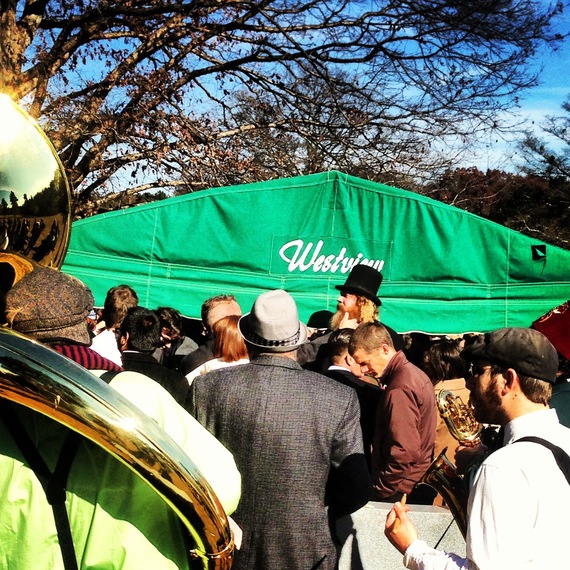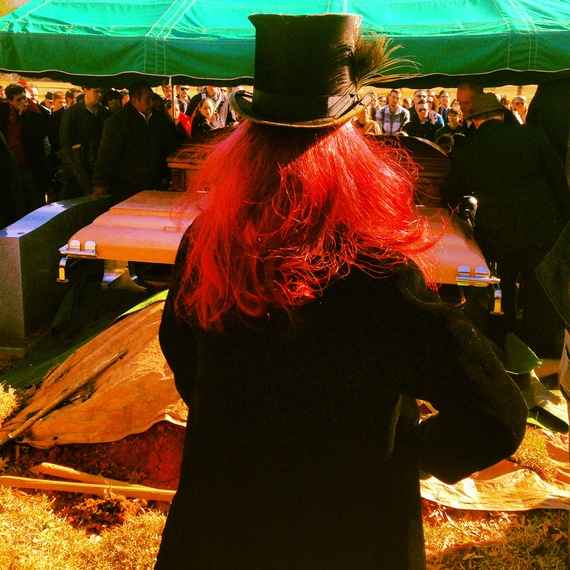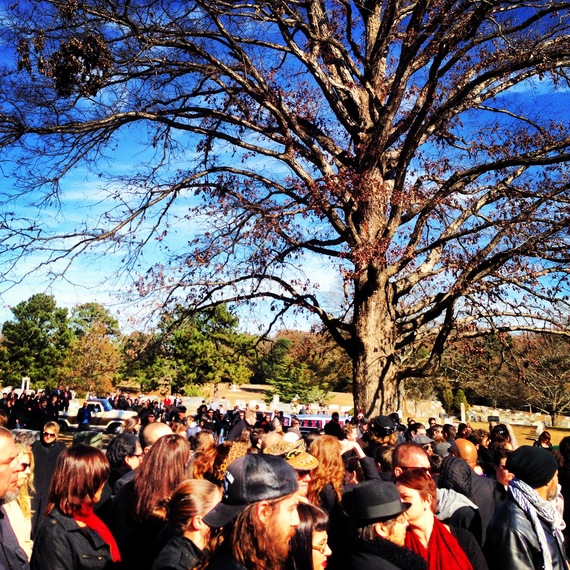 The manicured green and mottled gray pallette of Westview Cemetery was blacked out by the multitudes who came to honor Ria Pell. Everyone stood elbow-to-elbow, laughing through tears over a great person's life. Folks from every walk of life in the South gathered in darkly-dressed grief, and the warm sun came out after days of piercing cold. I stood out there baking in black, an ingredient in Ria's final fond. Ria brought so many of us flavors to the Atlanta pot. Today we were the dark swath of Westview warmed slowly by the sun Ria brought out. She worked hard to nurture all of these disparate people, and we were ready to be released into the city. The tears and booze deglazed us from the graveside, and after this goodbye we were ready to go back in the Atlanta pot. We will bind people together, and intensify the flavor of love in the city.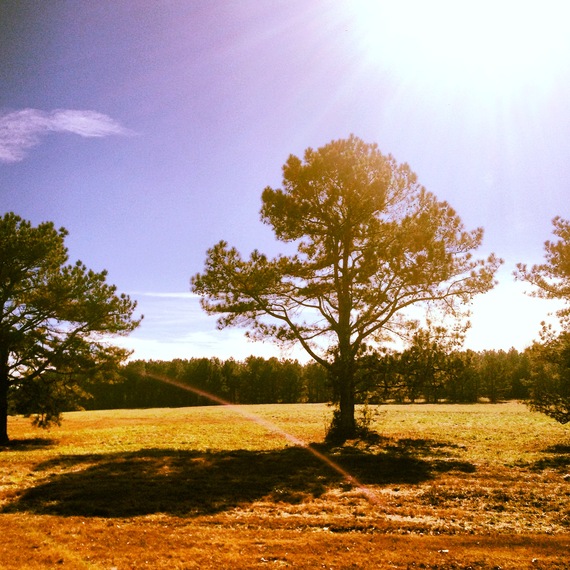 Ria brought the sun
After the funeral, everyone gathered at Ria's Bluebird (her much-adored brunch restaurant) to grieve over food. Tres Leches Cake, meatball sliders, pimento cheese on pumpernickel, spicy cold peanut noodle salad, cookies, pies galore, and other goodies lined the windows; and still another smorgasbord from Fox Brother's Bar-B-Q sat in a tent outside. Bartenders poured drink after drink, and the evening ended with fireworks. The day was a Southern-soaked celebration of life lost. Even if your heart breaks, down here friends and fried chicken can get you through.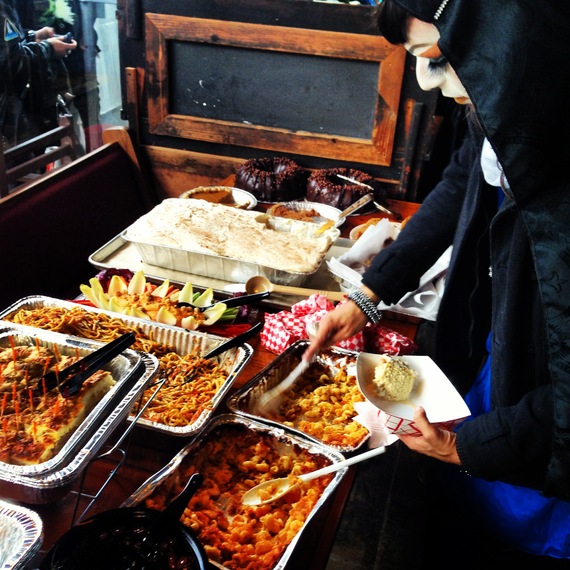 Sister of Perpetual Indulgence