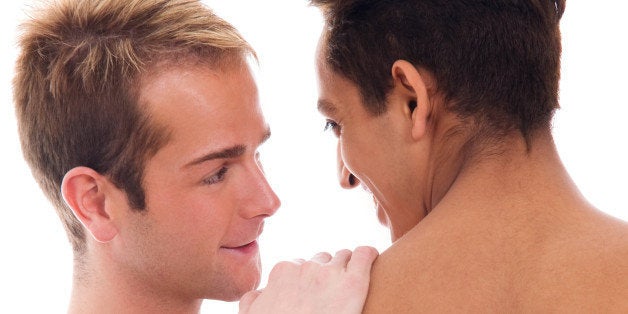 I have never had bareback sex.
I, Matthew Fielding Terrell, have never ejaculated inside of another man's anus, and I have never allowed another man to ejaculate inside mine. Don't get me wrong, I've had plenty of sex in the nine years I've been banging dudes. I'm definitely in the triple digits (I believe sexual number should include handjobs, blowjobs or any mutual exchange of orgasms), but through all of this I've never had anal sex without a condom.
When I was an out, virgin, high school senior on the precipice of college, my inebriated sister-in-law gave me the only pro-gay sex talk I ever received. She told me to never let a man cum inside of me, or cum inside of another person unless I am committed to them and they are the one I want to love. I've turned this piece of advice over in my mind countless times in the past decade, but I've never been able to turn my back on it.
I've had a handful of boyfriends I loved, but I wasn't comfortable barebacking with any of them. My first boyfriend James and I lived together for many months in Savannah during college, and later we lived together in New York City. James taught me how to be a gay man; he instilled my love of drag queens, going to the gym, and being "hip." We loved each other and we lived together over the span of two years, but we always used condoms.
James was averse to the uncleanliness aspect of bareback sex; yet, he was the bottom and he never once left a dirty condom on me. I think he knew going condom-less represented a sort of man-sex that I was not emotionally ready for as a sexually-budding boy. Truthfully, I never barebacked with him because I knew that he wasn't the one, which was a condition for exchanging ejaculate. I loved James and we were committed, but I broke up with him because there were worlds of other boys I wanted to explore.
I met Honza, the love of my life, while I was in graduate school in Prague. He was an 18-year-old in his last year of Czech pre-university high school, and I was the reason he had to repeat that grade before graduating. Honza gave me a primordial connection that I've never felt with any other person, and our relationship brightened my time in gloomy Prague. I remember the smell of his cologne -- Red by Lacoste -- I sprayed it on my hand in the duty-free when I left Prague, and I sobbed and scrubbed my hands on the plane soon after. I remember the perfect arrangement of our arms and legs together as we slept; I held his smaller, more muscular body as his man-weight pressed me into calmness. He is the only boyfriend I would have gladly bottomed for bareback, but he wouldn't do it. Even the largest condom barely fit Honza (and made him soft), but he still insisted on using them. He instilled in me the "Ethic of the Top;" one should not leverage their sex appeal to convince a receptive partner to go bareback.
In all the boyfriends that have come since then, I've always been strictly safe. I never barebacked with the twink from the gym, the exotic dancer with dwarfism, or the incredibly adoring stoner. I couldn't love any of them enough. Even in my most inebriated, thirsty times, I've never barebacked with a casual hookup either. Never in the hot tub with my handsome daddy, not at the sex party with all the hot country boys, nor with any of the twinks who take my condom off and beg me to top them raw. It's within my personality to have lots of fun sex; however, it is not within my sexual ethic to bareback.
In the past few years, I've seen a rift develop between the gay community and myself. More and more, gays demand bareback sex in their porn, hookups, and (soon into) relationships. I've been turned down from many, many other men in my gay community because I was not willing to bareback. Even Sean Cody, the most vanilla of gay porn, has gone predominantly bareback. There is a shift occurring in my world towards bareback sex, and I feel increasingly alienated because of it.
In my coming blog posts, I plan to discuss bareback sex and its implications within my gay community. I'm not out to shame barebackers, rather I want to discover what this practice means to my peers. I believe the desire to deposit or receive semen anally is a natural desire for us gay men, but we haven't figured out how to properly weave it into our sexual practice. I want to see bareback sex from every angle possible; I may even try it if the opportunity knocks.
But that's only if I can find someone who I love enough first.