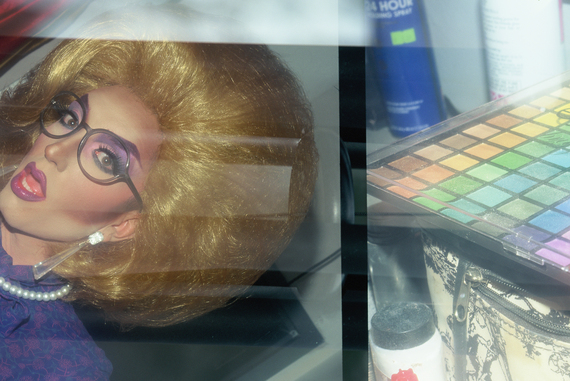 Edie's always on the go
"There is no origin story. Edie Cheezburger just is," claims Andrew Jones, the boy creator of Atlanta's most provocative drag queen.
This is true. Edie strutted into my life at Church (it's a bar!) in a leotard and what seemed like 12-inch heels. She towered above me, slim and perfectly padded, with a flawless tuck and crowned with an angry black wig. She walked the line between high-class dominatrix and banjee girl. She maintains her mystique and power simply by virtue of exhibiting a forceful presence combined with impeccable execution. To ask the truth of Edie's existence is a fruitless endeavor; she just is.
Spanking session
But the claim that there is no origin story must be a pretense. There's something profound about the dynamic between Edie and Andrew; there must be a truth. If you look past the veneer of drag, you see Andrew as a man struggling to balance these two very different sides of his life. There is a fire within Edie that guides her, and I can easily see her making it big. But there's no promise that the siren call of show business will make life better for Andrew; life will just different, and with a lot more Edie. Most of his life is spent as Andrew, and he's worked hard to build a stable life in Atlanta. Edie has prepared herself for the leap into success, but Andrew may not be ready to hold her hand and see where she takes them.
Dragnique, Atlanta's fierce "amateur" drag competition, is where Edie jump-started her career. She showed how drag can go beyond the standards and divas that so many people associate with today's queens. She brought us Hellen Keller realness and Whitney Houston in a bathtub, both shocking and fabulous. She debuted highly choreographed, avant-garde drag numbers that made audiences go wild. She dipped her body in glitter and performed a psychedelic freakout to Die Antwoord -- with pig-boys on leashes. Andrew Jones revealed his talents as a sharply creative and uniquely intelligent artist during Dragnique: visually driven, high-concept, design-oriented, and spiritedly performative. For a shining few weeks Edie was on top.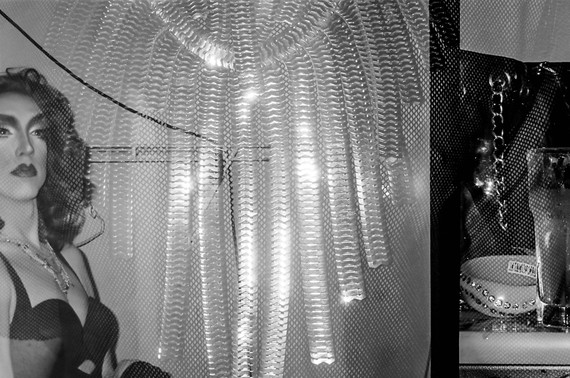 Beauty or bust
After winning week after week at Dragnique, Edie debuted The Other Show in 2012. This radical and rowdy weekly drag cabaret draws an audience of queers, allies, trans folk, and queens young and old. I, along with a growing fan base, was hooked after my first show. Edie brings even more jaw-dropping original numbers paired with performances from a coterie of other bright young stars, people like Miami Royale and Evah Destruction, whom Edie has helped shape into powerful young queens. This passionate cast breaks out the wildest numbers you'll ever see at a drag show. Violet Chachki does aerial silks in drag while Jaye Lish kills it with homeless glamor. Edie and her cast have been animatronic puppets, breakfast cereal characters, and retirees. The breadth and depth of their performance talents amaze me show after show, and I always can't wait until the next performance.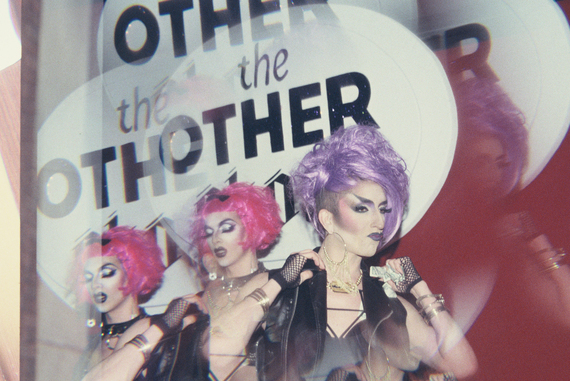 "Transition Lenses" featuring Violet Chachki and Edie Cheezburger
Edie is a powerful figure onstage and off, but that energy is simply that of a young man following his inner artistic voice. Edie's a young queen, just 3 years old and already leading a cast that brings in national performers like Amanda Lepore, Lady Bunny, and Alaska Thunderfuck. Everything about Edie is sickening: the melting Chanel earrings (cheap but immaculate), the perfectly sky-high blonde wig, the outrageous characters. Everything shines when Edie's in charge. Being Edie Cheezburger must require an intense amount of artistic stamina for Andrew, and her audience continues to demand more from her every week.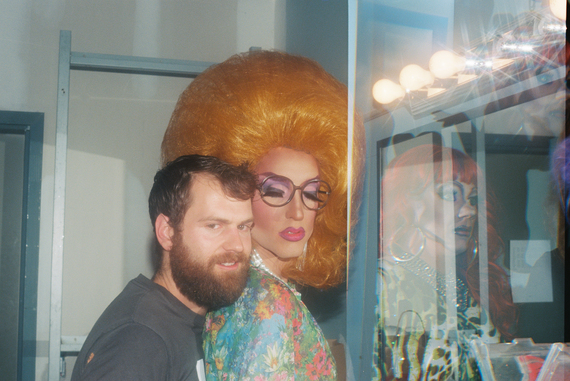 Matt/Edie/mirror/Jaye
I know the real Andrew Jones, and I've seen him work hard for this success. He has a stable job, health insurance, and a performance career. He's living the creative dream. He's a graphic designer, hence Edie's high-design aesthetic, and is a very smart boy as well. Edie raised more than $3,000 for AIDS Walk this year, and this community involvement has placed Edie squarely in Atlanta's consciousness. Most of Andrew's regular life centers on his hard-won stability; it's only a few hours a week that he ventures into the electric unkown of Edie Cheezburger. She transforms Andrew into a performance artist; the makeup and the heels harness a deep, creative energy inside this nerdy gay boy.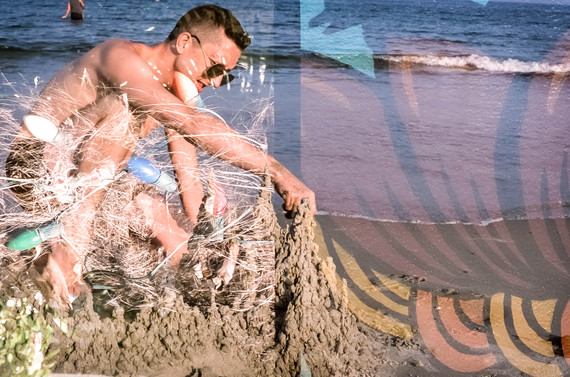 Andrew at Lish's beach wedding
Andrew has found a home here in Atlanta, and embracing Edie Cheezburger might mean putting that stability aside. He lived all over the South as an Army brat, and Atlanta certainly provides a place to lay down roots. He's got family (including a brand-new niece) and friends nearby who love him. He was raised a good cornbread-eating boy, and he even became an Eagle Scout in high school. Andrew loves the world outside; he and I barely survived an ill-fated river tubing trip. (Luckily, no drag queens were hurt.) He's surrounded by gay men and nature in Atlanta. This is home.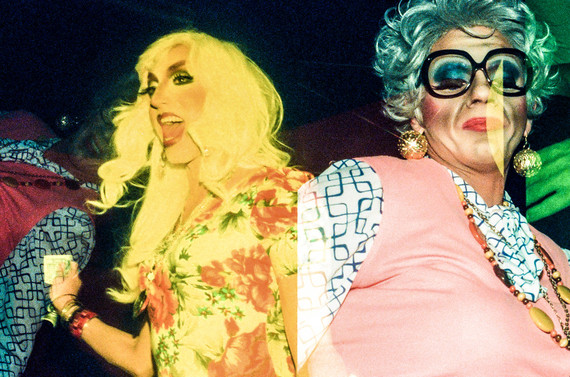 Edie in yellow/Jaye asleep
Yet the comfort and quiet of home is not enough for this young artist. Andrew possesses a voracious appetite for life -- for fashion and music, booze and boys, art and drag -- and Edie serves to amplify this insatiable quest for opulence. Every rhinestone on every glittering surface reflects Edie's ravenous pursuit of creating extravagant art-drag. The deep, artistic energy that guides Edie yearns to leave behind these Southern roots to find a life in the world outside.
When you see Edie performing on stage, you see this powerful light take hold of her. Every detail of Edie's being shines with perfectly-polished-glitter extravagance. The light makes her look like a goddess of pure energy -- but that light is just an illusion, a reflection of yourself in Edie's glimmering façade. The glitz serves as armor; it prevents you from seeing the truth of Edie Cheezburger.
There's something deeper, truer, to Edie; however, she does not want you to see it. When you stand back and look at Edie, all you can see is the shine. Any darkness surrounding Andrew is completely washed out when Edie is on stage. That sparkle of rhinestone and wink of light off Edie Cheezburger is the truth to her existence. That's what she wants us to see.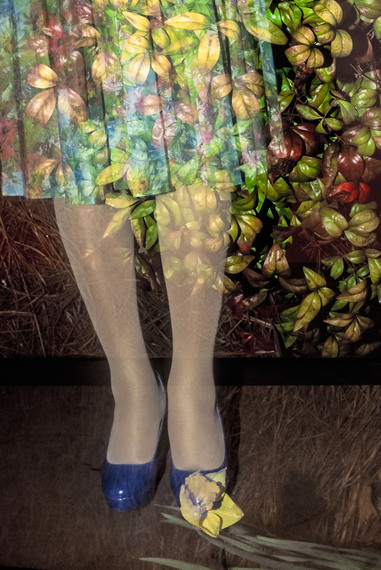 Edie's got a big bush