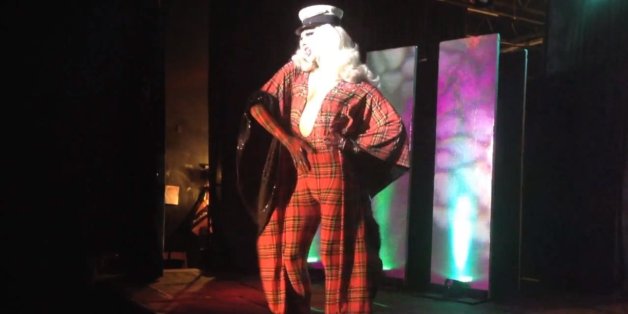 Atlanta is the creative and queer capital of the South, and the city has been a hotbed for high-concept drag for decades. Empowered by drag's newfound mass popularity (thanks to Atlanta-bred RuPaul), a new generation of queens is making their mark on the Southern drag scene. The Other Show, at Jungle Atlanta, has shown the city the new face of drag for the last two years. Created by Edie Cheezburger in 2012, the show has been voted the best drag show in Atlanta; they've packed the house, performed with drag legends (Lady Bunny, Alaska Thunderfuck, Amanda Lepore), and been altogether the most sickening show in the city.
I've heard Edie describe The Other Show as "no rules," which, in the hands of drag queens, turns into a cavalcade of aerial silks, stage vomit, crazy cat ladies, and other rudeness. This show goes beyond diva standards and gender-illusionist trickery. The Other Show is a laboratory for well-crafted, artist-centric performances. It's sometimes pretty, always creative, incredibly weird, and energetically performed.
The second-anniversary edition of The Other Show on Friday, Dec. 5, presented some of the best, most memorable performances from the original cast, along with recent favorites from guest queens. If the anniversary show is any indicator, this cabaret will continue to be a source for sickening drag in the South.
Jaye Lish, an original cast member, opened the show with a mashup of Whitney Houston and mayonnaise. "It's not right, but it's OK," blares Whitney while Jaye devours spoonfuls of gloppy mayonnaise as she lip syncs. For a few moments she almost vomits up the condiment, but she troops through like a professional and enjoys her artery-clogging number. In the gay community, if something is beyond fierce, we usually say we are "gagging" on it; I saw several people figuratively and literally gag on this opening number.
Violet Chachki served my favorite outfit of the evening: a black, sequined gown that transforms into a plaid flying-squirrel look. When Violet removes her belt and spins around, the black gown falls back to reveal a winged bodysuit beneath it. On Sunday night we found out that Violet is going to be on the next season of Rupaul's Drag Race. She came out like an early Christmas present with her plunging neckline, Scottish plaid, and signature 22-inch waist.
Backstage I caught Taejah Thomas, one of my favorite special guests, warming up for her number. She serves amazing dances and possesses an array of moves I've never seen any other dancer (let alone a drag queen) recreate. Seeing Taejah build up her energy as she danced with herself in a backstage mirror was a very intimate moment to witness.
Once I saw Taejah Thomas' performance, I understood why she needed a backstage boost before going on stage. At a key moment in her mix, she jumps and lands in a full split. Taejah then scissors her split legs together until she rises to standing. While she does this, she takes her upstage hand, mimes a rope above her, and pulls herself up. The lip sync commands everyone to "get on up!" I do not think I have ever seen another dancer perform this amazing move, and to see someone pull it off in full drag is a wonder.
Evah Destruction brought out her classic fan dance to "Dog Days Are Over" by Florence + The Machine. This number combines both Chinese and flamenco fan dance and is a beautiful performance to watch. Evah brings grace and energy to the fan dance; she makes the fans pulse with the drum, sway with the voice, and clash with the cymbals. She throws in full-body dancing and a great lip sync; her wrists, her hips, her lips, and her feet are all moving in time with the music.
Evah became so engrossed in the number that she lost her wig. At this moment the crowd at Jungle cheered her on even more.
During the second act Jaye Lish performed her classic Nicki Minaj blowup-suit number. In this performance Jaye uses a "morphsuit," an inflatable outfit reminiscent of big-blueberry Violet Beauregarde from Willy Wonka & the Chocolate Factory. The suit and her face are cherry-red; her aquamarine wig gives her a look evoking Thing 1 and Thing 2 from Dr. Seuss' The Cat in the Hat. The song is "Stupid Hoe" by Nicki Minaj. Jaye uses the morphsuit to turn her arms into pistons along with the beat, and she even collapses her body into a tiny ball that she rebounds out from. This number shows the amount of weirdness accepted on stage at The Other Show; Jaye isn't trying to mimic Minaj but recast her as an alien creature capable of morphing her body shape.
The Other Show demonstrates the amount of queer creativity centered in Atlanta. There are a lot of divas who make it to our stages, but only the fiercest survive. With a devoted following, a rising diva in the form of Violet Chachki, and a creative no-rules ethos, this is the place to see drag in Atlanta. These queens are true professionals and are the ones shaping the future of the art of drag.