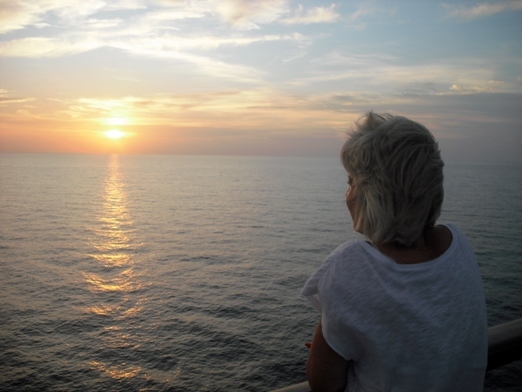 What would you expect the author of What Color Is Your Parachute? to look like? Before I met him, I imagined Dick Bolles tall (he's 6 foot 5 inches), twinkly-eyed (check), maybe even suspender-sporting (right again). You know, kind of like... God. Yes! That's it!
And by "God," I mean whatever you feel like you're in the presence of at church -- whatever you call that.
Dick's a towering presence, granted -- but he's far from overpowering. He radiates peace. When I'm with him, everything seems to fall away -- except for this question: "Are you sharing your gifts or not?"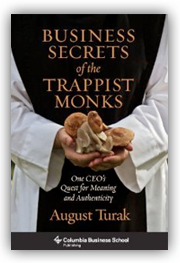 That feeling came to mind recently when I interviewed August Turak, author of Business Secrets of the Trappist Monks: One CEO's Quest for Meaning and Authenticity.
"I go to the hockey game with my brother, and I notice we can't be left alone for 30 seconds without the music blaring or the Jumbotron coming on with something," Turak said. "Our whole society is built on this. You get in an elevator for 30 seconds to go up five flights, and they still have to have a television in there for you to keep you from your thoughts. God forbid we be alone with our thoughts for 30 seconds."
Turak's spent a lot of time at the Mepkin Abbey, a popular destination in Berkeley, South Carolina, for people who want to go on a retreat. He remembers reading an article that featured several visitors who raved about how peaceful and beautiful it is. "And it is," he said. "It was the former estate of Henry Luce and his wife, Clare Boothe Luce. It's covered with this beautiful hanging moss on oak trees. The Cooper River runs through the grounds. The Luce Gardens are there. It's absolutely stunning. But this one guy said, 'Yes, it's very peaceful and beautiful there. But you know, when you're sitting on a park bench overlooking the Cooper River for hours on end by yourself, you end up thinking about a lot of things you might rather not think about.'"
Turak founded the Self Knowledge Symposium, a nonprofit organization that mentors college students. He was teaching at Duke University when he gave his students an assignment to sit in the chapel there for five minutes for five of the next seven days. "I don't care if you pray," he told them. "If you want to pray, pray. But if you don't want to pray, just sit there. It doesn't matter. Just go and sit for five minutes."
Over the next week, Turak reported, those highly-motivated Duke college students had difficulty going to the chapel for even five minutes. Finally this one young man said, "I can't understand it. I pass that chapel all the time. Why can't I go in there?" One of the women who hardly ever spoke up said, "I don't know about you, but I know why I can't." Everyone looked at her. And she said, "I'm afraid that if I go in there and sit, I might realize I'm not living my life the way I should be." It was so moving, Turak said, they sat together in a little impromptu meditation for the next 20 minutes.
"We don't want to spend too much time without distraction," Turak guesses, "because maybe we'll start asking ourselves those hard questions."
What if you can relate? What if you're afraid to ask yourself the difficult questions?
Maybe it would help to find something you're more afraid of, like not answering those questions -- and wasting your life on a boring story.