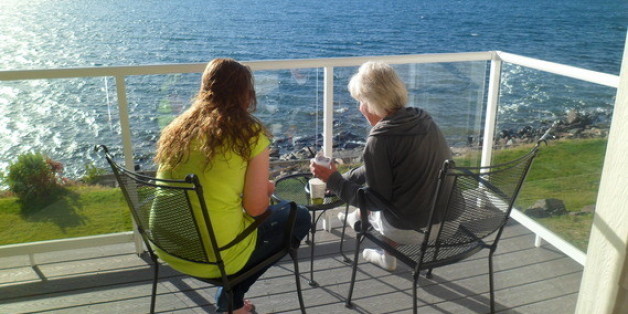 You don't want to look back on your child's senior year of high school with regret that you spent the entire time stressed out about college applications and financial aid, do you? I didn't think so. Here are a few suggestions that might help.
Think first in terms of a career, not a college.
When I was in high school, I decided to go to the University of Colorado. Why? I thought it would be dreamy to attend a college nestled in the mountains. The most time I spent on that campus, as it turns out, was a few years later when I went to a football game in Boulder. I was a student at the University of Nebraska in Lincoln by then, and our Cornhuskers were playing the Buffaloes in a stadium that was indeed dreamy.
Silly as it sounds, the scenario plays out all the time -- at least according to Bonnie Snyder from Kerrigan College Planning. Bonnie says aspiring students choose a college by finding a campus that looks nice, wander around for a couple of years taking introductory or general education classes, and then, when told to choose a major, ask, "Well, what do you have?" They choose something off a list as if it was a cafeteria menu, and a couple of years later they wander into the campus career center wondering what they can do with their degree.
"It's exactly the reverse of what they should be doing," Bonnie says. "First they should decide on a career, then decide what major will best prepare them for that career, then choose a college that excels in that major."
And sure, it's a lot to expect of a 17-year-old to know what he wants to do for the rest of his life. Except he's not doing that, is he? He's making his best guess, and building a plan around it. He can change his mind. Deciding on a course of action and adjusting as he goes is an important life skill.
If a prospective student truly has no idea what career would interest him, Bonnie suggests he choose an affordable college where he can explore his interests. "The more vague the plan," she says, "the more affordable the degree program should be."
Have a standing appointment to work on anything college-related.
I wasn't prepared for how much time it would take to be the supportive mom our daughter, Katie, needed as she applied to colleges and for financial aid.
Luckily for both of us, I'd heard this productivity tip somewhere along the way. If you're serious about something, you have to not only commit to the "what," but the "when." What are you going to do? And just as importantly, when are you going to do it?
Katie and I settled on Sunday afternoons at 2 p.m.. We turned the phones off, played soft music in the background and worked until we couldn't go any further -- because, for example, we needed something to complete a form and we didn't have it.
We were manic about keeping that standing date on Sunday afternoons. We were a little twitchy if anything threatened to delay it by even a few minutes -- and I'm so proud of that.
As the weeks went by, something important was happening. We were compartmentalizing the stress. We didn't have any guilt feelings about putting off this important work, because we weren't putting it off. And except for reminding Dad to finish taxes early so we'd have that information for financial aid forms -- or giving teachers plenty of notice for recommendation letters -- we mostly attended to other things the rest of the week.
Savor your last year together.
The same way I didn't want to look back on Katie's last year at home with regret for having spent it stressing out about college, I didn't want to look back and think we spent any spare time boo-hooing that time was winding down.
So we didn't. Instead, my husband and I went to every one of Katie's tennis meets and inhaled the beauty of two whole months of autumn in Minnesota. We got away for a long weekend with her once a month. After the college applications had been filed and while we waited for the decisions to be announced, we used our Sunday afternoon dates to plan her graduation party. We went to our first concert together, rented a pontoon and spent a day on it. We thought about everything we wanted to do as a family, and then we did it. We even made a list of all the movies we wanted to watch together again -- and we did that, too.
I've always been fascinated by people who claim -- as their lives were winding down -- they were ready. I couldn't imagine being eager for our time with Katie to wind down, but I could imagine being ready.
And we were. No regrets.
Saying goodbye on college move-in day is difficult enough without looking back with regret. I hope that won't happen to you. And I hope this helps!