When our daughter was little, she wanted in on every hug. I mean, every one. It got to where all I had to do was smile at my husband. She'd see a hug coming before we did and want in on it.
So for the longest time, we teased her: "If you were around before you were around, you would've never been around."
Katie started college last fall, and I'm still getting used to her not being around. Thankfully, she keeps us more than posted -- in all the usual electronic ways, granted, but also with artwork.
Yeah, artwork. She thrilled us when she sent me some panels from a comic strip she'd drawn -- and got me to thinking all over again about what I would've missed had she never been around.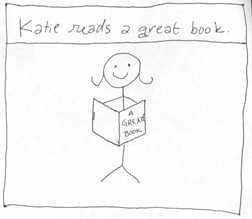 I would never have spent months of my life reading to a toddler. Katie's favorite word as a child was, "Again?" We read The Jungle Book over and over and over and over, and when she was 2, she read it back to us. Maybe she wasn't reading. Maybe she had it memorized. Whatever. It's a great story.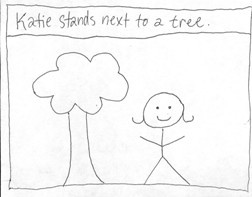 I would never have had the thrill of playing hide and seek with a 3-year-old. I can still see her holding her arms to her sides really tightly and standing very still -- on this side of the tree.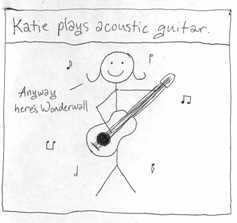 I was lucky, growing up. I paid attention to the parents who seemed to know exactly how they wanted the lives of their children to look. I saw a lot of frustrated grownups and a lot of unhappy kids. I decided if I ever became a parent, I wouldn't groom a child. I'd get to know her.
That's one reason I find it eerie, how much Katie loves what I did at her age -- with nary a mention, in most cases, from me. But from math and physics to embroidery and piano, you'd swear we came from, well, the same gene pool.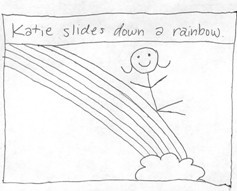 Once upon a time, a summer breeze floated into an auditorium on a college campus in Omaha, Nebraska. I was old enough to have driven myself there, but young enough to have been in awe of the setting. I was wearing an orange cotton dress. I felt beautiful, even though orange wasn't really my color and feeling beautiful wasn't really my style.
There was a grand piano on the stage, and someone was practicing for the big event. I descended the stairs to my seat as a few other early arrivals did the same. I was breathless with anticipation.
That's it. That's the extent of my memory.
It lingers because all of life spread out before me then. It felt sacred. Classical music dancing on a summer breeze? It became the soundtrack for the work of art I hoped my life would be.
Many years later I was at the library when a woman who lives a couple of houses down from ours told me how much she'd enjoyed hearing Katie practicing piano the night before.
Really? The sound carried that far?
Uncharacteristically I felt no urge to apologize. All I could think of was that summer evening I just told you about, long before I knew there'd be a Katie.
Someone once described a child as a love letter to a future we cannot see.
Something tells me that future's going to be pretty cool.