You go to class, you take notes. If you look at all of life as a classroom, like I do, you might take lots of notes.
My husband's been after me for years to share some of the notes I took as our daughter grew up. On my first pass through them while Katie was still in high school, we savored those highlights together a few evenings a week. It was so much fun to stumble on a reference, for example, to one of her first visits with a mall Santa. She'd asked him for a Slinky Dog -- but the big man was apparently reluctant to promise anything. When Darrell asked her how it went she answered with, "He said, 'Here. Have a book and some reindeer antlers.'"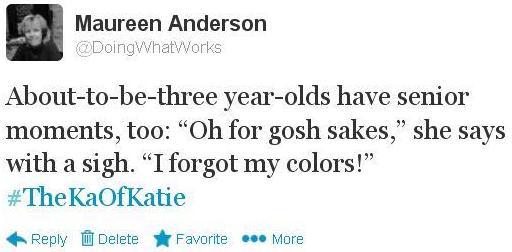 Now that Katie's in college, I'm making another pass through my notes and sharing some of them on Twitter as #TheKaOfKatie. I think of ka -- a term that originated in ancient Egypt -- as the essence of someone's spirit.
After less than a week, patterns started to emerge. How smart and spunky Katie's always been. How funny. But mostly, how sweet. There's a gentleness mixed in with her determination that'll break your heart, I think.
I didn't realize how young she was when what we love most about her was already apparent -- like how much she appreciates everything...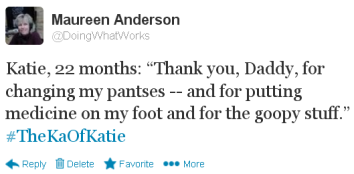 She doesn't insist on what she wants, but she still wants it...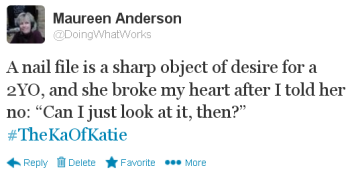 And she's silly...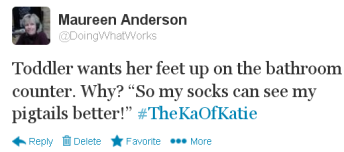 The experiment has only just begun, and already I'm putting it in the win column. It's forced me to slow down as I peruse what I've learned from Kate. She approves everything we post, so it's another way to have fun as a family again. And people have already started to tell us they look forward to seeing that hashtag on Twitter -- which, as anyone familiar with the medium knows, isn't always the case.
Most importantly, I appreciate in a brand-new way what a privilege it was to watch Katie grow up. It's like being a kid myself again, taking in the wonder of a suddenly-magical living room while hanging upside down from the couch cushions.
#TheKaOfKatie confirms what I've always suspected but now I'm sure of, that we don't raise our children so much as they do us.
Thanks, kiddo!