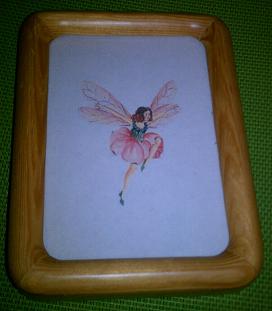 We were watching The Daily Show when our daughter, then 9, ran upstairs for something she wanted to take to school the next day. It was a framed portrait of the Tooth Fairy, to prove to a boy in her class that her parents hadn't been lying to her.
"You guys wouldn't lie to me, would you?" she asked, with an expression that broke my heart.
It was time for The Talk, my husband and I suddenly realized.
"I have volleyball tonight," Darrell reminded me. "You're up."
I'd almost been looking forward to telling Katie about the Tooth Fairy and the Easter Bunny and Santa. She's brilliant, and she wasn't getting any younger. Things weren't adding up. I thought she'd suspected the truth for a long time. I thought The Talk would go well.
That surprised me, because I shine as a mother when it comes to the difficult conversations. Where do babies come from? No problem. This will be interesting, I'd think as we dove into that conversation -- and sure enough, nothing bad happened. We bonded. Though I'll never forget the scrunched-up look of horror as she came to this conclusion: "I suppose if that's what I'd have to do to get someone like me, I would."
Katie wasn't going to offer me anything in the way of closure this time. She was unmoved by my little speech about Santa and the Easter Bunny and the Tooth Fairy being different names for love.
"We're not lying when we call you Gups," I explained. "It's just another name for you. Santa's just another name for us."
Katie spent more than an hour sobbing into my chest, with tears so big I could've sworn I heard them hitting my sweatshirt. At one point, she pulled away long enough to grab the proverbial knife.
"I just have one question," she said. "How did you like the milk and cookies I left for you?"
Eventually, she stopped crying, but it stung for a while.
"Note to self," I heard her say. "This is the worst day of my life."
And over the next few days, admonishments like: "No wonder you know all the clues on my Easter crossword."
I let her feel badly for as long as she needed to, and one day, we looked back and realized she was moving on.
Until the following Christmas.
"I have another question," she said as I braced myself. "Did you ever find out who left the personalized bracelet in our mailbox a few years ago?" Well, no. My best guess, a family friend, had scolded me when I'd asked him about it.
"Obviously," he said, "you haven't considered the possibility there is a Santa."
It reminded me why there's so much magic in an anonymous gift. It turns everyone in your orbit into the possible source of surprise and delight.
That gift might be from someone you know really well. It might be from someone you don't know at all. Or it might be from someone who's crazy about you, but hasn't worked up the courage to tell you himself.
It might even be... from Santa.