You see that photo? Those are the three mopeds we rented recently on what was possibly the most fun afternoon we've ever spent as a family.
Those four hours were 30 years in the making.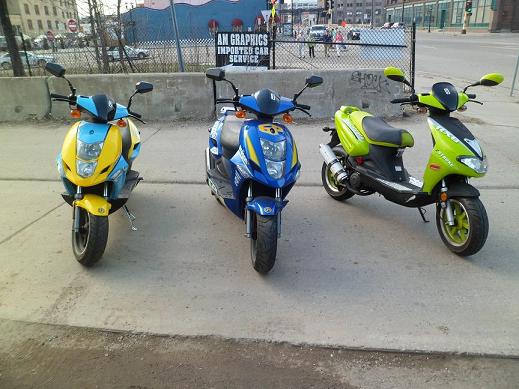 I was barely out of college with a fancy marketing job, attending a conference at a swanky resort where we plotted how to make the fourth quarter of the year our division's most profitable yet. There was a lot of time set aside for relaxation, and many of my colleagues rented mopeds. They tooled around on a glorious October afternoon, taking in a landscape on fire with color -- and having what appeared to be the time of their lives.
Why hadn't I joined them? I asked myself that many times over the next several years as I stumbled on photographs of those happy faces.
Why?
When Katie was little she asked me a question that quickly became our template for a successful day, which -- when added to the next day and the day after that -- makes a successful life: "What are we going to do fun today?"
Maybe it was a trip with friends to a public pool. Maybe it was a scavenger hunt downtown where the prize for checking off every item on the list was a little toy and a trip to the ice cream store by the beach. Maybe it was sledding with other friends with all the hot chocolate they could drink -- or spill -- afterward. Summer or winter, school day or not, the question consumed me: "What are we going to do fun today?"
That gets a little trickier as a child gets older, because as Jerry Seinfeld once (famously) pointed out, "There's no such thing as fun for the whole family."
Jerry Seinfeld was wrong.
When Katie turned 18, I wanted to do something really special. This was my last birthday while she was still living under our roof -- full-time, at least -- to show her a good time. She'd had some amazing birthdays -- but the stakes felt higher with college just around the corner. When I got the idea to rent mopeds we were in the middle of a Minnesota winter more brutal than usual -- which is saying a lot. The guys at the motorcycle shop in Minneapolis weren't planning to open the week of Kate's birthday, but when the sun came out -- and the tip got offered -- things changed.
Darrell and Katie didn't have a clue what they were in for during the four-hour drive to the Cities. I'd kept the adventure a surprise. Good thing. Because when we pulled up to the bike shop Katie looked concerned. Darrell looked... well, let's just leave it at "concerned." It had been many years since he'd been on a motorcycle, Katie and I had never been, and we were going to learn how to ride as a family... in downtown Minneapolis traffic?
"Don't worry about it," the guy reassured us. "I'll take you to the river." The Mississippi River, that is, only a few blocks away. A few minutes later, after a quick lesson in the cycle shop parking lot, we were cruising along -- single file -- on one of the prettiest routes in the state with a view of scenery we'd taken in dozens of times but never from such a breathtaking angle.
You know how time slows down on days you do something different? The novelty makes time expand, it seems, and those were the longest four hours -- and probably the best -- we'd ever spent. We were together, but each in our own little world. We were sitting still and getting somewhere at the same time. We took a total of one snack break to bask in our happiness -- and even braved downtown traffic again to take a spin around Lake Calhoun, where I used to live. I'd run those three miles many times so many years ago, never realizing I'd return with my sweet family.
Darrell's still telling me what a delightful afternoon that had been. Katie's still telling me it was the perfect way to celebrate the exciting life that awaits now that she's set for college. "I felt free," she says.
She has a little souvenir from this most fun day in the life, and it reminds all three of us there's no better time than the present to give yourself a present.
What are you going to do fun today?