I love Tumblr -- I mean, I love Tumblr! From cute nail art ideas to stylish outfits to the greatest One Direction photos and GIFs to ever exist (I'm a proud Directioner and Tumblr's Storyboard just devoted a whole week to One Direction!), Tumblr is officially one of my fave social media outlets.
Thanks to the fantastic folks at Yahoo! News, there's once again another reason for me to love Tumblr more than I already do, and that ray of sunshine is the new blog called Dear Class of 2012. Yahoo! News has put together the most inspirational (and hilarious) quotes that any new graduate should hear from past and recent commencement speakers, including Oprah Winfrey, Jane Lynch of Glee, President Obama, First Lady Michelle Obama, and Republican presidential candidate Mitt Romney.
As a recent (and very proud) graduate of NYU's Class of 2012, this is definitely one of the best Tumblr blogs to exist in the world today! For every recent college graduate (and also recent high school graduates) the words of the famous and powerful are sometimes just what you need to get through those post-grad, new future ahead blues.
Famous and important people as commencement speakers isn't a new concept and has been prevalent for a while now, but as we didn't all attend each others' graduation ceremonies, it's wonderful to have the best quotes from them compiled into one lovely Tumblr. I remember listening to every word that Supreme Court Justice Sonia Sotomayor spoke during my commencement ceremony at Yankee Stadium this past May. Having her amazing speech along with the also amazing, funny, blunt, and powerful quotes of people like screenwriter and producer Aaron Sorkin and Former U.S. Secretary of State General Colin Powell, makes this Tumblr ray of sunshine (and our futures) look brighter.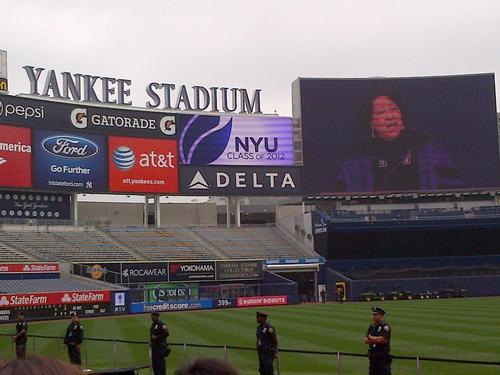 Here are just some of the best quotes from my commencement and from the Dear Class of 2012 Tumblr:
"Dream big and achieve much."
- Supreme Court Justice Sonia Sotomayor
New York University (NYU)
New York, New York
May 16, 2012
"Your crown has been paid for. Put it on your head and wear it."
- Oprah Winfrey
Spelman College
Atlanta, Georgia
May 20, 2012
"What we have, what we wish we had -- ambitions fulfilled, ambitions disappointed; investments won, investments lost; elections won, elections lost -- these things may occupy our attention, but they do not define us. And each of them is subject to the vagaries and serendipities of life. Our relationship with our Maker, however, depends on none of this ... The best advice I know is to give those worldly things your best but never your all, reserving the ultimate hope for the only one who can grant it."
- Mitt Romney
Liberty University
Lynchburg, Virginia
May 12, 2012
"Unless you love what you do, you can't really be good at what you do."
- Christiane Amanpour
University of Southern California (USC)
Los Angeles, CA
May 11, 2012
"No moonwalking. No moonwalking today."
- President Barack Obama
Barnard College,
New York, New York
May 14, 2012
To read and reblog more inspirational and funny quotes visit the Dear Class of 2012 Tumblr and if you don't see your favorite commencement speaker quotes there, please feel free to submit them here.
We can do this, Class of 2012! Here's to the future...