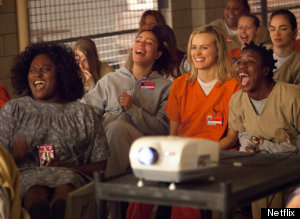 What a bunch of weirdos.
I'm not speaking specifically about "Orange Is the New Black," but about my year-end lists in general, which are chock full of glorious, category-avoiding weirdos, strange hybrids, unexpected gems and commercial hits that would have been unlikely or unthinkable a decade ago. This trio of lists, which I'm rolling out this week, represents a collection of shows that are entirely and exuberantly different from each other, and that variety -- which encompasses classy traditionalists and odd imports, commercial hits and profound niche shows -- makes me very happy.
When I'm not happy, I'm mildly alarmed: It's obvious that the TV industry is making its most concerted attempt yet to kill the people who cover it. There's just so damn much TV! In 2014, I would ask that the 8,000 or so outlets now making TV (or whatever it is we're calling it these days) remember that TV critics and reporters need at least an hour or two of sleep per night. Occasionally.
But even if our DVRs have groaned under the load, it's hard to complain about the bounty that exploded across our screens this year. Shows arrived from overseas and brought exciting new flavors and styles into the mix. Upstarts like Netflix grabbed a lot of the buzz. So many shows featured complex, interesting women that I'm half-convinced that TV executives have been reading all my favorite feminist writers. They probably aren't, but as you can see from my list, it's hard out here for an anti-hero these days. Those messed-up men used to lord over most critics' top 10 lists, but now they've got to compete with women in prison, randy sex researchers, female detectives and Tatiana Maslany, who would rate her own "Top 10 Alter Egos" list if I had the time to write one.
Two of the things I love most about this list are its novelty and breadth. Eight of the shows are new (or new-ish, in the case of "Borgen"). Several originated overseas. One is a miniseries that won't come back, but did wonderful things with that newly invigorated form. But let's also spare a thought for grizzled veterans like "Breaking Bad" and "Mad Men," both of which doubled down on their core concepts to great and weird results this year. If nothing else, 2013 was a gift to GIF makers everywhere.
I fully recognize that this list contains some potential fails: It offers little in the way of officially designated comedy (though several of the shows are funny as hell). Is this my revenge on the TV gods who canceled my two favorite half-hour shows, "Happy Endings" and "Enlightened"? Much as I enjoy a bit of petty vengeance, not really. With so much amazing drama around, most of my favorite half-hour shows got pushed onto my "Best New Shows" and "Best Returning Programs" lists. (At some point, writing reviews will be a thing of the past: My job will consist of compiling lists of things I should or did watch. And then I will be replaced by a robot, which I predict will burn out within a month.)
Broadcast-network shows are also missing from this list, but not because I'm a snoot, I swear! The fact is, a clutch of shows plucked from my next two lists would make a fine top 10 most other years. Shows had to clear an insane bar this year, and I have a whole lot of love for runners-up from the broadcast networks (among them "Sleepy Hollow," "The Good Wife" and "Scandal").
In any event, if critics agree on one thing, it's that it's simply not possible to be starved for good TV these days. Check out what my esteemed fellow critics have been saying about the year's best offerings, and I humbly submit my own below. One final note: Unlike many fellow critics, I don't rank the shows once I come up with my top 10 (which is really a top 12 -- shhh, don't rat me out).
Without further ado, here are my favorite shows of 2013, in alphabetical order.
"Borgen," Link TV/DVD: In a strong year for non-American TV, "Borgen" (which airs on Link TV and finally came out here on DVD in 2013) is in a class by itself. By what wizardry are the back-room machinations of the Danish government made enthralling? I have no idea, but this Danish series lives up to the hype. The writing is crisp and detailed, the personal and the political are blended with exquisite skill, and though the entire cast is strong, I usually emerge from my "Borgen" marathons with but one idea in my head: Why isn't Sidse Babett Knudsen in everything all the time?
"Breaking Bad," AMC: How could something so punishing be so great? Well, half of what made "Breaking Bad" was its relentlessness, a function of the unrelenting personality of its supremely narcissistic lead character, Walter White. It doesn't matter all that much that the last episode of "Breaking Bad" doesn't rank among the all-time great series finales. What came before was a master class in thrilling, brutal, gut-punch storytelling, with the show's actors, writers and directors topping their "A" game again and again. No wonder America -- a nation obsessed with original sin and reinvention -- became obsessed with this show: Walter White was an American Everyman, convinced of his own basic decency and determined that everyone should know of his magnanimous nature. Of course, in Walt's case, any claim to altruism was a self-serving illusion -- something he admitted long after he had poisoned everything and everyone around him. It was impossible to look away from Walt's lies and the toxic wreckage he created.
"Broadchurch," BBC America: Sometimes the unthinkable happens, and life has to go on -- but how? This gripping drama followed the dislocating fallout in a small town after a tragic, unsettling death. Despite the familiar framing device -- mismatched cops searching for a killer -- "Broadchurch" had a lot to recommend it: The drama easily established a wonderful sense of place, it was expertly paced and it featured stellar performances from David Bradley, David Tennant and Olivia Colman, among others. But, as was the case with "Top of the Lake," one of the greatest achievements of "Broadchurch" was its ability to limn the awful consequences of a crime against a child without lapsing into grandiosity, exploitation or cheap melodrama. "Broadchurch" worked very well as both a crime thriller and a portrait of disillusionment, and the proposed American adaptation will have to clear a very high bar to justify its existence.
"Enlightened," HBO: The great TV tragedy of 2013 was the cancellation of this aesthetically rigorous and dreamily intelligent show, which challenged viewers to stick with the bundle of contradictions that was Amy Jellicoe (Laura Dern). Tom Scocca's great recent essay, "On Smarm," castigates those who would sacrifice real dialogue and productive confrontation in favor of cloying, reductive "civility," and it's hard not to think of Jellicoe when reading Scocca's words. She was not tactful, she was often abrasive and her self-absorption tripped her up time and again, but at least her subversion and drive had a purpose. Sure, it may have been a partially self-serving purpose, but Jellicoe believed in her ideals and didn't care whom she inconvenienced by pursuing them. "Enlightened" was a gorgeously crafted, compassionate ode to the dreamers, schemers and oddballs who see life not as a game to be won -- or a challenge to be avoided by hiding in a corporate cubicle -- but an opportunity to be seized. Amy Jellicoe was after, yes, enlightenment, and who are we to say she didn't find it -- and lead others in that direction as well?
"Game of Thrones," HBO: In this sumptuous, well-constructed meditation on the nature of -- ah, the hell with it, Brienne fought a bear! I contend she would have won had she not been interrupted, and the entire sensational sequence is reason enough for this saga to be on my "best of" list. What's so satisfying about this drama is that it doesn't just execute the epic scenes -- the Red Wedding, Daenerys' diva-esque destruction of the slavers' city, Jon and Ygritte climbing the Wall, the bear fight -- with an enormous visual panache and thematic richness. We know by now that when "Game of Thrones" goes big, it rarely falters. The good news is, every year the show gets better at exploring the painful, intimate moments of self-doubt, the times when these outsiders and interlopers come face to face with their deepest faults, their biggest mistakes and their most well-founded fears. This isn't a great show because Brienne fought a bear (though, let's face it, that's a good enough reason). It's among TV's best because Jaime Lannister's tortured hot tub confession to Brienne -- among many other intense moments -- was just as mesmerizing.
"Mad Men," AMC: The further into its run it goes, the weirder and more experimental "Mad Men" gets, which isn't a bad thing at all. This season, the characters were forced to contend with disorienting and tragic public events, which further loosened their grips on the illusory "good life" they'd all been chasing for so long. Among the many topics that set the Internet debate machine in motion: Just how much therapy will Sally Draper need? Which was the better GIF, Pete Campbell falling down the stairs or Pete Campbell uttering the classic line "Not great, Bob!"? Even if "Mad Men" sometimes goes in circles, few shows provide better company, more worthwhile digressions or more diverting scenery along the way.
"Masters of Sex," Showtime: The word "sex" is in the title, but this bracing, subversive drama is often about something else: Intimacy and the difficulty of finding it consistently on an emotional, social or physical level. "Masters of Sex" isn't the first show to depict what happened when those '50s pencil skirts and skinny ties came off, but it's one of the first to be truly honest about what prevents people, then and now, from expressing their truest selves in the bedroom and elsewhere. Lizzy Caplan, Michael Sheen and Allison Janney were among the cast members who gave wonderfully brave and subtle performances: These actors didn't just have to take off their clothes, they had to depict what it's like to be emotionally naked, and there's no bigger acting challenge.
"Orphan Black," BBC America: Tatiana Maslany's performance as several different women has justifiably earned a lot of praise for this taut, techno-grime thriller, but the most impressive aspect of what she's accomplished? She made you forget she was doing it. By the third episode of "Orphan Black," you weren't thinking about the brilliant directing and performing that made the clones' interactions appear seamless, you were just dying for another one of Felix's bon mots or another sly example of Allison's soccer-mom obsessiveness. This series, made on the cheap in Canada, serves as an overwhelming rebuke to every crappy, expensive show made in the U.S. this year or any other: The frugal and smart "Orphan Black" combined relevant ideas about biotechnology and body-modification (that tail!), suspenseful storytelling and brilliant lead performances to create a stylish and enjoyable mystery that was the talk of social media for months.
"Orange Is the New Black," Netflix: With a lot of stiff competition for the title, this was without a doubt the year's best new show. "Orange" started out as something that seemed classifiable -- a sly, frisky satire about an upper-middle-class woman forced to do without lattes, organic produce and Pilates. But the show evolved into something far more fascinating and profound: It was a meditation on consequences, a thoughtful examination of the complexity of a vital, evolving community and a sensational showcase for its exceptional cast, who brought to life a host of unforgettable characters (most of them gloriously complicated ladies). I think I speak for all OrFans when I say I can't wait to spend more time with clones and convicts.
Sundance Channel's hat trick -- "The Returned," "Top of the Lake" and "Rectify": Three tightly knit yet secretive towns in three different countries: That was the starting point for these nuanced dramas, each of which examined the effects of disturbing or tragic events involving young people. What these shows had in common were distinctive atmospheres and an unwavering devotion to the small but important moments and personal revelations that resonate deeply in their characters' souls. "The Returned" functioned extraordinarily well as a creepy thriller and a melancholy meditation on grief; "Top of the Lake" was spectacularly shot by Jane Campion and showcased virtuoso performances from Elisabeth Moss, Peter Mullan, David Wenham and Holly Hunter; and "Rectify's" sincerity, its contemplative mood and its quiet, detailed portraits of moral and spiritual dilemmas made it one of the year's most memorable offerings. Not only did the characters from these shows (both the living and the dead) linger in the mind, with these idiosyncratic yet well-crafted dramas, Sundance Channel put itself firmly on the Quality TV map.
Two more lists: Best New Shows and Best Returning Shows.