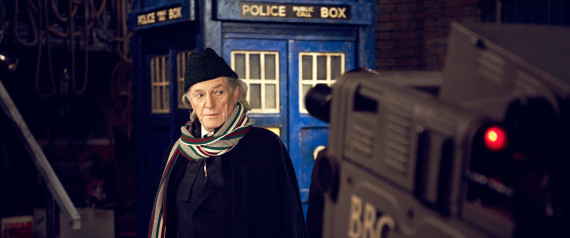 If you were to write a history of TV shows that have mattered, the title "Things That Weren't Supposed to Happen" would be inelegant, but also accurate.
"Doctor Who," which celebrates its 50th anniversary this week, is a prime example of a TV show that became iconic in spite of (or possibly because of) the obstacles in its path.
Most of the people behind its creation were outsiders or marginalized in one way or another, and though they saw eye to eye on various creative matters, they sometimes fought among themselves about what the show should be. They faced resistance from an entrenched and wary bureaucracy as well, which viewed science fiction with the sort of sneering contempt it still receives in some quarters. As has been the case with so many classic programs, the early history of "Doctor Who" is a catalog of near-misses, lucky chances, divine coincidences and potentially career-ending setbacks.
But the show survived, and in many ways its underdog status helped it do so. Who better to tell the stories of aliens and unlikely travelers than a band of outsiders with strong wills and subversive spirits? Maybe Verity Lambert, Waris Hussein, Sydney Newman and William Hartnell -- the producers, director and first star of the sci-fi show -- should have thanked their lucky stars for all the mishaps along the way.
"Doctor Who's" early struggles and eventual triumph among U.K. viewers are chronicled in the sweet and well-acted TV movie "An Adventure in Space and Time" (9 p.m. ET Friday, BBC America), one of two 50th anniversary broadcasts this week. The other big wingding is "The Day of the Doctor," a special that features guest star John Hurt, as well as Matt Smith, the current Doctor, and David Tennant, the actor who preceded him in the role. The latter special (which has not been shown to the media in advance) will be simulcast worldwide Saturday, 50 years to the day since "Doctor Who's" debut. In the U.S., "The Day of the Doctor's" first airing is at 2:50 p.m. ET, and will be repeated at 7 p.m. ET as well.
All the hoopla attending the show's half-century mark is certainly warranted. Whatever ups and downs individual seasons of "Doctor Who" have had (and as a longtime fan, I've said my piece about some recent downs), the Doctor, his companions and the blue box in which they travel have had an enormous impact on pop culture and contributed a large chunk of DNA to international nerd culture.
Even in the show's early days, when it seemed like a stiff breeze could topple an entire set and villains' costumes appeared held together with equal parts tape and hope, there was something sturdy and rather British about the show, which will soon introduce a 12th actor (Peter Capaldi) in the lead role. No matter who has played him, the Doctor's exploits usually reinforce the idea that pluck, wit, creativity and self-sacrifice can win the day. When you look beyond the constricted budgets and cheeky attitudes, you find a show that cares very much about the idea of caring. "Doctor Who" has lasted this long not because it had a ton of money or wasted a lot of bad guys, but because its characters often put love, loyalty and doing the right thing first. The Doctor would be the last one to advertise it -- given that he's certainly made many mistakes in his thousand-year life -- but underneath all those memorable costumes, the intergalactic trickster has two hearts.
More reasons for its longevity: It can be scary, clever and silly in equal measures, and when it's firing on all cylinders, it's generally a whole lot of fun. If you're unfamiliar with the show, do yourself a favor and check out Netflix's offerings (it has a decent selection of episodes featuring Jon Pertwee, Peter Davison, David Tennant and Matt Smith, who are among my favorite Doctors; look under "Classic Doctor Who" to see the work of my all-time favorite, Tom Baker).
So what could "An Adventure in Space and Time" possibly add to the lore of "Doctor Who," which has been obsessively documented and deconstructed for decades? It's not easy to see in the relatively staid early going, when a Cyberman puffing on a cigarette is about the most exciting thing on the cramped "Doctor Who" set. A lot of the draw of the first half of the movie is the competent and loving fan service on display: Longtime Whovians will squeal at the first sight of the old-school Daleks and geeky hearts will soar at the first blast of the original theme. Of course, the producers no doubt expect grumblings that this or that contributor to the show didn't get enough air time (my nerd complaint: Ron Grainer and Delia Derbyshire, who were responsible for the unforgettable opening music, should have gotten a bit more airtime, grr).
In the end, thank goodness, more than period costumes and tasty behind-the-scenes morsels are on offer. By the time it concludes, "An Adventure" has effectively reinforced a point that the show itself has often made: Sometimes an individual has to do something painful or difficult in the service of a larger goal that benefits many. Thanks to the compelling performance of David Bradley ("Game of Thrones," "Broadchurch," the Harry Potter movies), which grounds a production that feels a little wispy at times, one certainly comes to have a whole new appreciation for William Hartnell, the first Doctor. Though his career had hit a frustrating patch when the "Doctor Who" job came along, Hartnell had had a respectable film resume and was quite wary of taking the role, with good reason. A kid's show about space travel? Produced by a first-timer? Oy vey.
Bradley does a brilliant job of capturing the actor's insecurities, and the script does a solid job of making the actor's occasional crankiness understandable. Verity Lambert (Jessica Raine) was the BBC's first female producer, and director Waris Hussein (Sacha Dhawan) was among the first people of color to direct for the stodgy old Beeb. To say they didn't receive much institutional support is putting it mildly. Sydney Newman (Brian Cox), the network's brash Canadian Head of Drama and the man behind the creation of "Doctor Who," had to fight several battles on their behalf, and Cox bites into those scenes with irresistible gusto.
"The set was late being built. It was all very last minute," Bradley said in an interview with HuffPost TV last summer at San Diego Comic-Con. "It's easy to imagine that the whole thing arrived fully formed because they knew they had a success on their hands. But there were so many difficulties. It nearly didn't happen."
Of course it goes without saying that almost everyone associated with the show in its early days was against the introduction of the now-iconic Daleks.
As Bradley put it, the general reaction was, "Who's going to be interested in dustbins with a bath plunger on the front?"
But Hartnell not only accepted the villainous aliens and stuck with the role, he became intensely devoted to the show. Early on, he made sure that he memorized the TARDIS console's layout -- because he knew viewers would.
"He had to know the exact function of each lever and button, and he was quite fastidious about that," Bradley said. "Some people might have said that he was a little bit overly fussy, but he was clever enough to know that kids spot these kinds of inconsistencies, so you can't afford to patronize them."
Once "An Adventure" picks up momentum in its second half, viewers will begin to see what lurked behind Hartnell's formidable exterior: A dedication to getting it right and a very British desire to carry on, no matter how sticky things got. Hartnell saw a succession of producers and directors come and go, and he understandably began to view himself as the guardian of "Doctor Who," all while working at a pace, as he reminds Newman, that would exhaust a man half his age.
It's not a spoiler to say that "Doctor Who" replaces its lead actor every few years; the show wouldn't have made it this far without building that conceit into its mythology (and by the way, I will post an interview soon with current executive producer Steven Moffat on what it's like to cast a Doctor). What "An Adventure" depicts, among other things, is how the show's lead actor must commit heart and soul to a role that he knows he can't hang on to, and that leaving such a richly realized universe and much-loved character can be hard. Bradley brings a great deal of subtle pathos and doughty courage Hartnell's predicament, and ultimately, "An Adventure" becomes much more than a fun swing through TARDIS trivia. It becomes a story about hard work, ingenuity and a classy passing of the torch.
"An Adventure" has a bittersweet and surprisingly moving conclusion, which is very nicely handled by Bradley, writer Mark Gatiss and director Terry McDonough. Let's hope that in his (and her) next incarnations, the new Doctors make kindness, irreverence and iron resolve as much fun as they have been for the last half-century.
"An Adventure in Space and Time" airs 9 p.m. ET Friday and "The Day of the Doctor" airs 2:50 p.m. ET and 7 p.m. ET Saturday on BBC America.
PHOTO GALLERY
"Doctor Who" Season 7