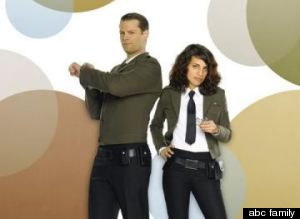 A couple of weeks ago, a television writer/creator named Javier Grillo-Marxuach ("Lost," "The Middleman," "Boomtown," "Helix") posted his unified theory about the current Golden Age of television. There were three elements to his post, but the third part, I thought, was the most thought-provoking section. Here's an excerpt:
"As much as writers and directors want to take credit for the current quality of the medium, I would say that the development of non-linear editing, CGI, digital post-production, and ultimately, digital image capture ...have had as much to do with the 'golden age of television' as the ambitions of the creatives and the expansion of the medium through cable, and certainly more than the shibboleth that 'TV got good because feature people got into TV' (which I consider to be bullshit of the highest order)"
Grillo-Marxuach's post provoked a good deal of comment among my critical peers, and given that I was in Los Angeles when it was posted, I asked him if he'd be willing to talk more about some of the ideas in that short piece. He agreed to do so, and we ended up chatting about television's past, future and present for about 100 minutes.
Grillo-Marxuach has worked as an executive, a showrunner, a comic-book writer, a TV staff writer and he's also created independent projects on YouTube. His knowledge of how television is made and how various commercial demands, production capabilities and creative agendas affect what we see (and don't see) made for -- if I may be so bold -- an enjoyable conversation.
Here are just some of the shows that came up in our discussion: "Louie," "Babylon 5," "The X-Files," "The Twilight Zone," "Game of Thrones," "The Middleman," "The Shield," "Friday Night Lights," "Battlestar Galactica," "The Guild," "Rectify," "Banshee," "The Walking Dead," "Roots," "Star Trek," "Spartacus" (of course) and "Law and Order." The focus throughout was not on specific story points (so there are no spoilers), but on how innovations in technology, storytelling, platforms and other arenas have transformed television in recent decades.
The last 20 minutes or so center on the first couple seasons of "Lost." Grillo-Marxuach was a staff writer in the first two seasons; the pilot script that was completed around the time he joined the "Lost" team had Jack dying in it, and flashbacks hadn't even been conceived of yet. His account of that time made me very nostalgic to visit the island again (insert your own "we have to go back" joke here).
I've listed some of the topics we covered (with approximate time codes in some cases):
We discussed the various contributions that writers, showrunners and directors make. Lately there's been a bit of debate over who gets credit for the state of TV, and we go into why that's the case, but as Grillo-Marxuach said, "Credit is not like oil. We're not going to reach 'peak credit' and then there's no more."
We also talked about the rise of digital post-production and digital technology in general, and what kind of shows we are and aren't getting in this brave new world. The rise in this kind of technology has also led to the creation of the kind of TV professionals who like to believe, as Grillo-Marxuach noted, "They are 'good in post,'" when in fact they may just be interfering with the process and annoying the editor.
While noting that there were obviously good shows in the '50s, '60s and '70s, we talked about how TV has only gotten better since then. Grillo-Marxuach compared the TV industry of the '70s to the Detroit of the '70s: "They had a captive audience and there were three networks." When he was an NBC executive in the early '90s, traditional editing was giving way to non-linear editing, and even in the last few years, the changes have been stark and technology means that creativity has been ever more democratized. As Grillo-Marxuach noted, "a kid with iMovie has more editing power than anyone working in TV" 20-plus years ago.
A little past the 44-minute mark, we talk about a "Middleman" crowdfunding initiative that he will unveil soon, probably in October. Through the venture, he hopes to raise enough money to produce a new comic that takes place in the world of "The Middleman," which has been both a comic book and TV show that aired on ABC Family. Part of the effort would involve potentially creating an on-demand system for publishing older comics set in that world. The new comic would unite the characters from the TV show with their counterparts in the comic-book "Middleman" world, and one perk for donors at a certain level would be attending a live reading of the comic with actors from the "Middleman" TV cast and others. As it happens, novelist, director and actress Amber Benson will read the role of comic-book Wendy Watson at the Los Angeles event.
We talked about the serialization vogue in television and the mistakes that are repeatedly made when the TV industry takes misguided lessons from high-profile successes. We also discussed how more than just a mythology can unify a story: Tone, viewpoint and theme are other things that can allow shows like "Louie" to hang together.
Around the 68-minute mark, we talked about the blockbuster phenomenon in movies and television, and TV's renewed relationship with miniseries, event series, TV movies and other kinds of storytelling. We also talked about the kind of storytelling the staff of "Helix" is hoping to embrace. The upcoming Syfy drama, which centers on an outbreak at an Arctic research facility, counts Ron Moore ("Battlestar Galactica") and Steven Maeda ("Lost") among its executive producers.
Though it's mentioned in a couple places before this, at about the 84-minute mark, we began talking about the creation of "Lost" in more depth. "I spend days and nights wondering what went right," Grillo-Marxuach said. Given the seat-of-the-pants way the show came together, we talked about how the show could have been a disaster. "I hate to sound so twee, but there's an alchemical reaction that happens [when things go right] that transcends all of the involved parties ... All through that first season, especially because it was a huge hit out of the gate, there was the sense that, if we don't aim for the fences every day ... we're never going to succeed."
The entire discussion is in the podcast below, which is also available here and on iTunes. Hope you enjoy it.