"What does Christmas mean to you?" asked Leigh Erceg, shortly after I first met her.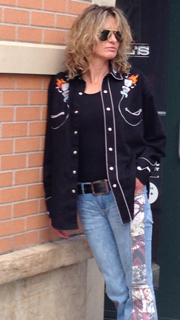 "For me, it is the celebration of the birth of a man of peace," I responded as a secular humanist, hoping the answer didn't upset her in any way. We hadn't gotten into much about our beliefs, but I knew already she was more spiritual than religious.
"See, I'm trying to figure it out," said the former Colorado rancher, who plummeted down an embankment on her land in 2009 and suffered a head injury. ("Keep breathing, Leigh! Keep breathing!" the sheriff shouted plaintively that day, as a helicopter delicately set down to whisk her away.) "I don't have any memories of growing up with Christmas or learning about it. It seems like a really big deal."
It was then I had true insight for the first time into Leigh. She wasn't asking me what my personal beliefs are. She really didn't know what Christmas is, and had been silently harboring the question, afraid to ask, since waking in the hospital. Her attorney had reached out to me to tell her remarkable story.
Following her injury, Leigh was suddenly compelled to recite and write poetry, generate equations, paint and dance, not to mention get manicures and pedicures for the first time. So I knew she was a special person. But it hadn't dawned on me until that moment that she is also a bright and shiny NEW person.
She's 46 according to her birth certificate. But the new personality she acquired with her Traumatic Brain Injury (TBI) is only five years old. And I don't mean a five year old girl -- I mean a fully formed, mature and beautiful woman with deep thoughts and profound new gifts. Unlike many other TBI survivors, including the subject of the current book I co-authored on a stunning TBI, the savant and synesthete Jason Padgett, she has few memories of her "old" self. So think of her as a new adult visitor to our land, someone unaccustomed to our ways, more than a child.
"I asked my Mom." (Leigh calls her mom "Jackie," as she loves her for the many recent kindnesses and concern she has shown, but doesn't have memories of her as a lifelong mother any longer.) "She said she always liked Thanksgiving better. Thanksgiving was always about sitting around together and talking and sharing a meal. I think if Christmas could be that way I would really like it."
"I wish I could spend Christmas with you, just like that; sharing a meal and talking," I said to my new friend.
"Me, too," responded Leigh.
She sent me this poem about the pre-Christmas scene in her home in Steamboat Springs, Colorado, the same day:
"Morning spent of glory unknown
Cathedrals lay upon the gloating white
Someday
Look upon lakes of Saturn pass
Dry washes if miss felt laces
Destination
Cathedrals still unknown
Walk wakes upon boots of flumes
Sincerity creeps
All wings spread over distances
Fluttering if mutter sounds
Harrow the bound fields
Lay clasping of no other."
L.G. Erceg
And so our journey together into all of Leigh's "cathedrals still unknown," began.