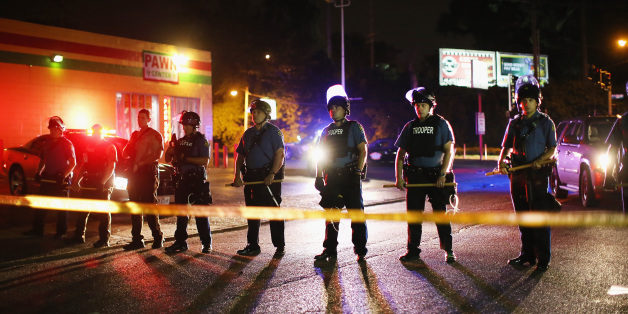 "Tell the truth!" -- Town Hall Panelist.
The air was thick and slowly the heat caused sweat beads to form on my brow. I scanned the space as I fought back childhood memories of sitting in various church sanctuaries fighting boredom and lunchtime hunger. Murchison Tabernacle CME Church was standing room only. I had traveled the 30 minutes from Illinois, across the new bridge, and up 70 north to attend the NAACP Town Hall meeting to hear about Michael Brown the young man killed this past Saturday. I came because as Michael was dying I was writing a dissertation chapter about the murder of Matthew Shepard and the public response to that tragedy. I came because while Michael was dying I was writing about the public's lack of response to the murders of black and brown queer folk, and I did not want to ignore the death of another black person. I came because while my people were voicing their outrage in the streets, I was obliviously dancing to some forgettable dance mix at a bear bar wondering when a particular guy would kiss me. I came because due to the way St. Louis is "structured," I was not aware of Michael Brown until Sunday. I came because I felt I needed to be around my people and hear their voices.
A call for silence was made and while part of me felt I was in a church service, the reporter talking during the moment, breaking the silence with that affected cadence that reporters have, confirmed that I was most definitely not "in church." One simply does not speak during moments of silence in church.
After the moment, the meeting began. I listened to the calls that were made. Predictably quite a bit focused on what black folk could do differently. There were calls for education, more presence in the streets, more reaching out to young folk, the need to register to vote, the need to stop looting and embrace nonviolence. Frequently those tweeting about the meeting were encouraged to include tweets urging peace. There were calls to look toward the future, focus on what we need to do next. At one point, one panelist stated that he was not interested in "a movement of protest but in a movement that pivots." The call for change was loud. But, it was lost on me because I had heard this all before. I had seen online and heard in conversations the focus shift away from Michael Brown to the ills of black St. Louis. I wanted to know about Michael Brown.
As if to answer my unspoken frustration, NAACP National President Cornell W. Brooks, Esq., spoke to us in a cadence and voice that once again pulled me back to Sundays in church. Brooks accurately summarized the situation we found ourselves in: "We find ourselves in a situation not of our choosing... We find ourselves in a tragedy not of our creation." Then Brooks brought the situation back to Michael Brown: "It is important for us to remember the central figure in this moral story is Michael Brown, not the rioter, or the way the media has constructed him."
Brooks next did what inevitably still has to be done in America, remind America that the black person is a person, human, and the black body has value beyond the block or blocks, but emotional value to folks who love that body: "This is not an abstract issue. This is somebody's son. Our son, our grandson, one of our own." And the obvious echoes of Trayvon Martin was acknowledged. He was in the room. But so too was Eric Garner. So too was Renisha McBride. So too was Aiyana Stanley-Jones. Their ghosts and the ghosts of so many other black men and women, boys and girls, be they killed by gun or rope, filled the room.
To be black in America is to at times commune with the unnaturally dead.
The statements that received the most response were those calling for justice. I found myself amazed that folk believed that such a thing could be achieved, but they did -- they do. I wondered, why is this not the story, that in a country that has such a fraught history with them, black folk still believe in the idea of justice in America. That is certainly the more stunning story than folk looting. I smiled widest when one panelist refused easy negative characterization of young black folk and instead gave them credit because they were the reason the media came -- their tweets, their bodies becoming a vocal presence on the streets. The black youth care and are saying something -- you just have to listen.
At the end of the meeting I felt torn. Much of what was said I agreed with, but I still felt adrift. I agreed with a woman who asked why the leaders were in a church while the youth were on the street protesting. I wondered why I wasn't on the street chanting and marching. I still wonder why I was not there because in the age of YouTube I could have watched the Town Hall meeting at a later time.
As I left in my car to drive back to my family home in a neighborhood where my family is surrounded mostly by white people who have rarely ever spoken to us, I thought about the passionate words of one panelist: "This is not complex. One person died. One person shot. You don't forgive this because if you forgive this you are next." A chill ran up and down my arm because what we know is that Michael Brown could be me or my brother, or my closest friends, but what we also know is that he could never be you. And this is part of what it means to black in America -- it is to be strange fruit waiting to be plucked.
Once I arrived at home, I turned on the news to see officers in militaristic gear hold dogs by the leash, others held what looked like guns. I saw a video of a woman being made to lay on the ground as she shouted out that she was six months pregnant. I saw giant trucks roll down the street. I saw that tear gas had been fired into the crowd of protesters on West Florissant. I saw clouds of white smoke. I remembered the calls for justice in the meeting.
And, as I curled up in my bed, another memory of my childhood came to me; a time when I was singing in grammar school when I lived in Texas. I remember the sing-song rhythm: "This land is your land/this land is my land/ from the California to the New York island/ from the Redwood Forest to the Gulf stream waters/this land was made for you and me." I didn't know whether to laugh or cry. I did neither.
There is a howl in America.