In the wake of the optimism engendered by the recent National Congress Elections in Libya, the violent legacy of conflict remains a daily reality for many in a country still littered with thousands of weapons, large stores of unsecured ammunition and explosive remnants of war left over from the recent revolution, not to mention their legacy issues dating back to the Second World War. This detritus of war is still evident along the roadsides in some areas while artillery and tank rounds can be found in backyards, farmland and schools.
The country's civilian population, largely unarmed prior to the 2011 revolution, has had effortless access to vast caches of weapons ranging from anti-aircraft weapons to pistols. As a result the majority of the population is now armed.
An estimated 440 military bunkers were bombed during the conflict, resulting in considerable areas of the country being polluted with semi-destroyed and dangerous ordnance. Many of the former storage areas were left unsecured leaving large quantities of viable ammunition, from bullets and mortar rounds to torpedoes and sea mines accessible to the population. As well as the obvious humanitarian concerns, the implications for regional and international security are potentially catastrophic. These informal caches and damaged stores pose a huge threat to Libyans: many can be found in urban areas, and explosions caused by poor storage techniques are not uncommon.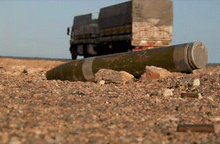 "Lives are being lost here in Libya," explains the UN Special Representative for Libya, Ian Martin.
People and especially children are becoming victims of explosions so right now it is still important that the international community contributes to the funding of UNMAS (UN Mine Action Service) work in Libya as we work towards the day that Libya will take financial and operational responsibility for its own future needs.
"Libya: The Aftermath of War" is a seven-minute documentary showing the work that is underway to clear the remnants of war and protect the civilian population. Shot in February and March of this year and launched in New York in July, the film offers a glimpse of what remains to be done in Tripoli and other population centers in the country.
The United Nations Mine Action Service (UNMAS), working as part of the United Nations Support Mission to Libya (UNSMIL), has spent 8.5 million dollars in Libya, supporting local and international organizations who are working on clearing ordnance and securing ammunition storage facilities. However, significant funding is still needed to keep these efforts moving.
One major challenge to our fundraising efforts is that people have had the misconception that Libya is a wealthy country, and whilst this was true in the past the road to recovery is long for the Libyan people with many competing priorities. Libya simply does not have the disposable income at the moment and still requires significant investment and advice from supportive states on how best to deal with the multitude of issues they face. There needs to be serious, and well-coordinated involvement by the international community in assisting the Libyans to get this work done. Due to the lack of funding, lack of teams and lack of assets, the ordnance has physically not been able to be cleared fast enough for the return of the people, and to facilitate the securing of arms and ammunition back into government control. A couple of million dollars now, in terms of prevention, is better than a hundred million dollars later to cure these problems.
There is no better way to support a peaceful and stable future for a democratic Libyan state than to help them in coming to grips with their turbulent past by promoting a safe and secure environment in which to do so.
"Libya: The Aftermath of War" provides an amazing snapshot of a country in the midst of post-conflict recovery and highlights the need for more resources to ensure that this critical work is carried forward.
The United Nations Mine Action Service (UNMAS) specializes in demining and the collection, stockpiling and destruction of dangerous remnants of war. Find out more at: www.mineaction.org