Park City, Utah, is a little metropolis in the wilderness. In other words, it's true mountain living with many of the comforts of a big city, such as great restaurants. In fact, SKI Magazine rated Deer Valley Resort #1 for food in its 2017 reader survey. Whether you're coming to town for the Sundance Film Festival or just an annual ski vacation, here are nine great eateries to satisfy any palette or occasion.
The Taco Place: Billy Blanco's
This classic-car-themed Mexican restaurant is located off of the Jeremy Ranch exit as you come into town on I-80 from Salt Lake City. So it's much more of a local's scene if you want an escape from the more touristy Old Town area. I recommend the taco sampler with a choice of carnitas, chicken, carne asada, smoked short rib, mahi-mahi, and portobello (pick three). I've tended to go with the Chicken Al Pastor Tacos after trying all of them or else the Mango Avocado Salad with blackened Mahi-Mahi. As you'd expect, Billy Blanco's also serves some of the best margaritas in town.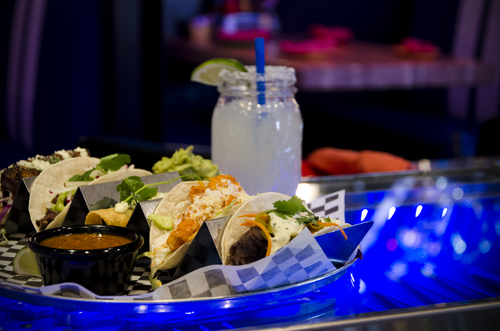 Yelp rating: 4.0
Facebook rating: 4.4
Google rating: 4.3
The Burger Spot: Burgers & Bourbon
The best burger in Park City happens to be located within the Montage Deer Valley. If you're skiing at Deer Valley, it's a ski-in/ski-out lunch spot with a patio fire pit. But it's also worth the drive up from town, as you're treated to epic views and free valet. You can't go wrong with the Classic burger with aged cheddar. I'm also a big fan of the turkey burger (organic) and for a low-carb option, the mountain cobb salad. Otherwise, the trio of fries and sauces with rosemary sea salt, sweet potato, and truffle parmesan is the signature side. In addition to a fantastic drink selection and a mixologist's touch, one can choose from nearly a dozen shakes and floats for desert.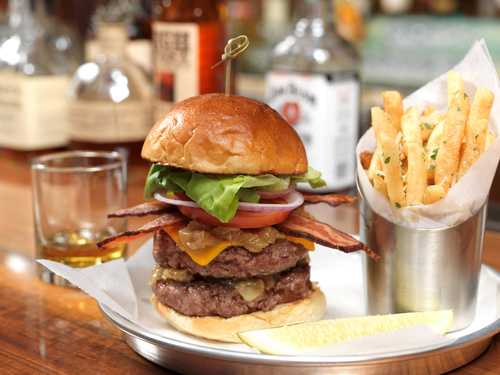 Yelp rating: 4.0
Facebook rating: 5.0
Google rating: N/A

The Farm-to-Table Place: The Farm
Restaurants at the Canyons Village are easy to overlook if you're not staying there. Not only is The Farm one of the best in town, it's been celebrated as one of the best in all of Utah by Salt Lake Magazine. As you contemplate the menu, consider that it's designed for family-style sharing. We started with the local cheese plate and charcuterie board, which vary according to what's locally available, and quickly added the Braised Oxtail Onion Soup. For large plates, my favorite was the Niman Ranch Filet Mignon...cooked and sliced to perfection with fried purple potatoes on the side.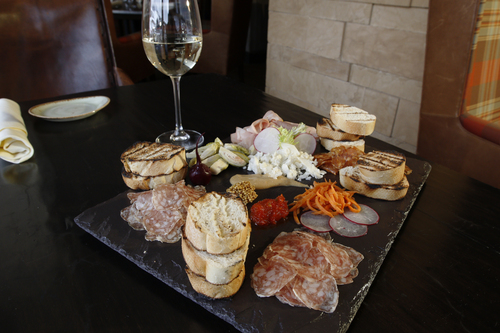 Yelp rating: 3.5
Facebook rating: 4.4
Google rating: 4.1
The Pizza Joint: Maxwell's East Coast Eatery
A classic pizza spot for families or a group of dudes who need somewhere to watch the game. With a generous bar area and comfy booths, it's also a great way to unwind after a day of skiing. Maxwell's 20-inch, thin-crust pies are about as good as you'll get outside the Tri-State area. The signature "Fat Kid" has pepperoni, spinach, and ricotta. Or you customize a pasta order with various pastas, sauces, sides, and styles of preparation. Maxwell's is located in Kimball Junction, which has become the geographic center of Park City, and also hosts weekly concerts during the summer months.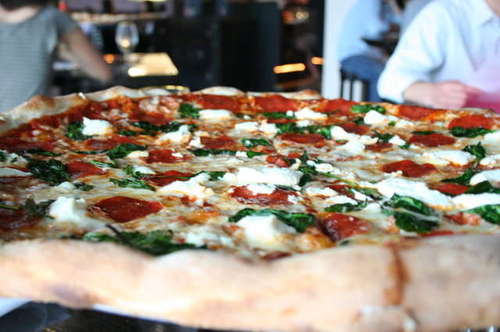 Yelp rating: 3.5
Facebook rating: 4.3
Google rating: 3.8
The Fine Dining Restaurant: Powder
Located at the Waldorf Astoria, Powder is one of a handful of Park City restaurants that offers a Michelin-star-like experience. Executive Chef Ryker Brown designs seasonal menus with local inspirations and serves many dishes on natural stone and wood. We started with the delicious West Coast Oysters, which were pre-sauced and ready to eat. Our first course included the Big Eye Tuna Crudo and Roasted Heirloom Carrots, an ideal balance of flavors. For a main course, we shared the Wagyu Bavette, a menu staple, over a chermoula sauce and accompanied by duck fat potato sticks -- a very tasty tater tot. Finally, the pastry chef deserves a round of applause for the "Apple Pie" creation with a range of different apple flavors and textures from ice cream to a puff pastry and dried apple slice. Just brilliant.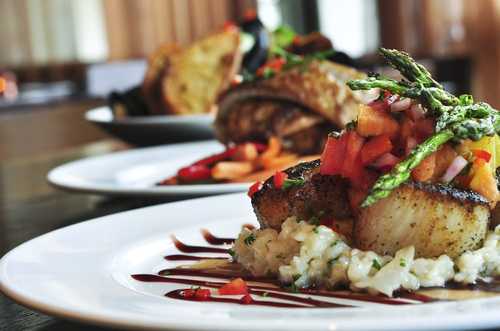 Yelp rating: 3.5
Facebook rating: 5.0
Google rating: 4.1
The Steakhouse: Prime Steakhouse & Piano Bar
There are a number of quality steakhouses in Park City. A few things set Prime apart. First, the piano bar vibe just gets you in the mood to eat and drink. Next, it's located on Main Street with great nightlife just a few steps in either direction. Finally, the steaks are served on piping-hot plates to keep it warm throughout the meal. Indeed, Prime is selling the sizzle. Of course, each of its featured cuts -- filet, NY strip, rib eye, and bone-in rib eye -- is fantastic and cooked to perfection. And the wine list is extensive.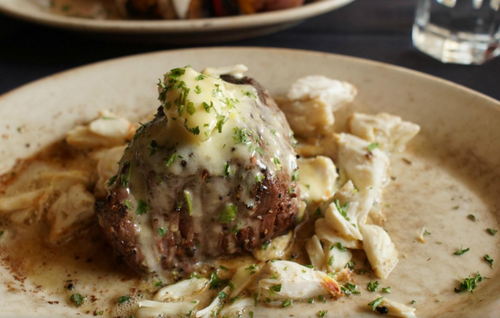 Yelp rating: 4.0
Facebook rating: N/A
Google rating: 4.0
The Ski Lunch Spot: Royal Street Cafe
Home to the best ski lunch I've had in North America. Indeed, it rivals the best the French Alps has to offer. If you're skiing Deer Valley, lunch at Royal Street is mandatory. Even if you're not, it's worth the drive up to Silver Lake Lodge. Keep in mind that you can make a reservation so you'll waste no time from your day of skiing. The menu is light and fresh, but it's also big on taste. The Fresh Dungeness Crab Tower with layers of avocado and crispy spiced wontons is an epic appetizer. For a main dish, the Grilled Tuna Tacos are just fantastic.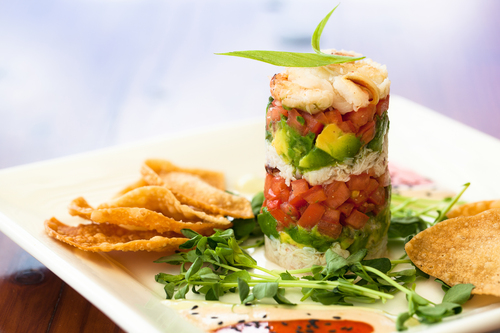 Yelp rating: 4.5
Facebook rating: 4.8
Google rating: 3.6
The Locals' Secret: Sammy's Bistro
If you relocate to Park City, this is one of the first restaurant secrets locals will share: when in doubt, go to Sammy's. The menu is as extensive and affordable as it is good...from breakfast to lunch, dinner, and even the kids' selections. I've enjoyed the signature Steak Frites as much as the Mahi-Mahi Tacos and the Vodka Penne with Shrimp. It's all good. And you'll be pleasantly surprised when you get the check, even if you've added a few local Park City brews to the tab. Just as importantly, the service is excellent.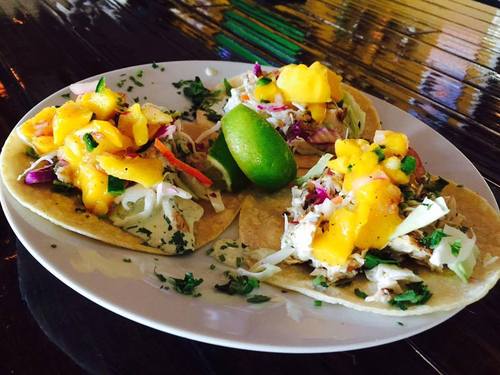 Yelp rating: 4.0
Facebook rating: 4.5
Google rating: 4.3
The Sushi Bar: Yuki Yama Sushi
The service at Yuki Yama is some of the best I've experienced at any restaurant. The staff is genuinely pleased to serve, whether you're a couple, a large group, or my two small kids. Which would be for naught if the food wasn't superb, but it is. Beyond my Nigiri staples of Albacore, Yellowtail, and Salmon, I was encouraged to add Madai Snapper and Loup de Mer aka European Sea Bass to the mix. The signature starter is the Wagyu Beef Tataki, served with a sizzling hot salt block to sear the beef at the table. If you like spicy cut rolls, the Executive (tempura shrimp and habanero sauce) and Green Hornet (spicy tuna and cilantro jalapeno aioli) are guaranteed to induce sweating. If you happen to be there on a Friday night, Link is the server to request.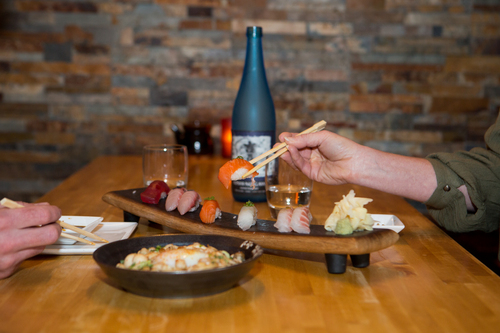 Yelp rating: 4.0
Facebook rating: 4.5
Google rating: 4.2
Note that this list is not comprehensive. It's just a start. There are many more great restaurants that I'll feature in future posts.