Seventy years ago, Abraham Maslow proposed the idea that human beings have a set of fundamental needs which must be met in order to unlock the full spectrum of one's intellectual abilities. The most basic of which are what you'd expect: food, water, safety, security, non-celibacy, etc. Moving up the ranks we reach new, more intangible benchmarks of well-being like respect from others, personal achievement, romance. Only when our physiological and psychological needs are met is one able to reach the flagship of human flourishing: self-actualization, Maslow dubbed it -- the ability to be spontaneous, think creatively, embrace philosophy, and so fourth.
TED has long stood as breeding ground for self-actualization; intellectual alchemy at its best, for the most highly-curated group of awe-addicts the world over. At TEDActive, the hipper, younger brother to its Long Beach counterpart, TED not only ensures that all such needs are met (well, with the exception of non-celibacy. They leave that up to you.), they throw in luxuries like on-site spa access, desert parties with fire dancers, breathtaking mountainous backdrops and a bottomless well of healthy snacks to fuel up before, during, and after the talks.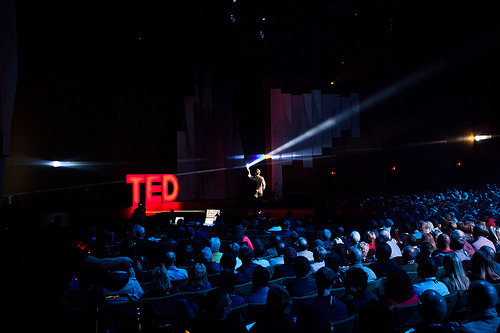 The TED experience packs many unexpected wonders
It's in this setting -- often described as intellectual hedonism with a splash of Burning Man's joie de vivre -- that one gets to experience the hallmark of TED which is, of course, the talks. This year's theme, Full Spectrum, was a nod not only to Maslow's concept of actualization but of the diversity of human experience and interest, reflected by the ideas presented on stage. Packaged in an aesthetically-relevant way countless conferences imitate but fail to replicate, the speakers this year ranged from Andrew Stanton (writer/director of WALL-E) on storytelling to a Chris Anderson-mediated "battle" between techno-optimist Peter Diamandis, co-author of the new book Abundance, and the more foreboding Paul Gilding, founder of Greenpeace and vocal dead-ringer for Clive Owen.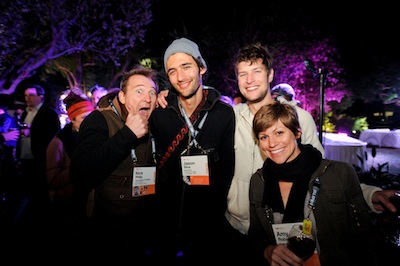 Fellow TEDsters
The line-up was a great mix this year, and to be sure, talks can fall anywhere on a scale from vaguely interesting to utterly mind-blowing. However, the real magic happens in the in-between time when audience members are left to connect the dots. Last year, we learned of the dangers of one's "filter bubble" when Eli Pariser warned of the narrowed world view that can take hold when one's brain food is limited to overly-customized algorithms or self-curated social networks. At TED, there is no such danger: The talks are multi-sensory, cross-disciplinary, and always delivered with passion by someone at the top of their game. What's not to love?