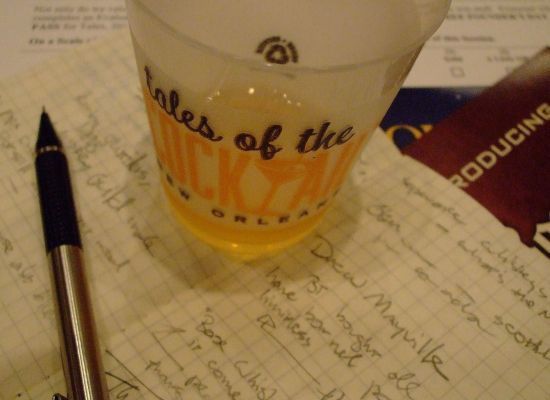 The international drinks community (bartenders, brand ambassadors, public relation firms, distillers, cocktail writers, geeks, bar owners, and everyone who can tell you the difference between Plymouth Gin and London Dry) descends upon New Orleans for five sweaty days in July to attend Tales of the Cocktail. This was the eighth Tales, and it gets bigger, and crazier, every year. It's so sprawling, so wonderfully rich, that it's hard to suggest the scale of the thing. Consider that last year they used 13,884 mint leaves, 14,000 lemons, and 11,250 limes. In five days they used 192 pounds of sugar. And I bet this doesn't count all the ancillary events, the sponsored parties, or even the lemons plowed through at the Carousel bar in the Hotel Monteleone. Most of the events and seminars and tasting rooms happen at the Monteleone, and the bar (which spins, as if we needed any help) is continuously overrun by the drinks crowd. Flopping into a dark seat in the back with some friends for a refresher on Saturday afternoon, I learned that the bar had 86'd Pimm's. That's right, we drank all their Pimm's.
Tales of the Cocktail is decadent and depraved, for sure. It's almost hard to write about without slipping into Hunter Thompson's gonzo rhythm and riffing on crazy stories. How else to process the intel I was getting before my arrival in New Orleans? The Monteleone was swarming with kids in highlighter yellow shirts that said BELIEVE -- the cocktail crazies were sharing the hotel with a church group. Fear and loathing in the Monteleone, indeed.

To take that tack wouldn't be fair, though. For while much of Tales is full blown insanity -- you find yourself texting people at 3:30 AM to find out where they've gone, receiving answers, going -- the trend that stood out this year was not a new liqueur or a splash of Islay Scotch in a cocktail, but charity.
Thursday at Tipitina's French Quarter, Cowboy Mouth and the Rebirth Brass Band played late into the night at the Louisiana Gulf Coast Rehab benefit sponsored by Don Q rum, with all proceeds going to the Greater New Orleans Foundation's Gulf Coast Oil Spill Fund, which assists families of fisherman. The New Orleans Culinary and Cultural Preservation Society -- run by Anne Tuennerman, founder of Tales of the Cocktail -- issued a special edition bar towel and sold it in the gift shop, with all the proceeds headed towards oyster shuckers hurt by oil spill in the Gulf. (Twitter was alive with reports of people donating well above the $5.00 minimum, or donating their honorarium, or just chucking $200 into the till.)
My favorite charity event of all -- if not the best afternoon I've spent all year -- was the Pig and Punch in Washington Park. Organized by The Bon Vivants (who are Scott Baird and Josh Harris), the party followed up their volunteering on the Tuesday before Tales started (with Neyah White, Jason Henton, Borys Saciuk, Gardner Dunn, Dom Venegas, Todd Richman, John Lermayer and Jill Webster) to refurbish the Douglas High School in Bywater, which is in the process of becoming a charter school. Neyah White told me that they "painted hallways, hung room numbers and replaced bombed out blackboards with dry-erase boards." On Saturday, they organized a party.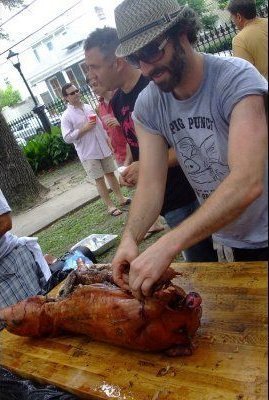 Cochon restaurant gave them a pig cooker, and the Bon Vivants rustled up two pigs. Abita donated a couple of kegs of SOS beer (which is, itself, a charitable beer). The crew made three trash cans full of excellent punch -- the Wild Turkey was the best, I think. (They assured me the trash cans were new.) The event was open and utterly permeable. Lots of folks who looked as if they lived in the park joined us, local kids grabbed slices of watermelon. "The best point for me," said Neyah "was when a young lady with two small girls wandered over with a bowl of potato salad for the table. She said she saw us setting up and thought she would contribute! I teared up a little at that one."
It wasn't all do-gooding, of course. Grand Marnier threw one of the craziest, biggest events I've ever been to, called the Bar Room Brawl, at which six bars from around the nation competed by shaking drinks for a seething throng of revelers. Eric Alperin's bar The Varnish, from Los Angeles, won the people's choice award. The Varnish team put two drinks on the bar: Chris Bostick made the 100 Rue Margeurite (1.5 ounces of vsop cognac, .5 ounces of Grand Marnier 100, .5 ounces of fresh lemon juice, .5 ounces of simple syrup, 2 dashes of Angostura bitters, shaken, strained into a coupe, and garnished with a lemon peel spray); Marcos Tello made the RX 100 (put a sugar cube in the bottom of the glass with fresh mint, add .5 oz of rye and 1.5 oz of Grand Marnier 100, finish with crushed ice). Drink, of Boston took the Judges award with the Mission Of Burma (2 1/4 oz. Grand Marnier, 1/4 oz. Junipero gin, 1/4 oz. lime juice, 1/4 oz. Angostura bitters, Shake in iced cocktail shaker, Strain into chilled cocktail glass, Lime twist garnish) and the Alicante (1 1/2 oz. Grand Marnier, 1 oz. Van Oosten Batavia Arrack, 1 oz. Noilly Prat Dry Vermouth, 2 dash Angostura Orange bitters, 2 dash Bittermens Xocolatl Mole Bitters, Combine all ingredients in double old fashioned glass over hand-hewn ice, Stir to incorporate and dilute, Garnish with orange oil, Sprinkle salt on ice).
There were too many worthwhile events and seminars to list, but it's worth noting a few highlights. At the gala awards ceremony in the Roosevelt Hotel, which is as close as the drinks crowd gets to the Oscars, the fantastic New York bar Death & Co dominated and Murray Stenson of the Zig Zag in Seattle took bartender of the year. Overall, there was a slight sag in the speakeasy bar pretension, and a lot of enthusiasm for mezcal and rum. Lucky seminar attendees got to see Wayne Curtis blow up a plate of gunpowder doused with navy proof booze.
Navy proof booze leads me to mention the best drink I had while there. At the after party for the Spirited Awards called the Bartender's Breakfast I grabbed a drink by Audrey Saunders. It was tall and cool, and the perfect respite for a room packed to the gills with sweaty, tipsy folks. She gave me the recipe, and suggested that maybe this would encourage Pernod Ricard to import their Navy Proof gin to America. I hope they do, but even if they don't, go ahead and make this one with standard strength Plymouth, you are going to love it.
My Vote For Best Drink at Tales of the Cocktail is the
BITTER ADMIRAL
1 1/4 oz Plymouth Navy Strength Gin
2 oz Campari
5 oz Fresh Red Grapefruit Juice
Measure all ingredients into a highball glass over ice. Garnish with a grapefruit slice and straw. Enjoy!