TV history was made last night: The stunning Jodie Foster, twice Oscar winner and tonight's winner of the Cecil B. DeMille award for lifetime achievement, thanked her ex-partner Cydney Bernard, with whom she has two boys. While saying that she did her "coming out in the Stone Age," she did come out -- as single and an "ex-" from a female same-sex couple.
I wonder if she read my New Year's Day post on (Sky)Diving into 2013? Her emotional acceptance speech left the Hollywood celebrity audience in tears. Only 50 years old, but 47 years "in the business," Jodie is Hollywood royalty, a multiple Oscar-winning actress, director, producer, Yale alumnus and daughter of a wealthy father and producer mother.
Jodie was certainly doing a dive out of her much-loved privacy. It was a philanthropic act to change lives and will probably get a mixed reaction from all quarters -- perhaps for her sensitivities and the unusual arc of her rhetoric. She appeared vulnerable and peppered her speech with references to the cautionary advice she'd received, like from her publicist. This Best Actress Oscar-winner for Silence of the Lambs was stepping out of privacy-imposed silence.
I honor Jodie's worldwide television speech and the underlying recognition of the costs of stepping out of the protective shell of privacy about loving someone of the same sex. Certainly if Jodie Foster -- who would seem on top of her game and invulnerable -- would be overcome -- and even fragile -- by the acknowledgements she was now making, what does that tell us?
First, we have come a long way in changing the hearts and minds of Americans and the world about being sexually attracted to the same sex. And we yet remain vulnerable about our careers, our loved one and public personas.
I believe Jodie Foster just gave more permission to young women -- and men -- to be authentic. Even in Hollywood. And implicitly she says if she's vulnerable just how much more are those less fortunate same-gender-loving kids in places a lot less liberal than Hollywood? When I helped form the LGBT Task Force at the NAACP -- and saw its culmination in the NAACP's unequivocal endorsement of marriage equality in 2012 -- it was a personal, private and public achievement. And that moment was certainly helped by President Obama's marriage equality endorsements that gave permission to more conservative and religious Black folks and institutions to embrace our same sex loving brothers and sisters and recognize and validate their relationships.
When Jodie Foster raised her Golden Globe Cecil B. DeMille award in tribute to her next chapter in life she did the same for the Hollywood community and many, many people around the world. She said she's going to leap into her next 50 years -- and I am taking the dive with her.
Like landing after my skydive on New Year's Eve, I know it's going to be an even greater rush for people like us. A rush that sweeps us up: we may be lambs (of God) but we are lambs that roar.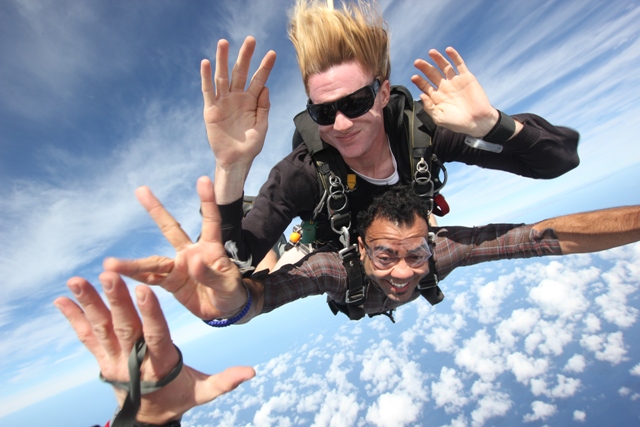 Follow me on Twitter @maximthorne.