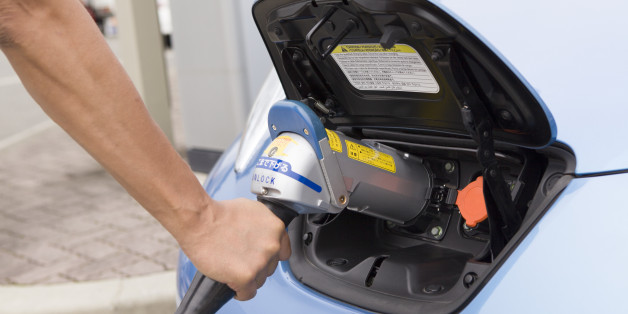 Electric vehicles are getting a lot more efficient and popular to drive in New York City.
Did you know there are more than 150 commercial electric vehicle (EV) charging stations in Manhattan, as listed in the online database PlugShare, compared with only 39 gas stations, according to a Wall Street Journal Analysis of New York Department of Finance Records. A decade ago, there were 60 gas stations, but station owners are making more money now by selling their high-value Manhattan real estate than by selling gasoline. Could this signal a new era of electric transport in the city?
Just inside the entrance to Time Warner Shops at Columbus Circle, a young couple strolling with their morning coffees stops in their tracks when they see a sexy, red sports car. The woman bends over to touch the shiny car, a brand new Tesla Model S. On the other side of the car, the man taps a touch screen that gives more information about its specifications and offers him a test drive right out of the mall's basement parking garage. As they discover that the sports car is actually an electric vehicle (EV), their eyebrows raise with delight. Another pair passing by notices their amusement and curiously stops their shopping to examine the display too. Their new interest in the spiffy car parallels a gradual transformation occurring in automobile transport in New York City.
ALL IMAGES © 2014 Maya Albanese Photography, All Rights Reserved.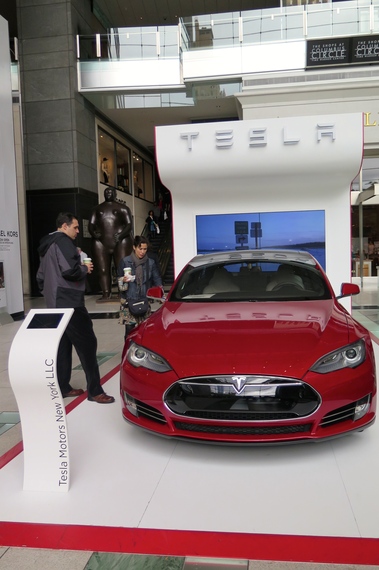 A couple stops to check out a Tesla Motors Model S on display at Time Warner Center Shops in Manhattan.

In July of this year, 11,500 electric cars were sold in the U.S. compared to 7,500 in July 2013, a 35 percent increase year over year, according to the U.S. Department of Energy. There are purchase options on the market that appeal to a variety of consumers: 20 different all-electric models from a dozen different brands- BMW, Chevrolet, Ford, Mercedes, Mitsubishi, Toyota, Volkswagen, Fiat, Kia, Nissan, Tesla, and Smart Car- that range in price from $23,000 to $100,000+.
The increase in EV ownership is mirrored by an expansion of car charging infrastructure in NYC. One year after Governor Andrew Cuomo's announcement of ChargeNY, a program to invest in 3,000 EV charging stations across the state by 2018, the New York Power Authority (NYPA) says that 500 new stations have already been installed. In the last month, the NYPA and New York State Energy Research and Development Authority (NYSERDA) unveiled ten new charging stations in White Plains and two at Niagara Falls International Airport.
"Local and federal politicians have supported electric charging in Manhattan, and as electric vehicles become more common, the network will organically grow to support them," said Will Nicholas, a Tesla Motors spokesperson.
Tesla is a luxury EV manufacturer, founded in 2003 by billionaire entrepreneur, Elon Musk, a former co-founder of PayPal. It sells EV's online and in company-owned showrooms, a significant departure from the standard dealership sales system in the U.S. marketplace.
The Tesla Model S starts at a base price of $71,000, and with add-ons, the cars generally drive off the lot in the range of $80,000 to $100,000. A BMW five-series car could be considered comparable in size and design at a price tag of closer to $60,000, but this is an impractical comparison since the core technology is different and the costs of maintenance and re-charging are much lower in a Tesla than in a conventional car that uses gasoline.
The Internal Revenue Service offers up to $7,500 in tax credits for the purchase of an EV, and new research and development into battery technology should bring down prices in the near future. Tesla recently opened its Gigafactory in Nevada to facilitate the mass production of EV batteries and bring down their cost by at least 30 percent, which would make them competitive with mass-market automobiles.
Just below the Tesla Model S display at Time Warner Shops, people rush in and out of the basement parking structure with bags and brief cases, seldom noticing the signage designating the area as an EV charging station. Tesla has installed a series of chargers in the garage across from a ChargePoint station. ChargePoint is the world's largest network of EV charging stations and developed a mobile app to assist customers in locating 20,000+ stations. ChargePoint users can also calculate their greenhouse gas savings from driving an EV instead of a conventional car.
The attendants working for Central Parking Company watch carefully for EV drivers in case they need to clear the parking spots with chargers for them. "We see maybe two to three people come in to charge an EV each day; sometimes a BMW or a Porsche, but more often Tesla's and Smart Cars. They're fun to drive and they're quiet," explained Gelin, one of the attendants.
Gelin hears a variety of feedback from his customers who drive EV's, "I talked to one customer who drives a Smart Car, and she said it only costs her $4 to charge her battery to full." This is noteworthy savings on the average $4 per gallon spent to fill a car with gasoline in the city.
Gelin is hesitant to get an EV, "Driving back and forth in traffic in Manhattan every day, I wouldn't want to keep having to charge it. I'd rather get a hybrid, so I at least have the option of using gas."
According to Nicholas, this is a misconception. When an electric car is idling, energy is only being used for peripheral functions like heating or air conditioning, whereas conventional vehicles burn gasoline while they idle. "In some instances, an electric car can be much more efficient than an internal combustion engine in congested driving situations," says Nicholas.
Third-party applications have been developed to support the increase in EV drivers and infrastructure. In 2010, a group of self-proclaimed "electric vehicle enthusiasts" developed an app called PlugShare, an interactive map that lists over 100,000 charging stations worldwide. PlugShare does not manufacture or operate its own charging stations, but rather is a database that enables more than 120,000 EV drivers to search and filter for the stations that best fit their needs, as well as review and comment on them.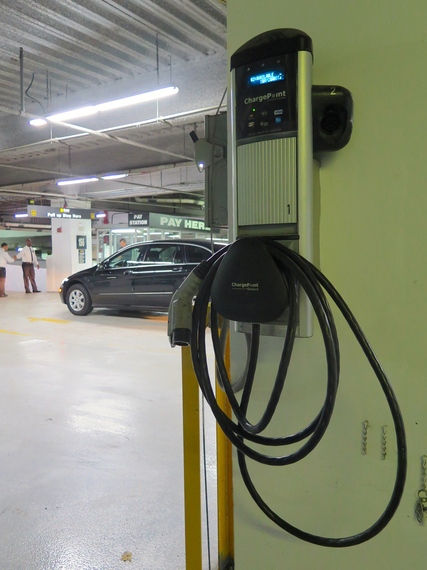 ChargePoint is a network of more than 20,000 EV chargers that can be searched on the company's mobile app, or on PlugShare's app.

"What we discovered was that it's not that the infrastructure didn't exist, it's that people just didn't know it was out there," said Forrest North, PlugShare's Chief of Operations. PlugShare created the first comprehensive listing of stations and gave EV owners the option to share chargers in their own homes with each other. It has become another player in the "new sharing economy" pioneered by companies like ZipCar and AirBnb. According to North, approximately 10 percent of the plugs registered on the app are home chargers that people are sharing free-of-charge.
PlugShare just announced new collaborations with auto dealers to make sure that their salespeople and customers are aware of the growing efficiency of driving an EV in the U.S.
"Another barrier we noticed is that some dealers were not that well-informed on EV's, and in some cases, they were even discouraging them. PlugShare will be integrated into the cars' dashboard navigation systems, so EV's will come with in-dash access to the largest mapped database of charging stations," says North.
Some critics still claim that EV's are just as polluting as other cars, because electricity often comes from dirty power sources such as coal-burning plants. But, according to the latest Union of Concerned Scientists (UCS) report, the percentage of Americans getting electricity from coal has decreased over the last two years. Based on utility emissions data from the Environmental Protection Agency, UCS states that 60 percent of Americans now live in areas where EV's contribute fewer greenhouse gas emissions per mile than even the most efficient hybrid cars.
"Cars not only burn gas, they pollute and are detrimental to human health. From the day a car is sold, it only gets dirtier. With an EV, you can choose any source of electricity, now and in the future," says North.
Despite the ongoing environmental debate, PlugShare data shows that there are 417 commercial EV charging stations in the greater New York City metropolitan area. While commercial infrastructure is widely available, at-home charging remains the most popular option.
"The vast majority of EV owners can charge at home or at their workplace. If they had a regular car, they'd need to go to gas station. You can't install a gas station in your home," says Forrest.
In a city that is still recovering from the shock of empty gas pumps in the chaotic aftermath of Superstorm Sandy two years ago, there are obvious advantages to being free from reliance on the island's declining gas stations.