**Update/Correction**
Michelle Obama's office has clarified details about the Park Avenue article. Although dated 2008 in Park Avenue magazine, Leibovitz apparently took the photograph last year for Vogue magazine. Moreover, Katie McCormick Lelyveld, Michelle Obama's press secretary, states that Park Avenue writer Steffi Kammerer never interviewed Mrs. Obama. "The Obama campaign did not particpate in an interview with Park Avenue magazine. The photos were taken for an issue of Vogue magazine that ran last year. No photos or interviews took place expressly for this feature."
Therefore, the photo of Michelle Obama with Kammerer on the Park Avenue editor's page, as well as Editor-in-Chief Andreas Moller's writing that his reporter got the story, with its direct quotes, in St. Paul (the Victory Rally), New York and Chicago would seem to be misleading. Leibovitz was clearly not thinking of the Paris Grace Kelly exhibit.
I now have the answer to my question on how and why the campaign allowed this piece to go forward: They did not. My apologies to Michelle Obama, Katie Lelyveld and the Obama Campaign.
-----
How does Annie Leibovitz persuade these women? First there was Miley Cyrus. Now there's Michelle Obama. In the latest issue of Park Avenue, sort of a German version of Town and Country, there is a Leibovitz photograph of "Miche," posed like European aristocracy, a royal purple satin wrap cradling her bare arms and gray evening gown in folds falling across the spread of two pages. Seated in that classic pose of body turned slightly to the left and head facing the viewer, the woman who well might be the next First Lady of the United States wears an expression of hauteur that, like the stole, well might become a Gainsborough duchess. But it's not the marvelous play of light and shadow across the ruched deep purple or Mrs. Obama's unsmiling stare that arrests so much as the bodice of her dress, cut more daringly that anything on a First Lady, or presumptive First Lady, since Dolly Madison. This is a masterful photograph, and the woman looks beautiful in it, but surely this bit of Leibovitz would never have appeared as an accompaniment to an article on Michelle Obama in say the New York Times Sunday Magazine (For now, to see the photos, you'll have to pay Park Avenue.)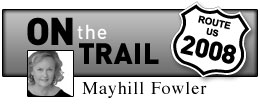 Given that the Obama Campaign is trying hard to shape Michelle's image and to present her consistently, the dissonance between this photograph and the campaign's emphasis lately on her hosting of working women's roundtables is striking. At her address Monday to the Women for Obama luncheon in Chicago, Michelle empathizes with "the jobs that have to get done after folks get home from work." Undoubtedly, the real Michelle knows what's she's talking about, even if "making dinner" may be a bit of a stretch (she tells Park Avenue reporter Steffi Kammerer that she can barely cook), even if the woman in the Leibovitz photo doesn't look like she ever lies awake "worrying late into the night." The Michelle in the photograph is a descendant of Madame Recamier (hair and style of dress) and Madame X (the emphasis on the shoulder straps), even though Miche herself is hardly a lady of leisure. Annie Leibovitz also may have been thinking about Cecil Beaton's Grace Kelly, for there is a Grace Kelly retrospective currently on display at the Hotel de Ville in Paris. And indeed the photograph is as reminiscent of Hollywood royalty as it is of European Royalty.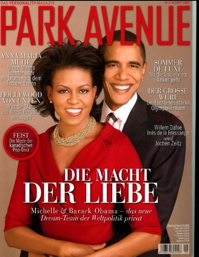 The seduction in magazines like Park Avenue derives partly from the disjunction, and therefore the tension, between text and surrounding photographs. Town and Country regularly features articles on philanthropy that are placed between luscious color advertisements for Cartier and Bulgari diamonds and emeralds. In the Obama issue (the power couple are also on the cover) of Park Avenue, the regal photograph accompanies an article in which Ms. Kammerer gives her readers some of the details of Michelle Robinson's life as she grew up in Southside Chicago: her bedroom behind a curtain in the living room of her parents' small house, the burned (ausgebrannten) sofas out on the street, her school in a neighborhood of drugs, guns and gangs.
Ms. Kammerer quotes Michelle as saying that, at the beginning of the summer in which she eventually agreed to date Barack, she told her mother that she had no time for distractions and certainly not for men ("sie habe keine Zeit fur Ablenkungen, schon gar nicht fur Manner"). But soon they are dating and, sitting on the curb near his apartment, they share Baskin-Robbins ice cream and a first kiss. The humor and sweetness here are generally at odds with what Park Avenue is all about, and one has to wonder how and why in the world the Obama Campaign gave the go-ahead to a long article. Elsewhere in the Obama issue is a feature on Germany's female Olympic athletes, photographed in a style deliberately reminiscent of the 1936 Berlin Games. There's an article on den Jetset, specifically Aga Khan, his daughters the princesses and the beautiful people they summer with on the Costa Smeralda. There's Ines de la Fressange, Karl Lagerfeld's muse, giving tips on Paris. There are page after page of lovingly detailed photographs of masochistically heeled shoes.
At the Women for Obama luncheon in Chicago, Michelle recounts from the campaign trail a few of the stories of hardship she has heard from American women. Likely these women, and many more who are struggling in today's hard times, would be pleased with Annie Leibovitz's beautiful photograph of Mrs. Obama. It's a misperception that ordinary Americans expect their leaders to dress like them, to be like them. What Americans want -- and Michelle Obama has never given any indication that she doesn't understand this -- is for a leader, or aspiring leader, to see them not as focus groups but as individuals, each in the fullness of his or her life, in the common humanity that we all share. What's provoking about the Leibovitz photograph is not that American working class folk might be put off. It's what the Park Avenue spread says about Obama's trip to Europe. The glossy issue appeared on German newsstands within days of Barack in Berlin. But what did it matter about title, contents and photograph? Most Americans would never see any issue of Park Avenue, let alone this one. After all, despite the rhetoric of Obama's Berlin speech, Germany is after all so very far away. Given the nature of the magazine and its contents, this must have been the assumption leading to the Obama Campaign's inattention to this latest addition to Michelle Obama's public persona.