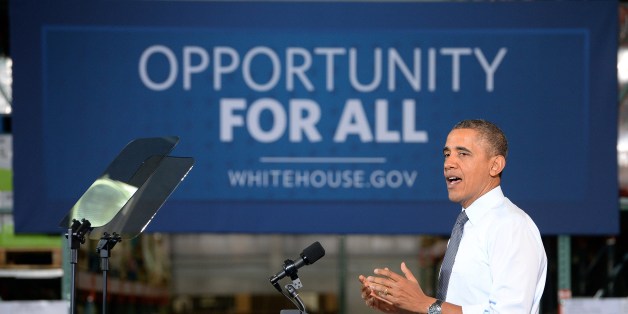 My name is Mayra Guadalupe Rubio Limon and I am a DREAMer. When Congressman Joe Garcia (D-FL) asked me to join him at the 2014 State of the Union I was thrilled because I knew it would give me a chance to tell my story, and that of the 11 million others that have one just like it.
I was born in Guadalajara, Mexico. With tough economic times, my parents, just 17 and 22 at the time, took a chance -- leaving everything they knew, their family, their homeland -- to pursue the American Dream. I was three-months-old when my parents made this brave move to the U.S. I have lived in Homestead, Florida ever since.
Growing up, I thought I was just like the rest of my classmates. I worked hard to get good grades, was excited about entering college, getting my license, and finally being able to travel on my own -- you know, the things kids my age think about. Completely unaware of my legal status, I lived each day with high hopes and big dreams.
Before I knew it, it was my sophomore year of high school. I was excited, I was motivated, but what I didn't know is that it would be the year that would change my life forever -- the year I learned what it meant to be "undocumented". I remember vividly: It was the first week of school and I rushed to my mother to share the good news that I was enrolled in Drivers Ed and would finally be able to get my license. She was washing dishes, and despite my enthusiasm, she remained silent staring blankly at the water as it streamed from the faucet. Suddenly, I remember as she turned off the faucet, turning to me with a great look of despair in her eyes, and said, "Mayra you're not going to be able to get a driver's license".
I looked at her, not understanding. My mother then explained to me that I was "undocumented" and wasn't entitled to the same benefits a U.S. resident or citizen enjoys. This meant no license, no car, no opportunity to be considered for "in-state" tuition (meaning I couldn't afford college).

I was crushed. My dreams were shattered in seconds! Everything I had planned for was now nothing, but a far-fetched dream. Not knowing how to handle the news, I slowly started giving up. I started skipping classes, my grades began slipping, and I was quickly becoming self-destructive.

For months, I was on a downward spiral. Finally, during my junior year, I was forced into the ROTC program by my parents. Initially, I was disinterested, but luckily, I had some great professors who supported me. I began to perform better in school, cleaned up my act, and started feeling hopeful again.

Then, my senior year was in full swing -- again, a very emotional time for me. While my friends and fellow students were busy applying to colleges and shared these exciting moments with each other, I felt sad, discouraged and angry. Still, I hoped there was some way I could go to college. But when my college advisor pulled me into her office and I told her about my situation she said, "There are not many scholarships for people like you."
"People like you" -- those words cut through me and reminded me again of the huge differences between my friends and their futures with that of my own. My heart raced and a huge lump began to form in my throat. I couldn't get home fast enough, and when I did, I cried for hours. All I ever wanted was a future in this country.
A few months later, I graduated. With no college in my future, I began working in the fields with my dad. My parents have always worked in the agriculture industry, so I joined in, picking vegetables for three years. While I tried to keep a positive attitude and recognized the hard work and determination that goes into being a farm worker, my dreams to pursue my education had been shattered.
One day, in the summer of 2012, I realized that as much I respected this profession and the work my parents have done since coming to America, I couldn't let this be my future. My parents sacrificed everything they knew -- everything they had -- to come to this unknown land. It was time for me to support them.

That hot summer day was the day I changed my life. It was when I decided to be an advocate for not only me, but also for my mom and dad, relatives and friends. Soon I joined S.W.E.R (Students Working for Equal Rights), an organization supporting equality for the oppressed. Through S.W.E.R, I met countless individuals who believed in me. I began to learn about those in our community, like Congressman Garcia, who have been fighting tirelessly for comprehensive immigration reform.
I immersed myself in the CIR movement and started volunteering with many different action clinics so that my story could be shared and I could start helping others. Before I knew it, I became the proud recipient of DACA (Deferred Action for Childhood Arrivals) and thanks to an instate tuition waiver through Miami Dade College, I am happy to say I started college this semester and am on my way to getting a Bachelors in Business.

Overall, immigration reform means everything to me and my family. I was honored to attend the State of the Union with Congressman Garcia -- the chief sponsor of the CIR bill in the House of Representatives -- because it is people like him that will make decisions in Washington that can provide me an opportunity to live in the U.S., work hard, get a good education and provide a decent life for my family and myself.
It is my hope that President Obama, and Congress, make it a priority to reform the laws that will allow all people, no matter where they are born, to share in the American dream.