I still remember the day I found out.
It was the fall of 2005. I was 17 years old and I was a senior in high school. A few days before the dreaded words came, my mom was in a funk. Usually forthcoming with updates about her day, on that day my, mom was unusually quiet. I had to pry to find out what was bothering her. She simply replied, "I had a doctor's appointment. I'll be okay." Her trembling voice suggested otherwise. When I questioned her further, my mom told me that on that coming Wednesday, she would get her biopsy results. Fearing that my preconceived understanding of what a biopsy meant was scary and correct, I spent hours researching the term online.
Years later, I am able to call that denial.
When Wednesday rolled around, I was terrified. I tried to forget about what the day would bring but it was hard. I couldn't find ways to distract myself. When evening came and there was no update, I thought everything was going to be okay. This feeling was short-lived. As soon as I returned home from a college meeting with my father, my mom broke the news: My mother had been diagnosed with breast cancer.
She wouldn't tell me how developed her cancer was. While I was initially hurt by her secrecy, I later understood that this was her way of protecting me. She, too, was scared.
The next year was a blur.
I remember her telling my 10-year-old brother and her elderly parents about her diagnosis.
My mother's hair loss.
My mom's wig.
Forcing her out of bed after chemo to attend her best friend's wedding.
Visiting her during chemotherapy.
Refusing to attend Senior Prom.
Fear of leaving for Israel for three months on a school trip.
Moving into college without my mom.
I didn't want to leave my mom's side. I wanted to be with her to support and care for her. I felt guilty for not being there for all of her chemo treatments and surgeries.
Seven years later, I can finally admit that I was terrified that I would lose my mom. I couldn't fathom death.
Luckily, against all odds, my mom overcame cancer. She won the battle. My mother has been and will always be one of my biggest sources of inspiration and support. She has shown me how to draw strength from every experience. She taught me how to laugh and enjoy life. She taught me how to persevere and stand up for what I believe in. Most importantly, she taught me how to love. She showed me how to embrace love and express love, even when miles away.
As I complete my year-long service in Rwanda, working with vulnerable orphaned youth at Agahozo Shalom Youth Village, I reflect on the lives I've touched throughout the world. It is through the lessons of love that I received from my mom that I am able to affect change in others. Following in my mother's footsteps, I have been able to love the people around me. My love for my family, friends, students and campers permeates space the way that my mom's love for me transcends time and space.
I still remember the day I found out like it was yesterday. But you and I, Mom, have come a long way. Thank you, Mom, for positively influencing me and shaping me into the confident and loving young woman that I am today. Congratulations on being six years cancer-free.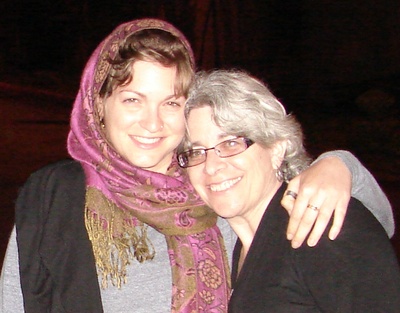 Mom and me in Rwanda
This piece is part of the 'My Breast Cancer Story' project. To learn more and submit your story, click here.