Like Elizabeth Taylor, chocolate has known many tumultuous marriages. There's the one with caramel -- Eddie Fisher -- when you know you've done something bad, but it's so good you keep doing it anyway. Then there's the one with cherry cream -- Conrad "Nicky" Hilton -- very rich, very flavorful, but you know when you've had enough and you can let go with no hard feelings. And then there's coconut -- Richard Burton for our purposes. There's just something about coconut and chocolate that makes you feel like these two were meant for each other, no matter how destructive the relationship is.
Last Saturday I found myself up at the obnoxious hour of 5:37am. The kids were watching cartoons on the living room couch and my husband was still in bed. I was standing aimlessly in my kitchen, too tired to think, too awake to go back to sleep. With two toddlers who were going to want to eat soon, I knew breakfast was not going to happen on its own. For once I wanted to give them something that feels like a special weekend breakfast. Something that takes less effort than pancakes and a little more effort than just giving them a banana and string cheese. Also, I wanted it to be relatively nutritious. Also, I wanted it to have a decent amount of fiber. Also, I wanted a fairy to whisk me away to a hammock hanging between two coconut trees on a tropical beach. Coconut trees... that image got me thinking (which is a very dangerous thing to do at such an early hour in the morning). So I came up with a healthier way to make French toast, which also has fiber, protein, healthy fats and is also a cinch to make. Getting rid of all the bread right before Passover has now become my family's favorite activity!
Although Liz Taylor's marriages didn't last, the eternal soul mates, chocolate and coconut, will forever belong in each other's arms. Or, at least, together on my plate.
Chocolate-Coconut Baked French Toast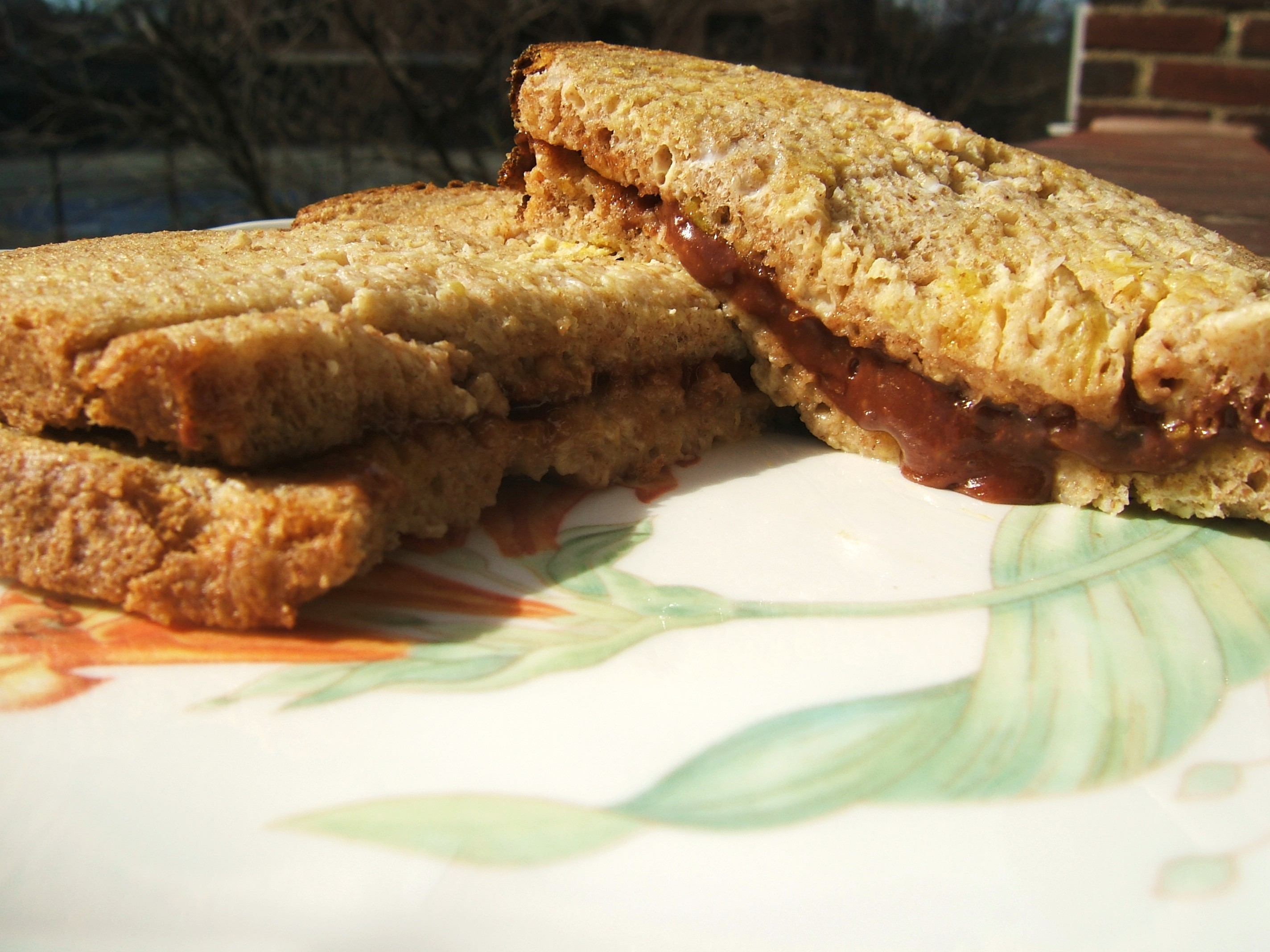 Serves two
Two eggs
1 tsp vanilla
1/3 cup unsweetened coconut milk
4 slices bread (I use 4 large whole wheat slices)
¼ cup milk chocolate chips
4 tsp coconut cream
1. Preheat over to 350 degrees. Break eggs into small bowl and whisk. Add vanilla and coconut milk and mix well.
2. Put a piece of foil on the oven rack and spray with cooking oil.
3. Dip the bread slices in the egg mixture and put on foil. If there's leftover egg mixture you can pour it on top of the slices.
4. Bake for seven minutes. Flip over and bake for seven more minutes. Remove from oven.
5. Heat chocolate chips in the microwave for 45 seconds. Mix well until you reach a smooth consistency and mix in the coconut cream.
6. Spread on two slices and cover with remaining slices to make two sandwiches.