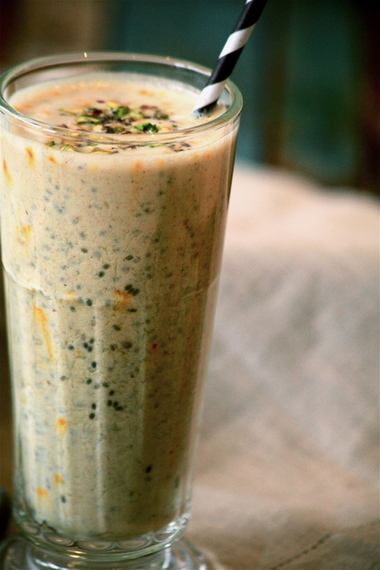 There is nothing quite like an English summer that makes me crave sweet and cooling indulgences and this Cardamon Chia Shake is exactly that. This smooth and creamy cardamom drink is an impressive dessert, to be savored with a spoon or a small straw. Made with blended cashews and sweetened with dates, it is as nourishing as it is filling. The chia seeds offer a layer of texture along with a whole array of health benefits. And the touch of cardamom and saffron transform the taste entirely, lending intensity of flavor and delicious decadence.
This Recipe Serves 4, small glasses
Cardamon Chia Shake
70g cashews
350ml water
35g dates
8g chia
50ml water
pinch saffron
½ teaspoon cardamom
pistachios, for garnishing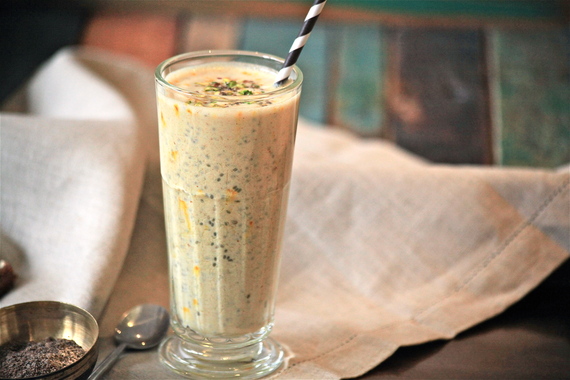 Soak the cashews in 350ml water for 30 minutes or longer - you can even soak them overnight. Soak the chia seeds in 50ml water for similar time. If in a rush, soak chia in hot water, mix together thoroughly and they should be ready in a few minutes. Blend the cashews, water and dates in a high-speed blender. Pour this mixture into the chia seeds and keep stirring. Now add the cardamom and saffron and mix well. You can also place small amounts of the soaked chia seeds at the bottom of each glass and pour the cashew, date, cardamom and saffron mixture over it. Garnish with chopped pistachios and a sprinkle of cardamom.