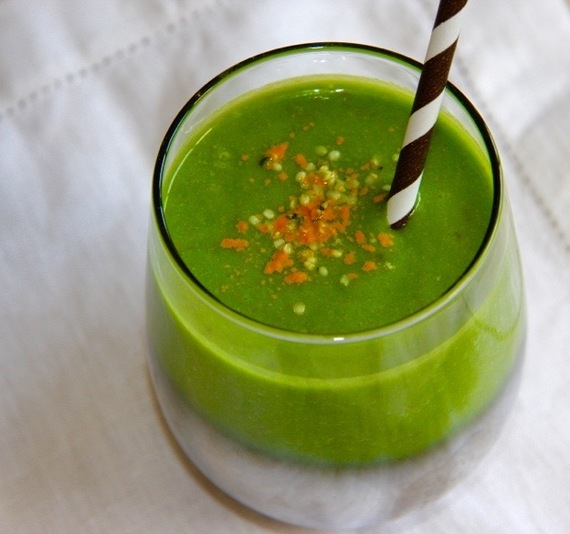 I absolutely love smoothies but I often find them quite heavy, especially when they contain too much banana, yogurt or milk. So here is my morning smoothie, which uses coconut water as the base, blended with avocado, cucumber, spinach, and date and pear to sweeten it. There are plenty of protein powders out there but I use the Sunwarrior Vanilla blend, because it contains a vegan protein that is gluten-free, dairy-free, hypo-allergenic and a unique protein made up of 9 essential amino acids - and it has a touch of sweetness. I've added a large chunk of cucumber and avocado in this smoothie to add that glow and of course the wonderful coconut water. And for that extra color I've sprinkled hemp seeds and turmeric powder on top.
Makes 2 glasses
¼ cucumber, 90g
1 ripe pear
handful of spinach, 40g
½ a ripe avocado, 60g
2 teaspoons of Sunwarrior vanilla protein
1 date
juice of half a lime
coconut water, 500ml
Place all the ingredients in a blender and blend until the mixture has a thin liquid consistency.