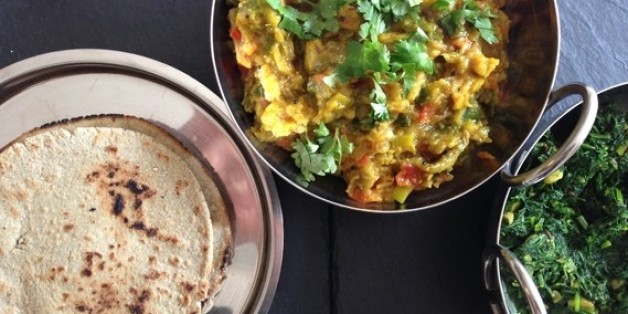 With all the heat and spice that a curry emanates, it is entirely fitting that this curry week should fall in October, especially when the weather is turning and everyone needs something hearty that fills them with nutritious warmth.
A curry is fresh and incredibly flavorful, but often contains far too much oil and color, then add in naan bread, a touch of cream here and there and some fried side plates... and that's how a meal in an Indian restaurant can leave you feeling bloated and heavy. But there are ways of making vegetable curries at home, the complex richness of their flavors entirely at odds with the simple method. And you're able to create and retain all the flavor and spice without anymore than a teaspoon of oil.
Here, I've shared a mouth-watering eggplant curry recipe, one in which the eggplant is pre-cooked so that it doesn't require much oil at all. In this curry, called Oro, the eggplant is usually grilled, lending the curry that distinctly burnt flavor. Cooking it in the oven as we do at home makes this curry very easy to make. Oro is a very traditional Gujarati curry, eaten with rotlo, a roti made entirely with millet flour and water, requiring rather a lot of practice and skill to perfect its round shape without breaking. It's a dish that reminds me of meals I've had in Gujarati villages, in such dim light that I can never thankfully tell how much oil might be gleaming on the surface of the curry or how much ghee is spread onto the otherwise dry rotlo.
Oro
serves 2-4
1 onion
1 tomato
1 eggplant
5 spring onions
2 tablespoons oil
½ teaspoon mustard seeds
¼ teaspoon fenugreek seeds
¼ teaspoon cumin seeds
½ teaspoon turmeric powder
½ teaspoon coriander powder
½ teaspoon cumin powder
1 teaspoon salt
1 spoon garlic, ginger and chilli paste
¼ teaspoon red chilli powder (optional)
Handful chopped coriander leaves
Make long slits along the eggplant and place in the oven for around 45 minutes. When it is nearly done, heat the oil, add the mustard, fenugreek and cumin seeds, and wait the mustard seeds start to pop before adding the onions. Once the onions are brown, add spring onions and tomatoes. Let this cook for a few minutes before adding all the masalas, garlic, ginger and chilli paste as well as salt. Now peel the skin of the eggplant and mash the inner flesh. Add this into the curry paste and let it cook for around 10 minutes before serving. Garnish with coriander before serving.

www.miramanek.com