One of many things I love about my boyfriend (keep reading for a title change) is that he would never squander a day sitting inside watching TV or anything else mind-numbing; he's ready to go do something at any moment. So I wanted to plan a getaway for us that would have him tired at day's end, while having a little splash of romance mixed in. The ideal destination: Central Oregon. Bend is a 3.5 hour drive from Portland, so we loaded up the Range Rover (my favorite car, which I happened to be testing for work at the time) and headed East.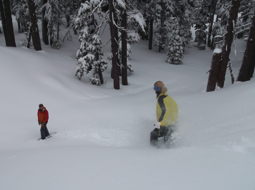 What to Do: There's no shortage of outdoor activities in Bend, so we decided to jump right into it by meeting Jeff from Wanderlust Tours for a little snow-shoeing expedition. People of any fitness level can snow-shoe, and how adventurous you want to be is up to you. Jeff--our guide who shared all sorts of interesting knowledge about the area, the trees, the history and more--deemed us physically able and adventurous, so we headed out to find some big drops to jump off of and good hills for running down. (Wanderlust offers other events like cave tours and a brew bus.) The next day we decided to do some Nordic skiing on the groomed trails of Mt. Bachelor.
When the expert at the Nordic Center asked if we would like traditional Nordic skis or skate skis, we figured since neither of us had tried skate skis, that we should. I suggest if you are ever presented with this option in life, you go classic. While skate skiing is a great workout (especially for the saddlebag area), it's pretty grueling and requires a groomed trail and a lot of patience. (At one point, I borrowed a cheesy line from The Bachelor and said, "If we can do this, we can do anything together." Clearly if you're quoting Ben Flajnik, your mind is in a questionable state.)
The following day we decided to stay off of skis and explore some waterfalls on the Deschutes River and do some easy hiking around some scenic viewpoints. (We also stretched the Range Rover a bit by driving in ice, snow and mud ruts, which she handled beautifully.) Other things to do on non-ski days might include touring the new Deschutes Brewery or visiting the High Desert Museum. The next two days, we devoted to downhill skiing at Mt. Bachelor. We got skis at the demo rental area (you can get traditional rentals or you can go check out what crazy new skis and boots are available that year and rent those instead) and hit the mountain. Mt. Bachelor is arguably one of the best ski fields in the West because it's the second largest single-mountain ski resort in the U.S. (Vail is #1), but has a fraction of the visitors, so lines aren't horrible for lifts and runs aren't overrun.
Although we were there in the winter, there are tons of equally fun activities to do in the summer, including rafting, biking, golf (well, that's year-round in Bend), hiking and on and on. (Warning: Lazy people will feel guilty in Bend.) Also, for those who fly into Bend (you can go via Alaska Airlines non-stop from most West coast destinations), Carrera Collection has luxury cars to rent and are weather suitable, whether you want a 4-wheel drive for the snow or a convertible for exploring the area in summer.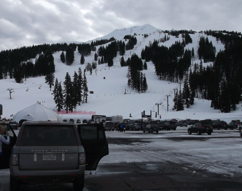 Where to Eat: Despite being a city of 80,000, Bend has some pretty stellar restaurants. Two that we enjoyed most were both in Downtown Bend: 900 Wall and 5 Fusion. 900 Wall is an inviting place for couples and families looking for solid, delicious regional fare in a warm environment that has stellar service and an uncomplicated, delicious wine list. Just down the street is 5 Fusion, where owner Lilian Chu has a staff that could compete with the best of them. Chef Joe Kim turns out delectable sushi as well as inventive dishes such as house made dumplings and Miso Pork Tenderloin & Nihon Risotto, using fresh, local ingredients; while sommelier Derek Brendle is a master at complementing each dish with an appropriate wine, beer, sake or port. The restaurant just opened for lunch service as well; anytime of the day, this gem is worth a visit. For the latter part of our trip, we drove 20 miles West to Sisters, OR, which has a population of just over 2,000.
Driving through this Western-themed town, you wouldn't think you'd find one of the state's best restaurants, but nestled on a side street in an old house is Jen's Garden. Chef TR McCrystal turns out French food in a five-course tasting menu (at the ridiculously reasonable price of $50 with a 5-wine flight pairing for just $20). Again, this chef sources local ingredients that are prepared in classic French ways that leave diners satisfied and impressed. If you go to Central Oregon for no other reason, head here for an intimate meal. (All of these restaurants were easily accommodating of my gluten allergy as well, which is always a hugely appreciated perk for me.) A local we met on a ski lift suggested the all-you-can-eat fish 'n' chips at 3 Creeks Brewing, also in Sisters, which we ended up trying (although I had a salad). The food was simple and edible, although a far cry from our three other dinners, and the environment was a little depressing with TVs showing sports and overly-bright lighting. But that being said, service was friendly and fast, and a good choice for traditional pub grub and local beer.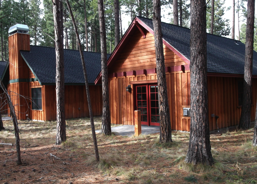 Where to Stay: Central Oregon has an array of options that varies from inexpensive in the outdoors (you can ski or snowshoe out to a yurt and stay the night!) to high-end luxury. If you're coming to the area with a large group or plan to stay for a while, Sunriver Resort is a solid option thanks to house rentals and a community that has plenty of its own activities that you hardly need to leave the grounds. There's also a lodge at Sunriver if that's more your style. In Downtown Bend is the year-old Oxford Hotel, which boasts the friendliest doormen I've ever met. Certain rooms in this boutique hotel come with kitchens, which was nice for making an apres ski beverage or a quick breakfast in the morning. The hot tub and steam room were also divine ways to defrost. For the second half of our trip we stayed at the Five Pine Lodge in Sisters, which will forever be a special place because it's where my now-fiance proposed (and I happily accepted). The Lodge has spacious cabins that have fireplaces and oversized tubs, plus a yummy complimentary continental breakfast and wine hour in the main lodge. Also on the grounds is the Shibui Spa, which has a renowned couples massage among its other popular treatments. If you can, book with the owner, Zoe, who has a spirit that will refresh your own. (Plus, she did a stellar job on my knots!) With trails surrounding the property, you could happily nestle into Sisters for a few days and never get bored. Which was exactly the point of this whole adventure, and I think I succeeded in making sure my lovely fiance had a pleasantly packed five days in Central Oregon.