Olivia Chantecaille is taking children's products to a new level of conscientious luxury. The new bath and skin care line, Chantecaille bébé, which launched earlier this month, fuses the New Yorker's French heritage with her well-being concerns and practical experience as a mother. Chantecaille, the eponymous luxe skincare, fragrance and makeup brand she co-launched in 1997 with her mother, Sylvie (who also founded Prescriptives back in 1979) doesn't put any rubbish--synthetic fragrance, phthlates, petrolatum--in their products for adults, so it's only natural she would want the same for little ones, including her 3-year-old daughter, Delphina. Why should parents (and anyone, for that matter) care about what we put on a child's skin? Read on to see what Olivia, a former model and the brand's Creative Director, has to say about that, being COSMOS certified, how she took a wriggly baby into consideration for packing, what it's like working with her mother, father, brother and sister, and what's surprised her most about being a parent.
Congratulations on the new bébé line. What prompted you to want to develop this?
Olivia Chantecaille: The birth of my daughter two and a half years ago inspired this project. I was constantly looking at all the organic and natural baby skin and bath care products on the market and found them to be not up to par with the products I used on myself. As a new parent I was nervous about making mistakes. I wanted products that I trusted implicitly--pure, high-quality, safe formulas that were created with integrity. So I made them.
Why do you think parents should care about what products they're putting on their little ones?
OC: I didn't realize that babies' skin was 10 times thinner than ours until my pediatrician told me--they're just so much more sensitive and delicate, and their skin is much more reactive than we realize. For example, the one ingredient I always avoid in products for her is fragrance, which can be very irritating. Oftentimes fragrance is used to mask ingredients that don't smell great.
What products make up the line and how do they differ from what's already available on the market?
OC: All the products are entirely natural and organic and certified by COSMOS. There's the Wild Moss Rose body lotion, Flower Petal hair and body wash, and Orange Blossom face creme. They all use the wild moss rose, which is clinically proven to be calming, soothing and anti-itching. Another big difference is that we use a flower water base instead of plain water, which adds additional soothing, calming properties. The packaging is also very unique and parent-friendly, in that we used 100 percent recyclable airless tubes which prevent contamination and dispense evenly down to the last drop--no more fighting with a slippery tube of lotion while you're wrangling a wiggly baby on a changing table!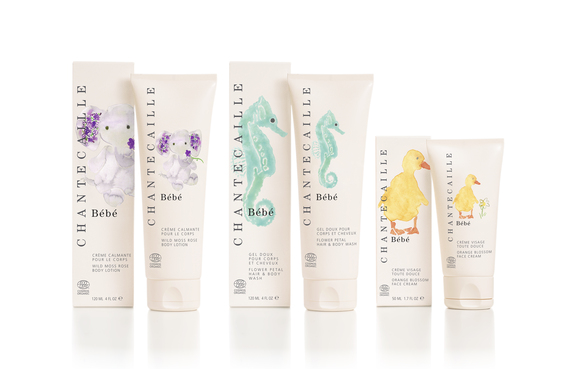 Explain what the COSMOS certification is and why that was important to you?
OC: COSMOS upholds the highest standards of organic and natural cosmetics from start to finish, using a comprehensive certification that involves a review of the product's total environmental and human impact. We aligned with COSMOS because it is on track to become the most widely-used organic and natural cosmetic standard globally, and wanted to pass on that level of assurance and trust to parents.
As a parent, what concerns you most about the product marketplace--whether it's with food, toys, products?
OC: Being overwhelmed and confused by all the choices out there and being able to decide what is in your child's best interest is so challenging for parents. You have to trust your instincts, first and foremost. Having a sounding board, a great doctor, a trusted friend, that you can ask for advice or opinion is a must for any parent.
What has surprised you most about being a parent?
OC: What surprised me the most is the love I felt for her--it's a love, a bond unlike any other and you don't know what it feels like until you become a parent yourself. I love how being a mother has made me more patient.  My intuition has become stronger and I feel more grounded. I knew I was going to love my daughter but I didn't realize how much I was going to love her. Now I understand the feeling that other mothers talk about.
How do you juggle running a successful beauty company with being a parent?
OC: It's a total balancing act. I make sure to dedicate time in the morning before I go to the office and in the evening after work to spend time with my daughter and husband as a family.  I adore my daughter and I also love my job. It's important for me to find a healthy balance and also set a positive example for her. As a mother, I have more empathy and patience now, which has helped me to be a better manager. I view people and the environment around me with renewed respect because I want the world to be a better place for my child.
You work with your family--mom, dad, sister, brother. Does that allow you to bring Delphina into the workplace more easily than you might elsewhere?
OC: My daughter loves to visit every so often, she sees her grandparents and loves to play at my mother Sylvie's desk. It's a special occasion for her to visit, not an everyday thing--and it totally brightens everyone's day when she comes. I live within walking distance of the office so I don't have to worry about a long commute. This definitely makes it easier to be a working mom.
And working with your family--is it all peaceful and pleasant all the time?
OC: Working alongside my family is energetic, inspiring, and comfortable. I always feel so lucky to get to see them at the office everyday because we probably wouldn't see each other as often if we didn't work together. We all work in different departments and have different strengths, which really allows us to grow as individuals and as a company--without stepping on each other's toes! When your family members are your colleagues, you trust and respect each other and you genuinely want to see each other succeed. 
Your mother is a beauty industry pioneer. How did growing up with a working mother affect your view of being a working mom? Did it make you hesitate at all about working with a little one?
OC: My mom is such an innovator! She's one of the most passionate and creative people I know.  She launched Prescriptives before founding Chantecaille, with an eye on creating naturally-made, luxury products. Growing up my sister and I were surrounded by lab samples, now I see how much Delphina loves to play around with our palettes--she loves the animals. Seeing Sylvie feel so passionately about her work set a good example for me and helped me realize that I can do it, too.
I've been covering beauty for a dozen years and have never found a foundation better than your Future Skin. It's the best thing out there in my opinion. Why is it so magical? And what are some of the other cult faves in the line?
OC: Future Skin is an oil-free gel formula that is water charged, it's the one foundation on the market that makes skin look and feel completely natural, yet smooth and hydrated. Our Pure Rosewater is a huge Chantecaille cult favorite. I am never without it. It saves my skin - especially on the plane while traveling. Our signature ingredient, Rose de Mai is packed with many benefits; it is soothing, calming, anti-aging and anti-bacterial. I use it first thing in the morning, I spritz throughout the day and before I go to sleep at night. I keep a bottle on my desk and on my bedside table.
My two-year-old loves getting into my makeup...I imagine there are products aplenty for Delphina to get into...does she?
OC: She loves to mirror what she sees me doing--she'll pull her little step stool over to the sink and goes right for my makeup drawer. She knows which brushes she wants to use, everything. It's so cute.
Do you have any rules in mind for her about wearing makeup in the future? 
OC: Luckily the Chantecialle look is a natural, no-makeup look. So I have that going for me!
What products do you carry in your handbag? Both for you, and any for Delphina?
OC: For me, Lip Chics, Brilliant Glosses, Liquid Lumiere highlighting fluid for an instant glow and my HD pressed powder, which is a colorless powder that helps to mattify and harmonize skin tone. I also keep a bottle of Dr. Bronner's lavender disinfectant spray to keep Delphina's hands clean on the go, a pack of travel-sized Honest Wipes, and a tube of our Orange Blossom face creme--I use it as a hand cream, and smooth some on her face after a post-meal wipedown.
Chantecaille is sold around the world. In your travels and studying what other women are after, is there anything interesting you've come across?
OC: Our skincare is so beloved in Asia. They especially love our Rose collection--I think Chantecaille resonates so well with Asian women because they appreciate the luxury and the French approach to beauty. The botanical aspect is also really important to them.
Chantecaille always has a charitable aspect to it: How did this come about and what have you accomplished so far?
OC: A key impetus for my mother Sylvie in creating the company was a strong desire to establish a platform with the power to make a difference. Our passion for conservation and global sustainability is at the core of our company. Each season we collaborate with a different cause that needs immediate attention, allowing us to be a voice for those who don't have one. We merge the cause with what we feel are the upcoming trends, so that our collections are relevant to the customer in addition to reflecting what is happening on the current runways. Since 2006 we have launched 19 limited edition "cause-metics" collections to benefit the oceans, the environment and endangered species.
Tell us a little about the current Lion collection and upcoming initiatives.
OC: For the Fall, we created our Protect the Lions Palette. My mother and brother traveled to Kenya to learn about The Lion Guardians and their amazing conservation efforts to keep lions protected and thriving in their natural habitat. Leela Hazzah and Dr. Stephanie Dolrenry, the founders of the organization have taught the local Masai tribespeople to see the lions as their own, shifting them from lion hunters to lion guards. They've mitigated conflict between the animals and the tribes and offered them education and a new source of income, which is life-changing for them. Each season we immerse ourselves in the issue - it's both inspiring and educational so that in turn we can share it and help raise awareness. It's a passion for my family that we have found resonates well with our clients.
Chantecaille bébé is available on chantecaille.com